The proportion of clinical trial operations companies hiring for cloud related positions rose to a year-high in August 2021, with 45.1% of the companies included in our analysis recruiting for at least one such position.
Free Case Study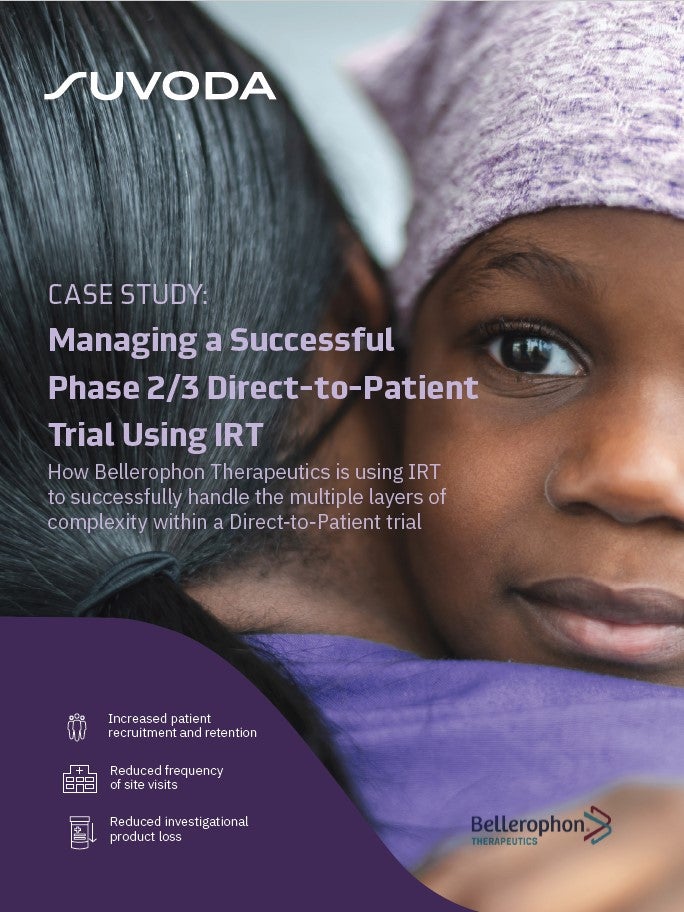 Direct-to-Patient Trials: How IRT Plays an Important Role in Bellerophon's Direct-to-Patient Trials
As the industry strengthens its focus on patient centricity, Direct-to-Patient clinical trials have emerged as a popular trial design that have the potential to increase patient recruitment and retention. IRT plays a crucial role in the success of a Direct-to-Patient trial. Because drug supplies are being managed and shipped from distribution facilities directly to patients' homes, a sponsor must have a high-quality system in place to accurately track the chain of custody, ensure patient-blinding and handle other logistical challenges. What You Will Learn Benefits and challenges associated with the Direct-to-Patient model Bellerophon's top considerations when implementing this trial design How IRT can equip study teams to successfully track chain of custody, ensure patient blinding, and handle logistical challenges
by Suvoda
This latest figure was higher than the 41.6% of companies who were hiring for cloud related jobs in July 2021 and an increase compared to the figure of 43.1% for the equivalent month last year.
When it came to the proportion of all job openings that were linked to cloud, related job postings rose in August 2021, with 2.6% of newly posted job advertisements being linked to the topic.
Free White Paper
This latest figure was the highest monthly figure recorded in the past year and is an increase compared to the 1.9% of newly advertised jobs that were linked to cloud in the equivlent month a year ago.
Cloud is one of the topics that GlobalData, from whom our data for this article is taken, have identified as being a key disruptive force facing companies in the coming years. Companies that excel and invest in these areas now are thought to be better prepared for the future business landscape and better equipped to survive unforseen challenges.
Our analysis of the data shows that clinical trial operations companies are currently hiring for cloud jobs at a rate lower than the average for all companies within GlobalData's job analytics database. The average among all companies stood at 5.1% in August 2021.
GlobalData's job analytics database tracks the daily hiring patterns of thousands of companies across the world, drawing in jobs as they're posted and tagging them with additional layers of data on everything from the seniority of each position to whether a job is linked to wider industry trends.
You can keep track of the latest data from this database as it emerges by visiting our live dashboard here.
Free Case Study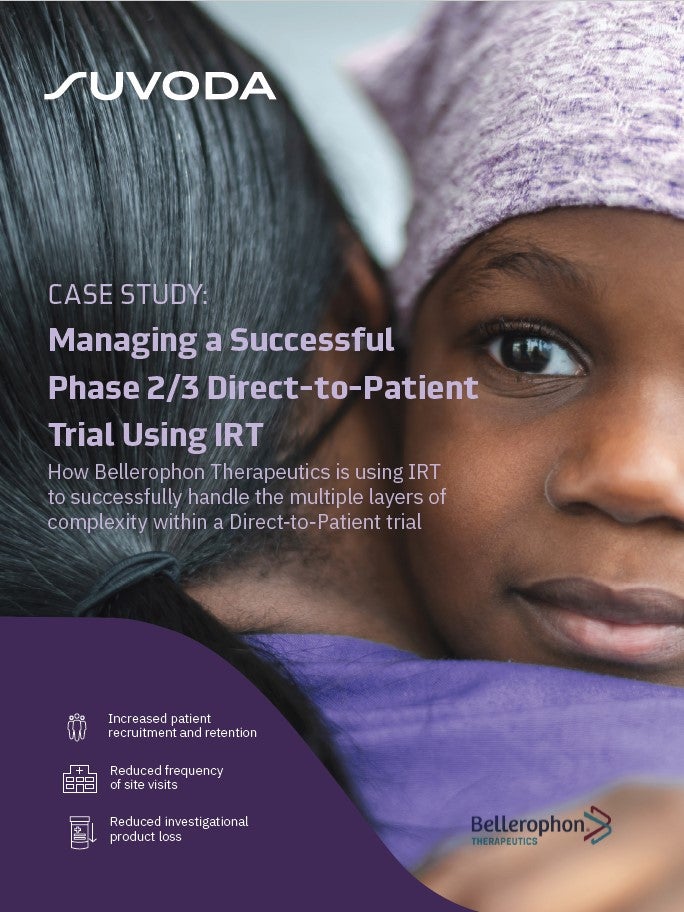 Direct-to-Patient Trials: How IRT Plays an Important Role in Bellerophon's Direct-to-Patient Trials
As the industry strengthens its focus on patient centricity, Direct-to-Patient clinical trials have emerged as a popular trial design that have the potential to increase patient recruitment and retention. IRT plays a crucial role in the success of a Direct-to-Patient trial. Because drug supplies are being managed and shipped from distribution facilities directly to patients' homes, a sponsor must have a high-quality system in place to accurately track the chain of custody, ensure patient-blinding and handle other logistical challenges. What You Will Learn Benefits and challenges associated with the Direct-to-Patient model Bellerophon's top considerations when implementing this trial design How IRT can equip study teams to successfully track chain of custody, ensure patient blinding, and handle logistical challenges
by Suvoda