GlycoMimetics ' Phase III trial investigating uproleselan in relapsed/refractory acute myeloid leukaemia (AML) is under review for a possible change to its inclusion criteria, two sources familiar with the trial said. The amendment would allow patients previously treated with AbbVie Roche's Venclexta (venetoclax), they explained.
Free Case Study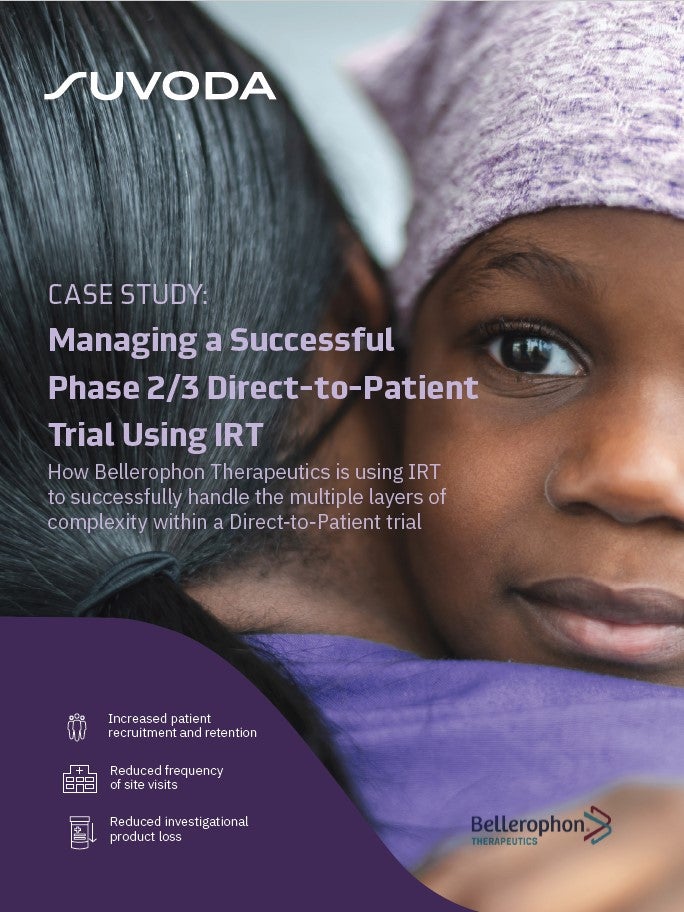 Direct-to-Patient Trials: How IRT Plays an Important Role in Bellerophon's Direct-to-Patient Trials
As the industry strengthens its focus on patient centricity, Direct-to-Patient clinical trials have emerged as a popular trial design that have the potential to increase patient recruitment and retention. IRT plays a crucial role in the success of a Direct-to-Patient trial. Because drug supplies are being managed and shipped from distribution facilities directly to patients' homes, a sponsor must have a high-quality system in place to accurately track the chain of custody, ensure patient-blinding and handle other logistical challenges. What You Will Learn Benefits and challenges associated with the Direct-to-Patient model Bellerophon's top considerations when implementing this trial design How IRT can equip study teams to successfully track chain of custody, ensure patient blinding, and handle logistical challenges
by Suvoda
While one of the sources said he could not say for certain when the Institutional Review Board (IRB) would sign off on the amendment, he noted it would be likely approved in a couple of months' time. The change could boost enrolment speed, the second source added. The trial has enrolled 50 to 60 patients thus far, the first source noted. The 380-patient Phase III trial (NCT03616470) enrolled its first patient in October 2018, according to ClinicalTrials.gov.
At present, enrolment is proceeding as expected across the majority of trial sites except for Europe, where there has been some regulatory delay in opening sites, the first source said. But the second source noted that European sites are expected to open soon. While the BCL-2 inhibitor Venclexta was FDA-approved in combination with chemotherapy in first-line AML in November 2018, it has not yet been approved in Europe. The uproleselan trial is being conducted across the US, Europe, Canada and Australia. European sites are based in Ireland and the Netherlands.
The possible Phase III protocol amendment would ensure the trial is in keeping with the shifting AML treatment landscape, both sources explained. Venclexta was previously approved in CLL, and sales in 2018 were $344m.
The trial currently defines relapsed/refractory patients as those who have failed one or more previous cycles of anthracycline-containing treatments, the first source said. Patients who were treated with gene-specific therapies in second-line AML are also included in Phase III, both sources said. Astellas Pharma's FLT3-inhibitor Xospata (gilteritinib) was approved in the same month as Venclexta for relapsed/refractory AML patients, while Agios Pharmaceuticals' IDH1-inhibitor Tibsovo (ivosidenib) was approved on 2 May.
An analyst report states topline data from GlycoMimetics ' Phase III is expected in 2020. The trial is testing uproleselan in combination with chemotherapy versus chemotherapy alone. Uproleselan is expected to achieve sales of $317m in 2027 in AML, according to a second analyst report. GlycoMimetics has a market cap of $281.7m.
by Ayisha Sharma in London
Ayisha Sharma is a Reporter for Clinical Trials Arena parent company GlobalData's investigative journalism team. A version of this article originally appeared on the Insights module of GlobalData's Pharmaceutical Intelligence Center. To access more articles like this, visit GlobalData.
Free Case Study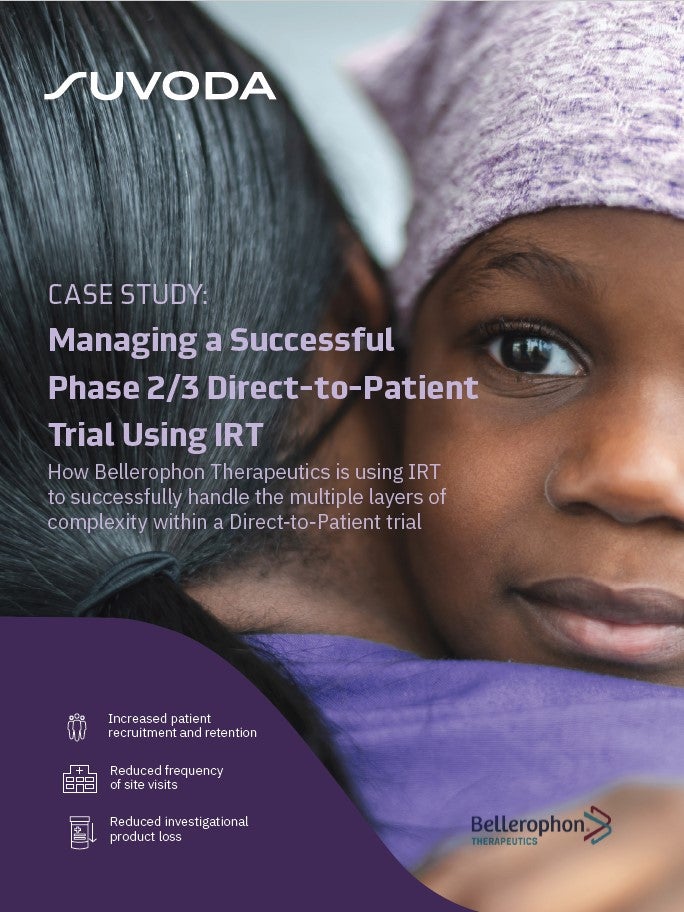 Direct-to-Patient Trials: How IRT Plays an Important Role in Bellerophon's Direct-to-Patient Trials
As the industry strengthens its focus on patient centricity, Direct-to-Patient clinical trials have emerged as a popular trial design that have the potential to increase patient recruitment and retention. IRT plays a crucial role in the success of a Direct-to-Patient trial. Because drug supplies are being managed and shipped from distribution facilities directly to patients' homes, a sponsor must have a high-quality system in place to accurately track the chain of custody, ensure patient-blinding and handle other logistical challenges. What You Will Learn Benefits and challenges associated with the Direct-to-Patient model Bellerophon's top considerations when implementing this trial design How IRT can equip study teams to successfully track chain of custody, ensure patient blinding, and handle logistical challenges
by Suvoda