Regulatory bodies and sponsors alike are looking to expand the knowledge they have gained from the Covid-19 pandemic to other indications. Although messenger RNA (mRNA) vaccines have been studied for decades, they have been greatly exposed due to the pandemic. Companies are now looking beyond Covid-19 to treat other indications with the same mRNA technology, since it expedites vaccine development as mRNA vaccines are designed primarily using computers.
Free Case Study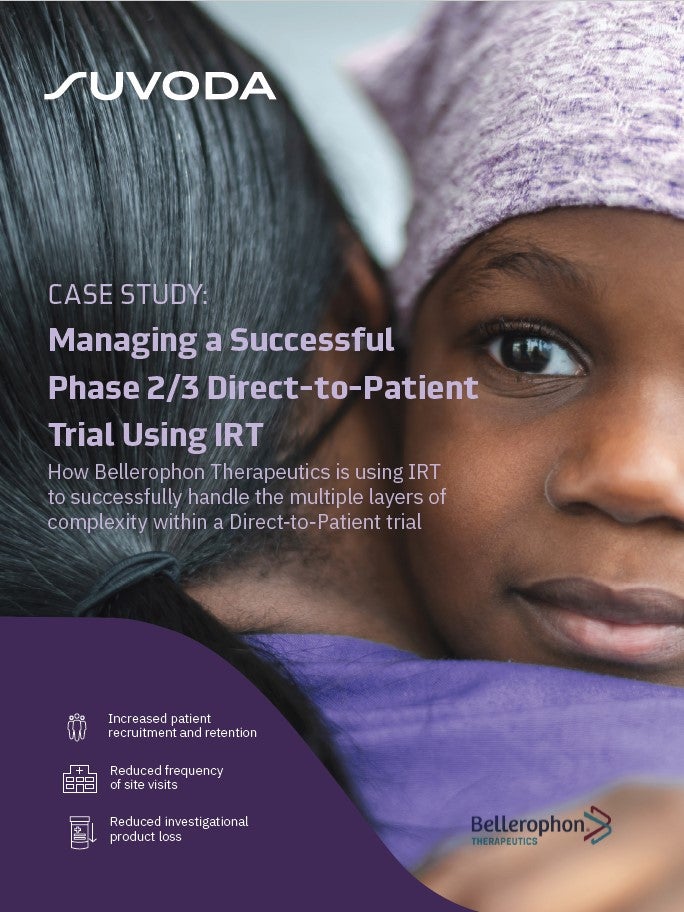 Direct-to-Patient Trials: How IRT Plays an Important Role in Bellerophon's Direct-to-Patient Trials
As the industry strengthens its focus on patient centricity, Direct-to-Patient clinical trials have emerged as a popular trial design that have the potential to increase patient recruitment and retention. IRT plays a crucial role in the success of a Direct-to-Patient trial. Because drug supplies are being managed and shipped from distribution facilities directly to patients' homes, a sponsor must have a high-quality system in place to accurately track the chain of custody, ensure patient-blinding and handle other logistical challenges. What You Will Learn Benefits and challenges associated with the Direct-to-Patient model Bellerophon's top considerations when implementing this trial design How IRT can equip study teams to successfully track chain of custody, ensure patient blinding, and handle logistical challenges
by Suvoda
When looking at the top sponsors, Moderna currently has the most planned and ongoing mRNA vaccine trials outside of Covid-19, with the top indication being cytomegalovirus infections. Moderna had expected a Phase I trial completion on 15 February 2022 for its clinical trial with mRNA-1647 for the treatment of cytomegalovirus infections, but no update has yet been released. Moderna is also expecting a Phase I/II trial completion in June this year with its mRNA-1010 for the treatment of influenza.
One trial to note from Moderna is IAVI G002, a Phase I investigation for the treatment of human immunodeficiency virus (HIV). This trial, which recently announced initiation last month, will enrol patients at four sites across the US. A total of 56 HIV-negative patients will be enrolled, with 48 receiving one or two doses of the mRNA vaccine (mRNA-1644); 32 will receive mRNA-1644v2-Core and eight will receive only the boost immunogen.
Free Case Study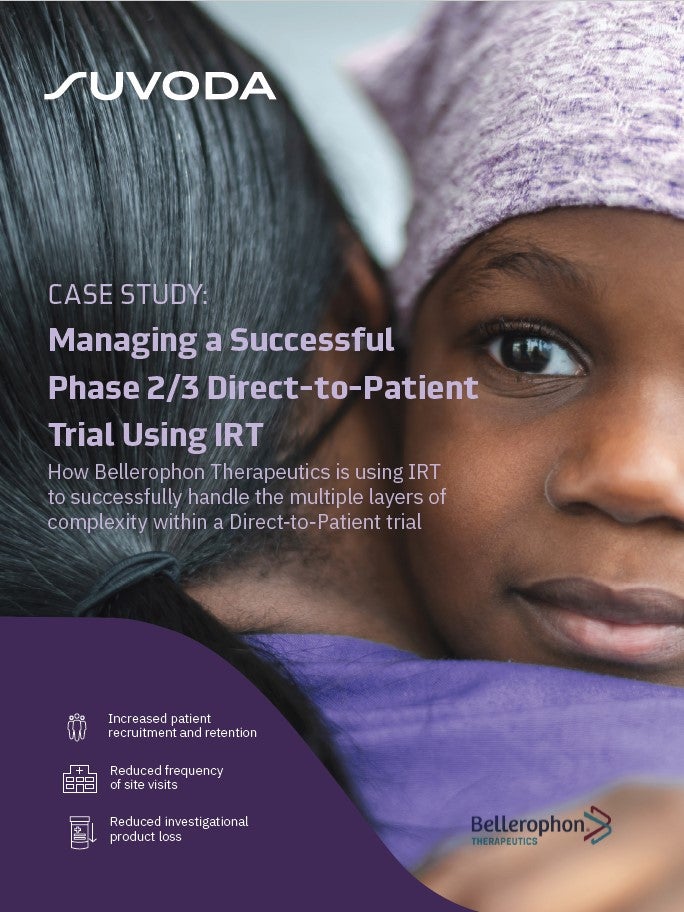 Direct-to-Patient Trials: How IRT Plays an Important Role in Bellerophon's Direct-to-Patient Trials
As the industry strengthens its focus on patient centricity, Direct-to-Patient clinical trials have emerged as a popular trial design that have the potential to increase patient recruitment and retention. IRT plays a crucial role in the success of a Direct-to-Patient trial. Because drug supplies are being managed and shipped from distribution facilities directly to patients' homes, a sponsor must have a high-quality system in place to accurately track the chain of custody, ensure patient-blinding and handle other logistical challenges. What You Will Learn Benefits and challenges associated with the Direct-to-Patient model Bellerophon's top considerations when implementing this trial design How IRT can equip study teams to successfully track chain of custody, ensure patient blinding, and handle logistical challenges
by Suvoda