Eli Lilly is one of the latest pharma developers to join the fight in treating Covid-19. On April 10, Lilly announced that it was entering into an agreement with the National Institute of Allergy and Infectious Diseases (NIAID), part of the National Institutes of Health (NIH), to study Olumiant (baricitinib) as an arm in NIAID's Adaptive Covid-19 Treatment Trial (NCT04280705). Olumiant is a JAK1/JAK2 inhibitor currently approved for rheumatoid arthritis patients who have demonstrated inadequate response to other therapies, such as TNF inhibitors. Once added to the trial, Lilly's Olumiant will join Gilead's remdesivir in treatment of Covid-19 patients.
Free Case Study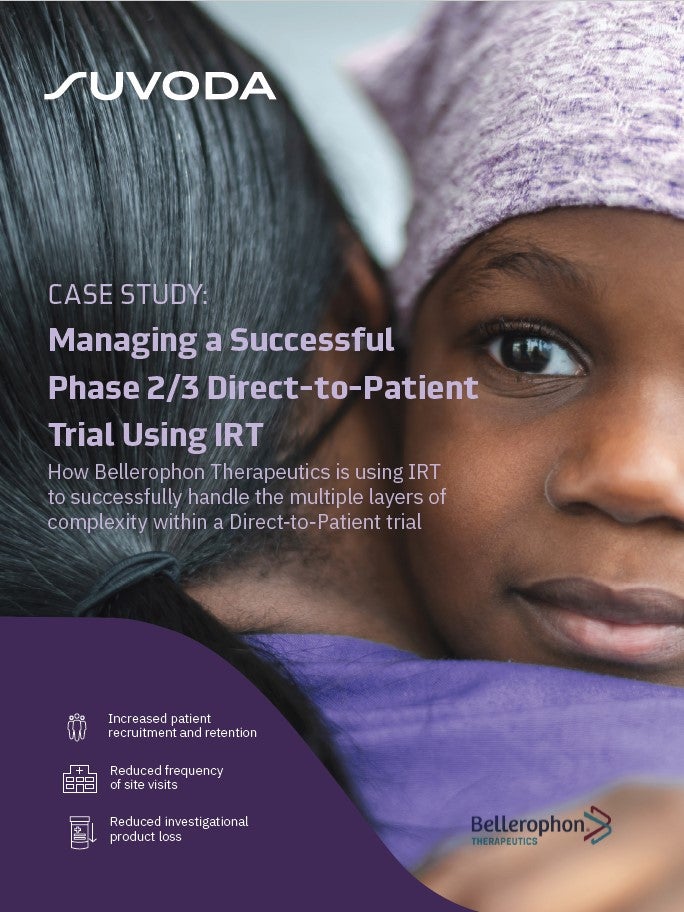 Direct-to-Patient Trials: How IRT Plays an Important Role in Bellerophon's Direct-to-Patient Trials
As the industry strengthens its focus on patient centricity, Direct-to-Patient clinical trials have emerged as a popular trial design that have the potential to increase patient recruitment and retention. IRT plays a crucial role in the success of a Direct-to-Patient trial. Because drug supplies are being managed and shipped from distribution facilities directly to patients' homes, a sponsor must have a high-quality system in place to accurately track the chain of custody, ensure patient-blinding and handle other logistical challenges. What You Will Learn Benefits and challenges associated with the Direct-to-Patient model Bellerophon's top considerations when implementing this trial design How IRT can equip study teams to successfully track chain of custody, ensure patient blinding, and handle logistical challenges
by Suvoda
While it may seem counterintuitive to use an immunosuppressant to treat an aggressive viral lung infection, the interest in Olumiant for Covid-19 may be twofold. News about the clinical trial comes after an article was published in the Lancet in early February 2020, in which researchers at the Imperial College London used artificial intelligence (AI) to determine which marketed drugs may be useful in treating the disease. Researchers hypothesize that Olumiant may inhibit viral infection by binding and inhibiting a protein called AP2-associated protein kinase 1 (AAK1), which would reduce viral entry into cells and subsequent inflammation.
Using an immunomodulatory agent to treat Covid-19 may also help to limit the inflammatory damage caused by a "cytokine storm," an excessive inflammatory cascade produced by the body in response to pathogens. This overreaction may be responsible for a number of complications in Covid-19 patients, such as respiratory failure, ultimately resulting in more severe disease and worse prognosis. The cytokine storm is similar to the progression of sepsis, a condition in which immunosuppressants have been theorized to be beneficial.
If proven efficacious, the use of an already approved agent will bypass some regulatory and manufacturing hurdles an experimental drug might face. Eli Lilly will not need to put Olumiant through the same battery of early-stage safety and tolerability trials that a pipeline drug would require to gain approval. Furthermore, marketing and manufacturing infrastructure for Olumiant is already in place to allow for relatively quick distribution. However, label expansion still requires a safety assessment for use within the new disease or patient population it is seeking approval for, in this case, for Covid-19 patients.
Olumiant is also not without its share of risks. In the realm of rheumatology, JAK inhibitors have had a checkered past due to safety concerns. All JAK inhibitors currently approved by the FDA have the agency's strictest boxed safety warnings. Olumiant in particular currently has warnings for increased risk of serious infections, tuberculosis, lymphoma, or other malignancies and thrombosis. Providers will still need to evaluate the risk-benefit ratio for this particular immunomodulatory agent when treating this patient population.
Free Case Study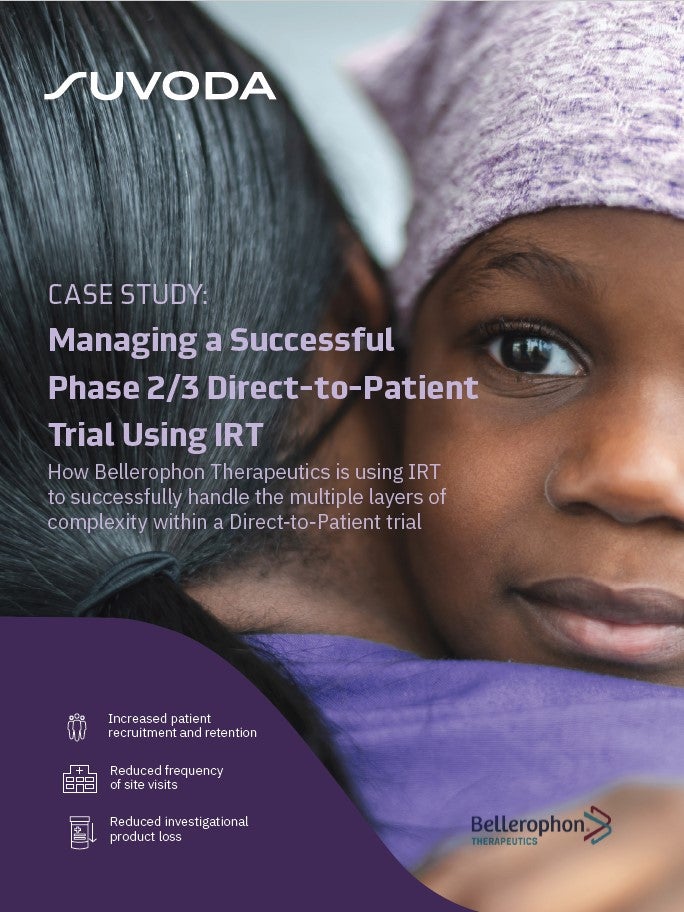 Direct-to-Patient Trials: How IRT Plays an Important Role in Bellerophon's Direct-to-Patient Trials
As the industry strengthens its focus on patient centricity, Direct-to-Patient clinical trials have emerged as a popular trial design that have the potential to increase patient recruitment and retention. IRT plays a crucial role in the success of a Direct-to-Patient trial. Because drug supplies are being managed and shipped from distribution facilities directly to patients' homes, a sponsor must have a high-quality system in place to accurately track the chain of custody, ensure patient-blinding and handle other logistical challenges. What You Will Learn Benefits and challenges associated with the Direct-to-Patient model Bellerophon's top considerations when implementing this trial design How IRT can equip study teams to successfully track chain of custody, ensure patient blinding, and handle logistical challenges
by Suvoda