Theravance Biopharma's Phase III ampreloxetine in symptomatic neurogenic orthostatic hypotension (nOH) with primary autonomic failure plans to have 120 trial sites, said a source familiar with the trial on the sidelines of the International Congress of Parkinson's Disease and Movement Disorders in Nice, France. 
Free Case Study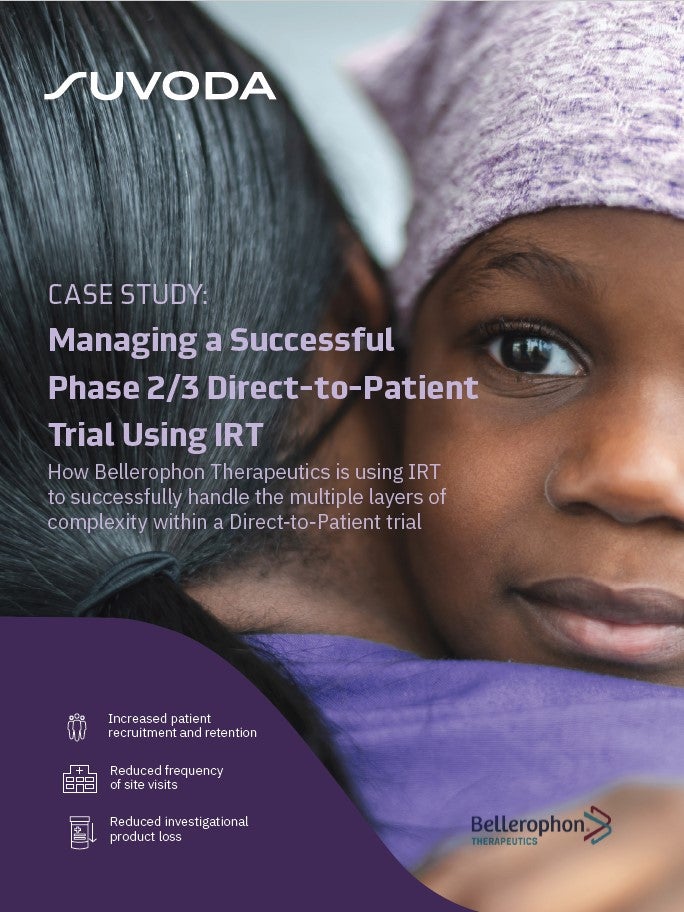 Direct-to-Patient Trials: How IRT Plays an Important Role in Bellerophon's Direct-to-Patient Trials
As the industry strengthens its focus on patient centricity, Direct-to-Patient clinical trials have emerged as a popular trial design that have the potential to increase patient recruitment and retention. IRT plays a crucial role in the success of a Direct-to-Patient trial. Because drug supplies are being managed and shipped from distribution facilities directly to patients' homes, a sponsor must have a high-quality system in place to accurately track the chain of custody, ensure patient-blinding and handle other logistical challenges. What You Will Learn Benefits and challenges associated with the Direct-to-Patient model Bellerophon's top considerations when implementing this trial design How IRT can equip study teams to successfully track chain of custody, ensure patient blinding, and handle logistical challenges
by Suvoda
Thirty of those sites will be in the US, 70 in the EU and the remainder in the rest of the world (ROW), the source said.
NOH is a rare subtype of orthostatic hypotension caused by underlying neurologic disorders that affect a specific part of the autonomic nervous system.
As per ClinicalTrials.gov, the 188-patient Phase III SEQUOIA (NCT03750552) study has 20 sites, one Canadian site, two Danish sites, three Estonian sites, one French, two Hungarian, five Spanish and five UK sites listed. The source said as of about three weeks to a month ago, only about three to five US sites are actively recruiting, and other US sites are still in the onboarding process. The company announced in a 1 January press release that it had enrolled its first patient. The trial has a 1 September 2020 completion date.
The EU investigators for SEQUOIA had a meeting for the trial today at the conference, said Jennifer Coppins, Theravance's associate director, Clinical Trial Liaison and Global Development Operations.
Theravance is working with global CRO IQVIA, as well as other regional CROs for the ongoing Phase III trial, Coppins said. The CROs are involved in the recruitment and patient care in North America (the US and Canada) and EU sites, and there are ongoing discussions to add sites in South America and South Korea too, she said.
Theravance had presented Phase II data (NCT02705755) at the conference, which showed positive data of 21 patients in the orthostatic hypotension symptom assessment (OHSA) efficacy endpoint in the single-blinded study. OHSA is the primary endpoint in SEQUOIA and also in the follow-on 22-week, 258-patient extension REDWOOD (NCT03829657) study for those who completed SEQUOIA, Coppins said.
Analysts project sales of more than $500m for ampreloxetine, and Theravance has a market capitalisation of $1.28bn.
by Shuan Sim in Nice, France
Shuan Sim is a Senior Reporter for Clinical Trials Arena parent company GlobalData's investigative journalism team. A version of this article originally appeared on the Insights module of GlobalData's Pharmaceutical Intelligence Center. To access more articles like this, visit GlobalData.
Free Case Study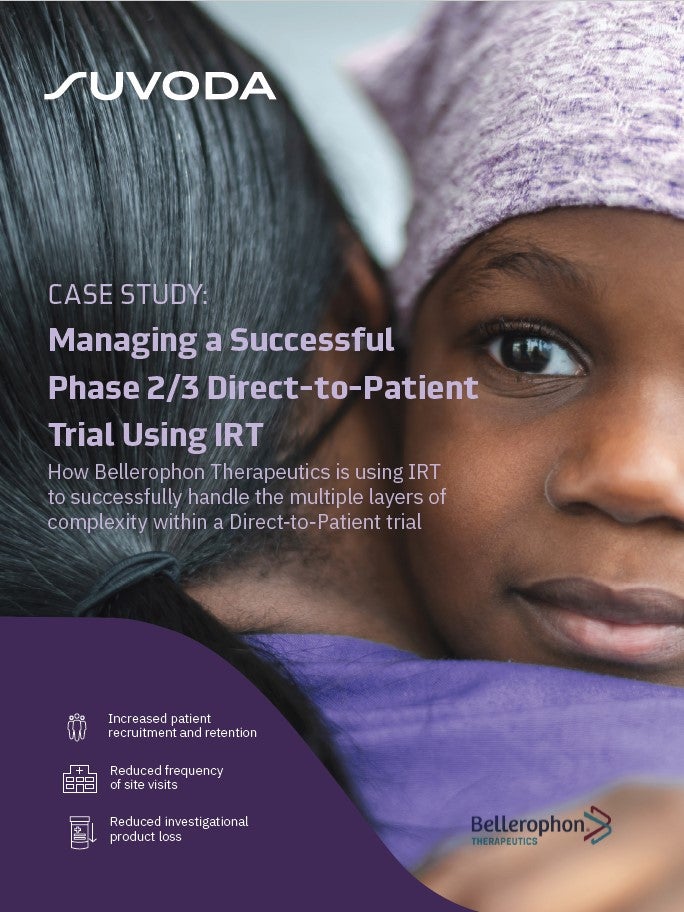 Direct-to-Patient Trials: How IRT Plays an Important Role in Bellerophon's Direct-to-Patient Trials
As the industry strengthens its focus on patient centricity, Direct-to-Patient clinical trials have emerged as a popular trial design that have the potential to increase patient recruitment and retention. IRT plays a crucial role in the success of a Direct-to-Patient trial. Because drug supplies are being managed and shipped from distribution facilities directly to patients' homes, a sponsor must have a high-quality system in place to accurately track the chain of custody, ensure patient-blinding and handle other logistical challenges. What You Will Learn Benefits and challenges associated with the Direct-to-Patient model Bellerophon's top considerations when implementing this trial design How IRT can equip study teams to successfully track chain of custody, ensure patient blinding, and handle logistical challenges
by Suvoda