During the Aβ targeting therapies symposium at this month's International Virtual Conference on Alzheimer's Disease and Parkinson's Disease (AD/PD 2021), US-based biotechnology company Biogen presented positive data regarding cerebrospinal fluid (CSF) biomarker concordance with amyloid positron emission tomography (PET) in patients from the Phase III trials of aducanumab, EMERGE and ENGAGE.
Free Case Study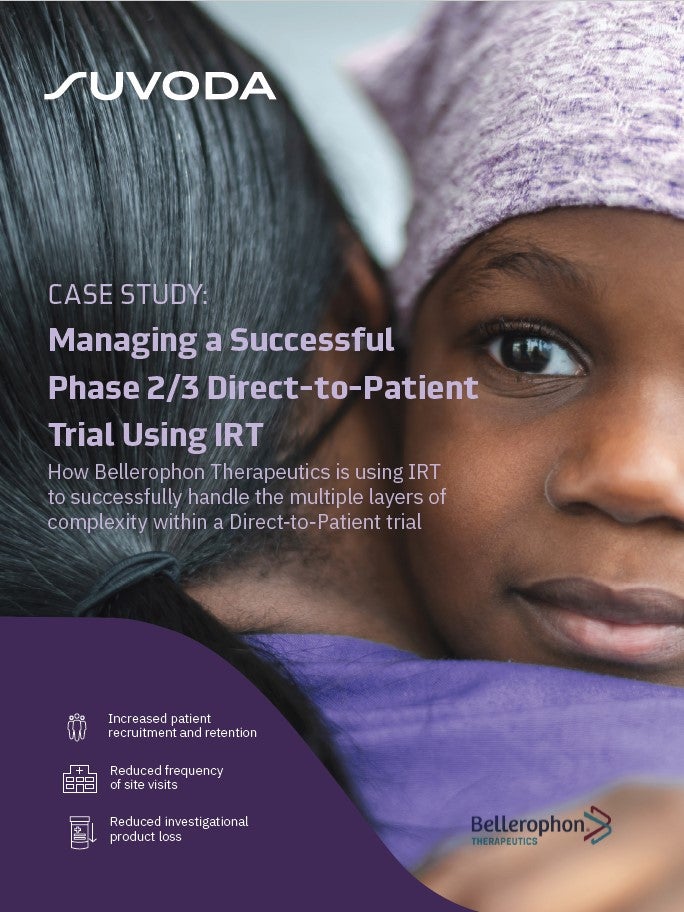 Direct-to-Patient Trials: How IRT Plays an Important Role in Bellerophon's Direct-to-Patient Trials
As the industry strengthens its focus on patient centricity, Direct-to-Patient clinical trials have emerged as a popular trial design that have the potential to increase patient recruitment and retention. IRT plays a crucial role in the success of a Direct-to-Patient trial. Because drug supplies are being managed and shipped from distribution facilities directly to patients' homes, a sponsor must have a high-quality system in place to accurately track the chain of custody, ensure patient-blinding and handle other logistical challenges. What You Will Learn Benefits and challenges associated with the Direct-to-Patient model Bellerophon's top considerations when implementing this trial design How IRT can equip study teams to successfully track chain of custody, ensure patient blinding, and handle logistical challenges
by Suvoda
Aducanumab is a recombinant human monoclonal antibody that binds primarily to aggregated forms of Aβ, including soluble oligomers and insoluble fibrils, but reportedly does not bind Aβ monomers. Aducanumab's two main Phase III studies, ENGAGE and EMERGE, were halted in March 2019 after a futility analysis concluded the trials would not reach their primary endpoint, which was the slowing of cognitive decline as measured by the Clinical Dementia Rating scale Sum of Boxes score. In October 2019, Biogen announced that it was seeking US Food and Drug Administration (FDA) marketing approval for aducanumab, as a reanalysis of the data indicated that the EMERGE trial had shown significant findings that were supported by a subset from the ENGAGE trial.
During the conference, Biogen presented the objective of the sub-trial. This was to assess the use of cerebrospinal fluid (CSF) biomarkers (Aβ42, Aβ 40, p-tau 181 and t-tau) as an alternative to PET imaging for amyloid confirmation by conducting a concordance analysis using data from the EMERGE and ENGAGE studies. Cerebrospinal fluid samples were collected during screening in subjects who consented to the sub-study and in subjects who had an invaluable amyloid PET scan. In the trial, amyloid PET scans were performed using one of the three approved PET tracers: Lilly's Amyvid (florbetapir), GE Healthcare's Vizamyl (flutemetamol), and Piramal's Neuraceq (florbetaben). A lumbar puncture was performed to collect the cerebrospinal fluid, and the fluid biomarker data were generated for the analyses using the LUMIPULSE G1200 automated immunoassay.
The results from the sub-trial demonstrated a robust concordance between the fluid biomarkers of amyloid confirmation and amyloid PET results at screening. Moreover, the biomarker ratio had higher concordance with amyloid PET than single CSF biomarkers for the CSF ratio. As well as this, the observed sensitivity of 94%, the specificity of 88% and overall percent agreement of 94% seen in EMERGE and ENGAGE were comparable to the approved PET tracers. By demonstrating concordance between amyloid PET and cerebrospinal fluid biomarkers, Biogen could enable efficient patient screening both in clinical trials and clinical practice, providing alternatives to the existing diagnostic tools for AD.
Biogen submitted the aducanumab Biologics License Application to the FDA in July, and it was accepted in August. The FDA also granted Priority Review to the drug. A final decision had been expected this month, but the FDA extended the review period by three months by asking for more information and clinical data, which Biogen has submitted. The Prescription Drug User Fee Act (PDUFA) action date is now 7 June.
Key opinion leaders (KOLs) interviewed by GlobalData expressed mixed opinions about the potential for aducanumab to receive approval from the FDA, noting that the cumulative data around efficacy and safety for aducanumab are not substantial enough to meet the FDA's standard. This concern was also expressed by a few FDA reviewers, who asked for an additional trial to confirm the evidence of aducanumab slowing the disease. However, KOLs believe that the FDA is unlikely to turn down aducanumab, even if it only has a modest benefit, given the lack of any truly efficacious therapy in the space.
Free Case Study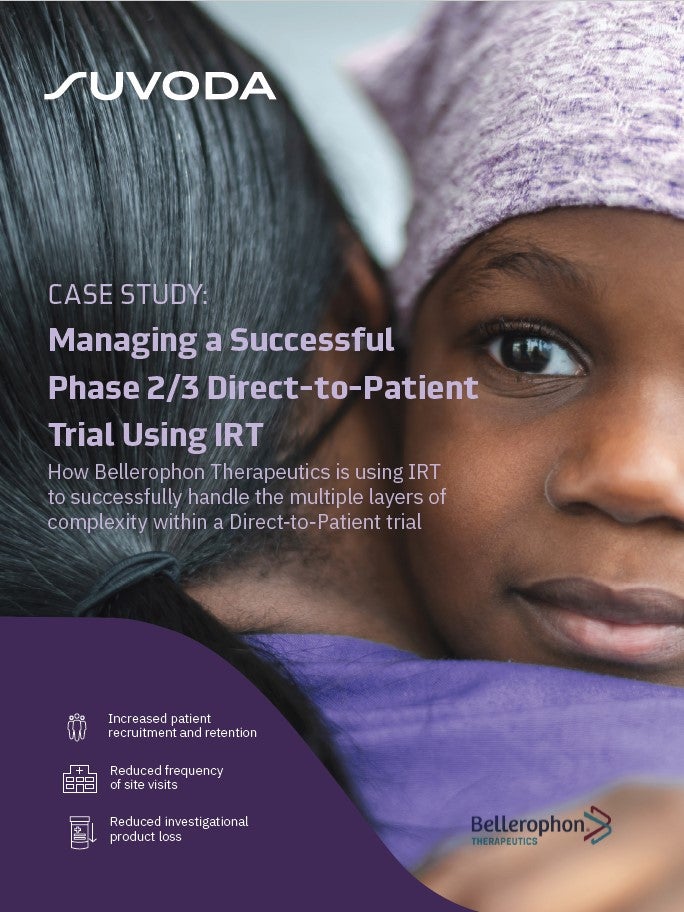 Direct-to-Patient Trials: How IRT Plays an Important Role in Bellerophon's Direct-to-Patient Trials
As the industry strengthens its focus on patient centricity, Direct-to-Patient clinical trials have emerged as a popular trial design that have the potential to increase patient recruitment and retention. IRT plays a crucial role in the success of a Direct-to-Patient trial. Because drug supplies are being managed and shipped from distribution facilities directly to patients' homes, a sponsor must have a high-quality system in place to accurately track the chain of custody, ensure patient-blinding and handle other logistical challenges. What You Will Learn Benefits and challenges associated with the Direct-to-Patient model Bellerophon's top considerations when implementing this trial design How IRT can equip study teams to successfully track chain of custody, ensure patient blinding, and handle logistical challenges
by Suvoda