Apple and Johnson & Johnson's ongoing Heartline Study aims to evaluate changes in stroke risk and atrial fibrillation (AF) detection through the use of the Heartline Study's app and the Apple Watch.
Free Case Study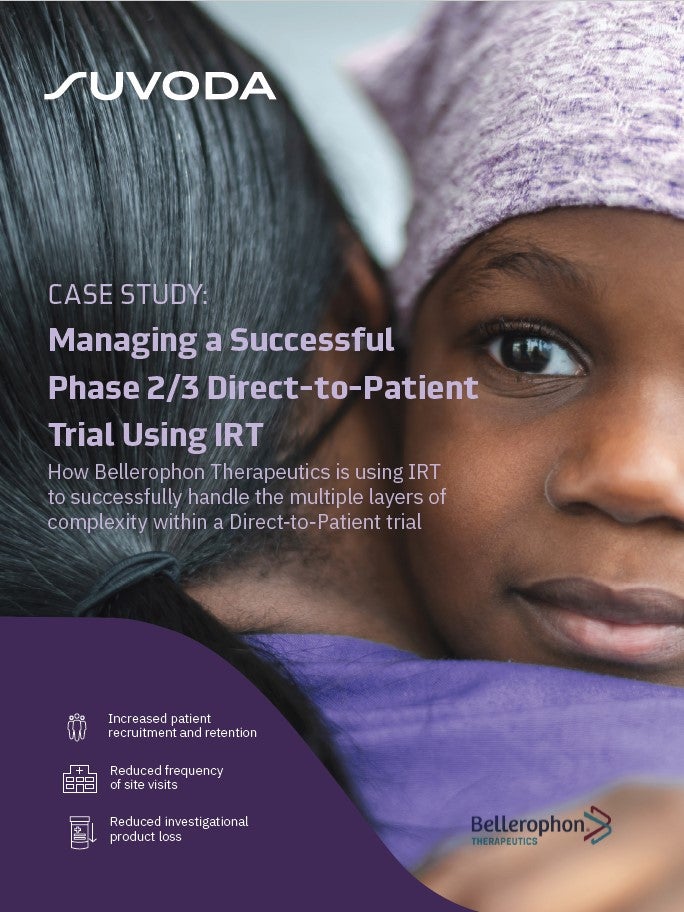 Direct-to-Patient Trials: How IRT Plays an Important Role in Bellerophon's Direct-to-Patient Trials
As the industry strengthens its focus on patient centricity, Direct-to-Patient clinical trials have emerged as a popular trial design that have the potential to increase patient recruitment and retention. IRT plays a crucial role in the success of a Direct-to-Patient trial. Because drug supplies are being managed and shipped from distribution facilities directly to patients' homes, a sponsor must have a high-quality system in place to accurately track the chain of custody, ensure patient-blinding and handle other logistical challenges. What You Will Learn Benefits and challenges associated with the Direct-to-Patient model Bellerophon's top considerations when implementing this trial design How IRT can equip study teams to successfully track chain of custody, ensure patient blinding, and handle logistical challenges
by Suvoda
With a target trial enrollment of 150,000 participants over the age of 65 years, 5,000 seniors signed up within the first week of the study's initiation on 25 February.
Meanwhile, according to GlobalData's clinical trials database, there is an overall increase in trials that have pushed back their estimated start dates since the beginning of January, largely due to the Covid-19 pandemic. However, industry experts believe remote studies such as Heartline may have a significant advantage as patients can continue to enrol and participate from their homes. GlobalData believes that the trial can continue with minimal disruptions.
Participants in the Heartline study are randomly assigned to one of two groups. The first group wears an Apple Watch and takes part in an educational program through the Heartline Study app, while individuals in the second group only use the app on their phones without the watch. The aim of the study will be to determine whether a diagnosis of AF can be made more quickly when patients receive health notifications from the app.
Key opinion leaders interviewed by GlobalData have emphasised this longstanding unmet need in the AF space related to early identification / diagnosis, especially when considering the fact that many AF patients remain undiagnosed due to being asymptomatic.
Patients who have already been diagnosed with AF will receive notifications on the app about adhering to their medication and refilling medicines. The study is expected to be the largest randomised cardiovascular study ever conducted. A previous study using the Apple Watch helped to alert people who might have been at risk of heart failure or stroke. The new Apple Watch trial is estimated to be completed by December 2023.
Across various indications, clinical trials are increasingly expected to experience delays as investigators and hospitals, which are used as clinical trial sites, are inundated with Covid-19 patients. With fewer trial sites and investigators available to run the trials, clinical trials for certain indications will be deprioritised.
Also, patients involved in these studies may soon be urged not to visit hospitals for infusions or other appointments due to the pandemic. Therefore, the Heartline Study presents the added benefit of being able to progress with the fewest interruptions, despite the US health officials advising the senior population to practice social distancing due to the Covid-19 pandemic.
Free Case Study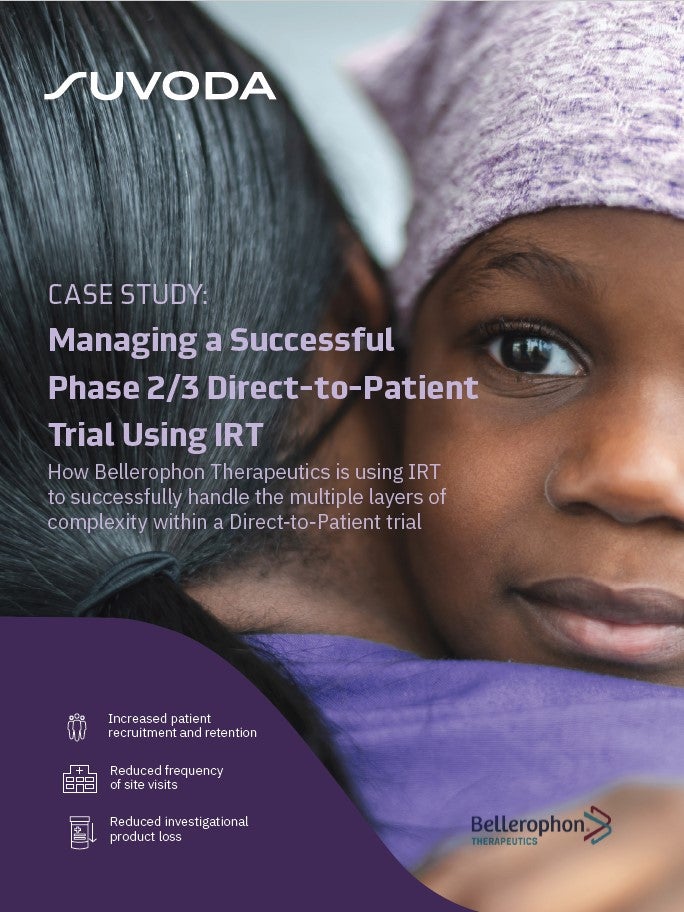 Direct-to-Patient Trials: How IRT Plays an Important Role in Bellerophon's Direct-to-Patient Trials
As the industry strengthens its focus on patient centricity, Direct-to-Patient clinical trials have emerged as a popular trial design that have the potential to increase patient recruitment and retention. IRT plays a crucial role in the success of a Direct-to-Patient trial. Because drug supplies are being managed and shipped from distribution facilities directly to patients' homes, a sponsor must have a high-quality system in place to accurately track the chain of custody, ensure patient-blinding and handle other logistical challenges. What You Will Learn Benefits and challenges associated with the Direct-to-Patient model Bellerophon's top considerations when implementing this trial design How IRT can equip study teams to successfully track chain of custody, ensure patient blinding, and handle logistical challenges
by Suvoda