InterveXion Therapeutics' 126-patient Phase I/II trial of IXT-m200 to combat methamphetamine addiction is expected to close enrolment next month, with just a few more patients left to recruit, a source familiar with the trial said. With the trial finishing up, data analysis can begin this summer, allowing for topline data to be available sometime in 3Q or 4Q, he said.
Free Case Study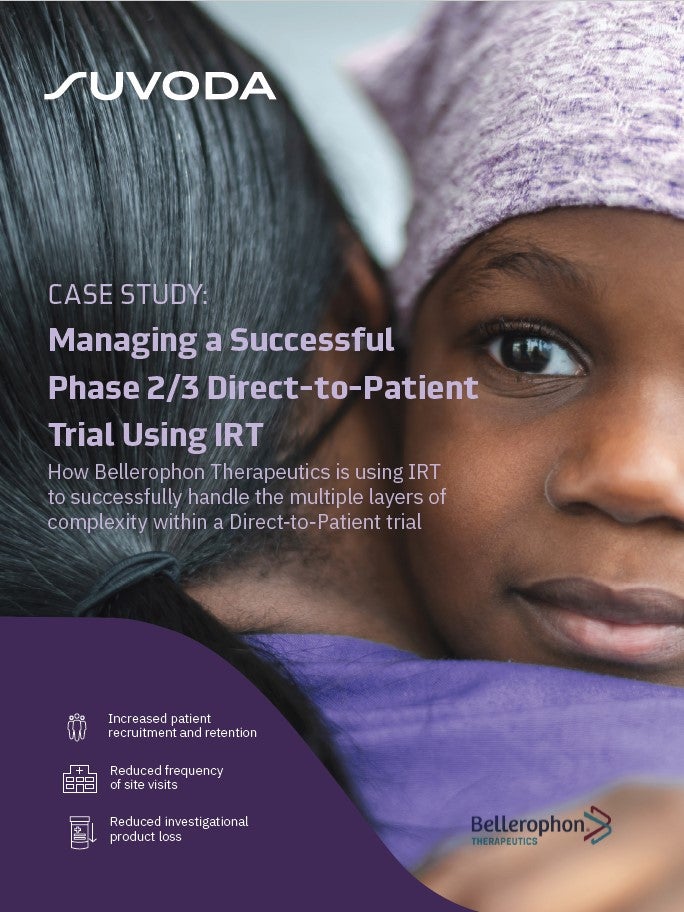 Direct-to-Patient Trials: How IRT Plays an Important Role in Bellerophon's Direct-to-Patient Trials
As the industry strengthens its focus on patient centricity, Direct-to-Patient clinical trials have emerged as a popular trial design that have the potential to increase patient recruitment and retention. IRT plays a crucial role in the success of a Direct-to-Patient trial. Because drug supplies are being managed and shipped from distribution facilities directly to patients' homes, a sponsor must have a high-quality system in place to accurately track the chain of custody, ensure patient-blinding and handle other logistical challenges. What You Will Learn Benefits and challenges associated with the Direct-to-Patient model Bellerophon's top considerations when implementing this trial design How IRT can equip study teams to successfully track chain of custody, ensure patient blinding, and handle logistical challenges
by Suvoda
The trial, called STAMPOUT (NCT03336866), has an estimated primary completion date of December 2020, according to the entry on ClinicalTrials.gov, which was last updated in January. The primary endpoint is measured over a 29-day period and is based on change in plasma methamphetamine.
The company has described STAMPOUT as a proof-of-concept trial, and it is not clear whether just one or two Phase III trials might be needed for registration, the source said. However, IXT-m200 having FDA Fast Track Designation could speed things up, he added.
The Little Rock, Arkansas-based company's monoclonal antibody (mAb) treatment represents one of the few advanced developments in treating methamphetamine addiction, the source said. The mAb binding to methamphetamine itself, preventing further binding and the reward associated with methamphetamine use, is a promising approach compared to small molecules therapies attempting to bind to receptor sites, he noted. As methamphetamine activates multiple neurotransmitter pathways, small molecules might be inadequate to wholly block all of them, he explained.
The only other clinical-stage asset for methamphetamine addiction is MediciNova's ibudilast, which is in an investigator-sponsored, 65-patient, Phase II trial (NCT03341078) examining neuroinflammation as a biomarker for methamphetamine use, according to its 13 February Securities and Exchange Commission filing. In March 2018, MediciNova announced the failure of an investigator-sponsored, Phase II trial (NCT01860807) testing the drug in methamphetamine dependence. Experts had doubts on Ibudilast achieving Phase II success, this news service reported in January 2018.
Methamphetamine use is increasingly concerning, as it is overlooked amid the nationwide focus on opioid use, the source noted. Opioid use-related deaths still account for the highest proportion of drug-related deaths in the US, but the methamphetamine use-related death rate is growing faster, representing a worrying statistic, he added. Opioid overdose deaths grew 1.5 times from 31,392 in July 2015 to 46,786 in July 2019, while deaths due to psychostimulants including methamphetamine grew 2.8 times from 5,081 to 14,339 in the same time period, according to the Centers for Disease Control and Prevention.
by Shuan Sim in New York
Shuan Sim is a Senior Reporter for Clinical Trials Arena parent company GlobalData's investigative journalism team. A version of this article originally appeared on the Insights module of GlobalData's Pharmaceutical Intelligence Center. To access more articles like this, visit GlobalData.
Free Case Study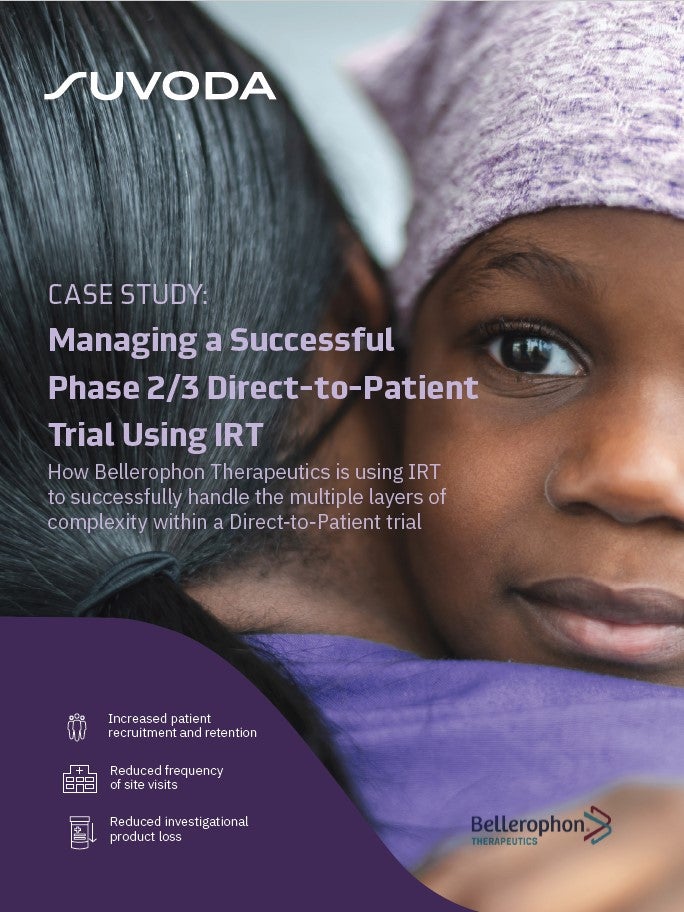 Direct-to-Patient Trials: How IRT Plays an Important Role in Bellerophon's Direct-to-Patient Trials
As the industry strengthens its focus on patient centricity, Direct-to-Patient clinical trials have emerged as a popular trial design that have the potential to increase patient recruitment and retention. IRT plays a crucial role in the success of a Direct-to-Patient trial. Because drug supplies are being managed and shipped from distribution facilities directly to patients' homes, a sponsor must have a high-quality system in place to accurately track the chain of custody, ensure patient-blinding and handle other logistical challenges. What You Will Learn Benefits and challenges associated with the Direct-to-Patient model Bellerophon's top considerations when implementing this trial design How IRT can equip study teams to successfully track chain of custody, ensure patient blinding, and handle logistical challenges
by Suvoda