Companies and organisations continue to report trial disruptions due to the Covid-19 pandemic, which includes delayed initiation, delayed enrollment, and slow enrollment. As the number of Covid-19 cases and deaths continues to rise, GlobalData has also continued analysis of disrupted clinical trials since the beginning of the pandemic.
Free Case Study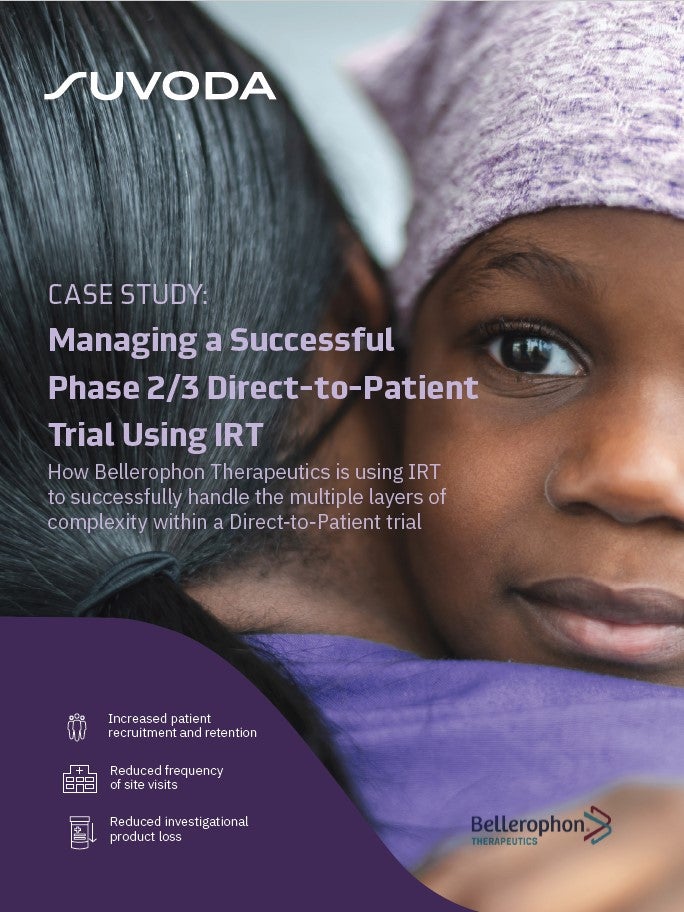 Direct-to-Patient Trials: How IRT Plays an Important Role in Bellerophon's Direct-to-Patient Trials
As the industry strengthens its focus on patient centricity, Direct-to-Patient clinical trials have emerged as a popular trial design that have the potential to increase patient recruitment and retention. IRT plays a crucial role in the success of a Direct-to-Patient trial. Because drug supplies are being managed and shipped from distribution facilities directly to patients' homes, a sponsor must have a high-quality system in place to accurately track the chain of custody, ensure patient-blinding and handle other logistical challenges. What You Will Learn Benefits and challenges associated with the Direct-to-Patient model Bellerophon's top considerations when implementing this trial design How IRT can equip study teams to successfully track chain of custody, ensure patient blinding, and handle logistical challenges
by Suvoda
Although the number of disrupted clinical trials continued to increase through 2020 and into 2021, the number of clinical trials disrupted varies depending on the therapy area. For example, when looking at the percentage of these top therapy areas and not all disrupted clinical trials, and when comparing April 2020 to February 2021, it can be seen that the number of oncology, gastrointestinal, respiratory, and immunology trials saw a decrease. Oncology saw the biggest decrease in the number of disrupted clinical trials by 4.9% followed by respiratory at 2.8%. Other therapy areas such as musculoskeletal disorders, metabolic disorders, cardiovascular, and the central nervous system saw an increase in disrupted trials. The central nervous system saw the most increase by 4.1% followed by metabolic disorders with a 3.3% increase. A further percentage breakdown for these top therapy areas only can be seen in Figure 1.
With trends such as these, it can be seen that some therapy areas have a better outlook than others, it is hard to determine when and how long disrupted clinical trials will take to come back to normal.
Free Case Study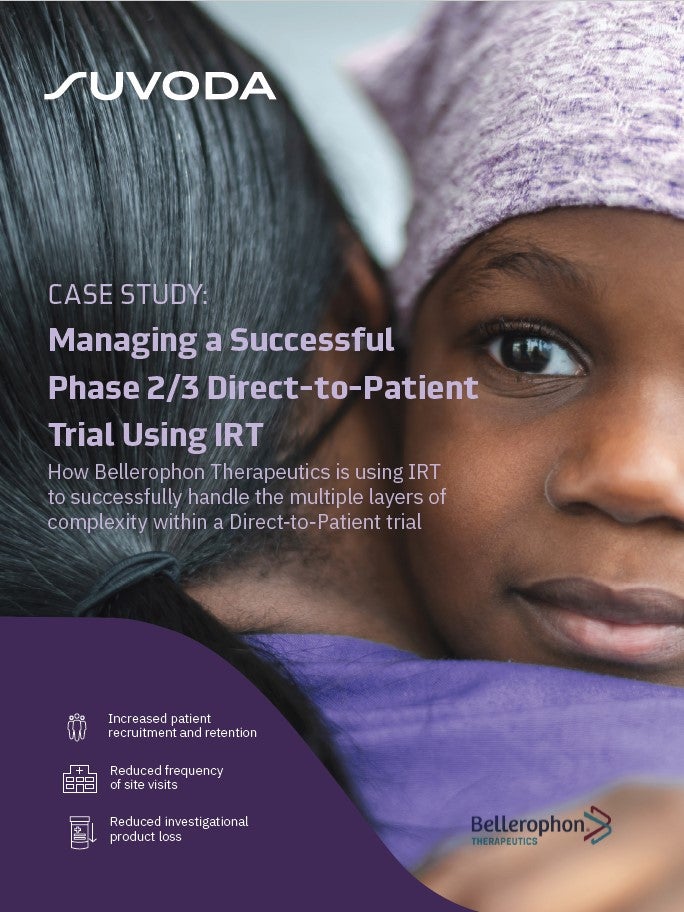 Direct-to-Patient Trials: How IRT Plays an Important Role in Bellerophon's Direct-to-Patient Trials
As the industry strengthens its focus on patient centricity, Direct-to-Patient clinical trials have emerged as a popular trial design that have the potential to increase patient recruitment and retention. IRT plays a crucial role in the success of a Direct-to-Patient trial. Because drug supplies are being managed and shipped from distribution facilities directly to patients' homes, a sponsor must have a high-quality system in place to accurately track the chain of custody, ensure patient-blinding and handle other logistical challenges. What You Will Learn Benefits and challenges associated with the Direct-to-Patient model Bellerophon's top considerations when implementing this trial design How IRT can equip study teams to successfully track chain of custody, ensure patient blinding, and handle logistical challenges
by Suvoda