AB Science has secured approval from the Regulatory Authorities of Russia and South Africa to commence Study AB21002, a second Phase II Covid-19 clinical trial with masitinib.
Free Case Study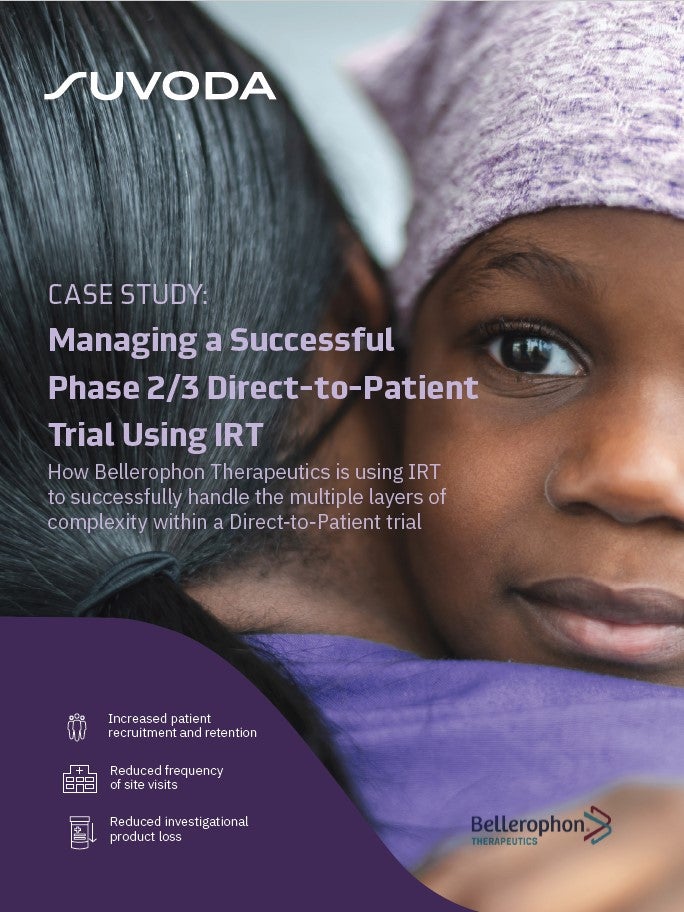 Direct-to-Patient Trials: How IRT Plays an Important Role in Bellerophon's Direct-to-Patient Trials
As the industry strengthens its focus on patient centricity, Direct-to-Patient clinical trials have emerged as a popular trial design that have the potential to increase patient recruitment and retention. IRT plays a crucial role in the success of a Direct-to-Patient trial. Because drug supplies are being managed and shipped from distribution facilities directly to patients' homes, a sponsor must have a high-quality system in place to accurately track the chain of custody, ensure patient-blinding and handle other logistical challenges. What You Will Learn Benefits and challenges associated with the Direct-to-Patient model Bellerophon's top considerations when implementing this trial design How IRT can equip study teams to successfully track chain of custody, ensure patient blinding, and handle logistical challenges
by Suvoda
Masitinib is an orally administered tyrosine kinase inhibitor, which is being developed as a novel SARS-CoV-2 protease inhibitor antiviral therapy.
The company claims that it is currently one of the most advanced oral protease inhibitor antiviral drugs which are in clinical development.
Study AB21002 is a randomised, double-blind, placebo-controlled Phase II clinical trial that will be performed in patients with symptomatic mild to moderate Covid-19 to evaluate the efficacy of masitinib.
It will directly focus on masitinib's antiviral activity against the SARS-CoV-2 virus to treat patients at an early stage of the disease.
The antiviral efficacy of the drug will be evaluated at three different dosages, administered as an add-on to best supportive care, with respect to placebo plus best supportive care.
Study AB21002 will enrol 78 patients aged 18 years and above at medical centres in France and other countries.
It will also target non-hospitalised patients with mild disease or hospitalised Covid-19 patients without resorting to non-invasive ventilation.
The trial's primary efficacy objective will be to demonstrate that the drug can reduce the SARS-CoV-2 viral load faster compared to a placebo control group, which will be given best supportive care.
University of Chicago Pritzker School for Molecular Engineering professor Savas Tay said: "In a context where we face the emergence of a number of SARS-CoV-2 variants of concern, the development of efficacious antiviral therapeutics is urgently needed.
"Because masitinib specifically targets the catalytic residues of 3CLpro, its antiviral activity is likely to be insensitive to genetic alterations of the Spike protein.
"Thus, masitinib constitutes a uniquely valuable therapeutic option for both ancestral SARS-CoV-2 and variants against which vaccines or monoclonal antibodies may become less or not effective."
Free Case Study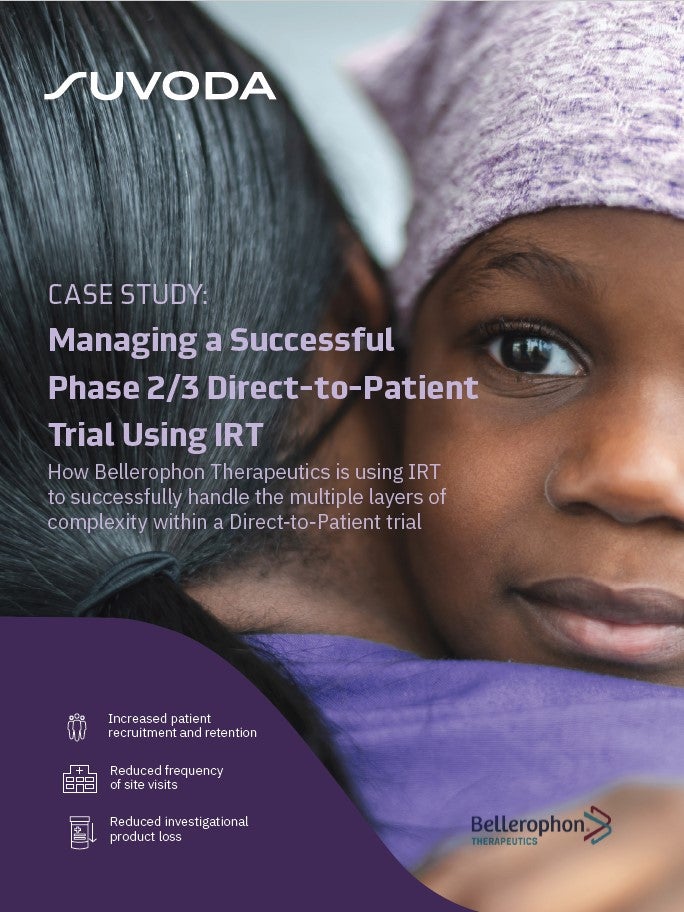 Direct-to-Patient Trials: How IRT Plays an Important Role in Bellerophon's Direct-to-Patient Trials
As the industry strengthens its focus on patient centricity, Direct-to-Patient clinical trials have emerged as a popular trial design that have the potential to increase patient recruitment and retention. IRT plays a crucial role in the success of a Direct-to-Patient trial. Because drug supplies are being managed and shipped from distribution facilities directly to patients' homes, a sponsor must have a high-quality system in place to accurately track the chain of custody, ensure patient-blinding and handle other logistical challenges. What You Will Learn Benefits and challenges associated with the Direct-to-Patient model Bellerophon's top considerations when implementing this trial design How IRT can equip study teams to successfully track chain of custody, ensure patient blinding, and handle logistical challenges
by Suvoda