AbbVie has reported combined positive results from two Phase III clinical trials of risankizumab (Skyrizi) in adult patients with active psoriatic arthritis (PsA), a heterogeneous, systemic inflammatory ailment.
Free Case Study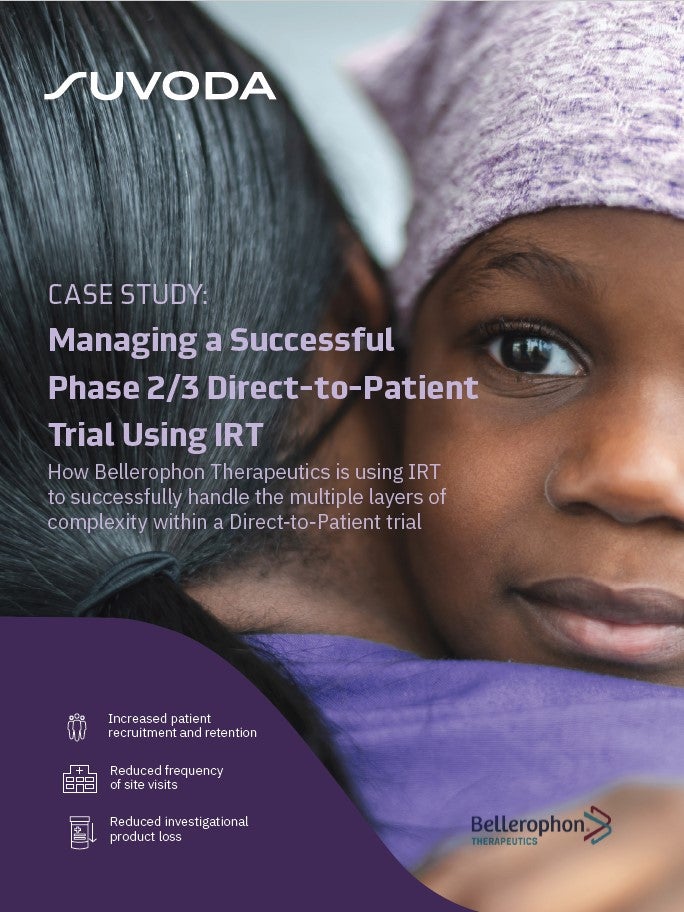 Direct-to-Patient Trials: How IRT Plays an Important Role in Bellerophon's Direct-to-Patient Trials
As the industry strengthens its focus on patient centricity, Direct-to-Patient clinical trials have emerged as a popular trial design that have the potential to increase patient recruitment and retention. IRT plays a crucial role in the success of a Direct-to-Patient trial. Because drug supplies are being managed and shipped from distribution facilities directly to patients' homes, a sponsor must have a high-quality system in place to accurately track the chain of custody, ensure patient-blinding and handle other logistical challenges. What You Will Learn Benefits and challenges associated with the Direct-to-Patient model Bellerophon's top considerations when implementing this trial design How IRT can equip study teams to successfully track chain of custody, ensure patient blinding, and handle logistical challenges
by Suvoda
Findings showed that 24 weeks of risankizumab treatment provided greater improvements in signs and symptoms of PsA versus placebo.
Named iKEEPsAKE 1 and KEEPsAKE 2, the ongoing, multicentre, double-blind, randomised, placebo-controlled trials are analysing the safety and efficacy of risankizumab in adult subjects having active psoriatic arthritis.
Subjects with insufficient response or intolerance to at least one disease-modifying anti-rheumatic drug (DMARD) were part of KEEPsAKE 1.
KEEPsAKE 2 enrolled subjects with an improper response or intolerance to biologic treatment and/or DMARDs.
They were categorised to receive either 150mg risankizumab or placebo, with subsequent administration of 150mg risankizumab at week 24.
Attaining an ACR20 response at week 24 was the primary goal of the two trials.
The variation in Health Assessment Questionnaire-Disability Index from baseline, enthesitis and dactylitis resolution, attaining Psoriasis Area and Severity Index 90, as well as minimal disease activity at week 24, were some of the secondary goals.
Data showed that 55.5% of the subjects treated with risankizumab attained ACR20 response versus 31.3% receiving placebo at week 24.
Furthermore, subjects in risankizumab arm demonstrated superior improvements in the clinical and subject-reported outcome goals versus those in the placebo arm.
The safety profile of risankizumab was generally in line with those reported in psoriasis patients without any new safety signals detected.
One case of death unrelated to the drug and a major adverse cardiac event were reported.
AbbVie research and development senior vice-president and chief scientific officer Thomas Hudson said: "Psoriatic arthritis is a chronic, progressive and debilitating disease.
"These results support the potential of risankizumab to help improve joint and skin symptoms for people living with this disease and assist more people in their pursuit of reaching their treatment goals."
Last month, AbbVie announced data from these trials where risankizumab offered improved signs and symptoms of adult psoriatic arthritis patients.
Free Case Study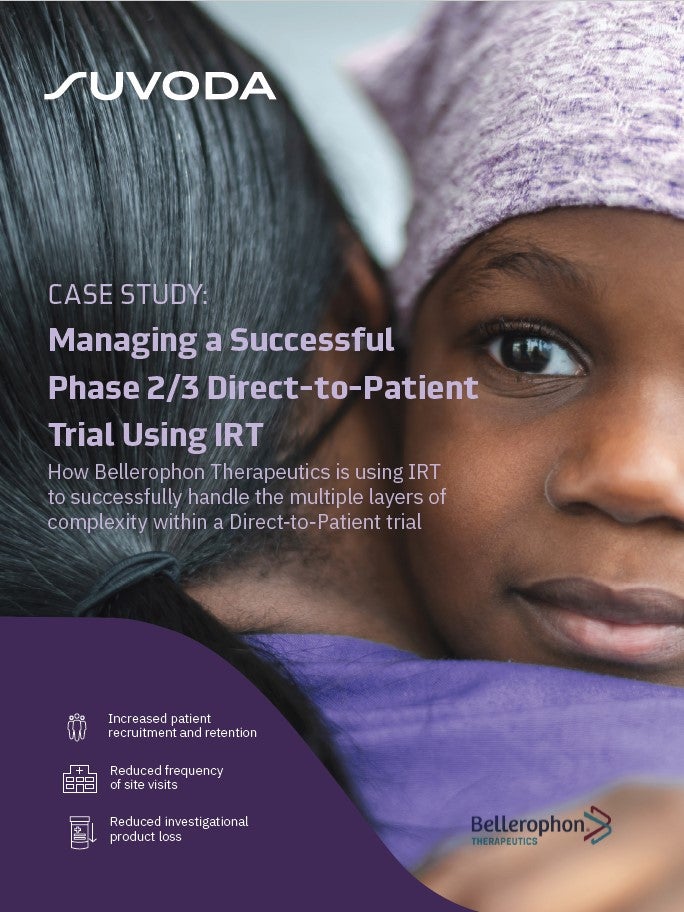 Direct-to-Patient Trials: How IRT Plays an Important Role in Bellerophon's Direct-to-Patient Trials
As the industry strengthens its focus on patient centricity, Direct-to-Patient clinical trials have emerged as a popular trial design that have the potential to increase patient recruitment and retention. IRT plays a crucial role in the success of a Direct-to-Patient trial. Because drug supplies are being managed and shipped from distribution facilities directly to patients' homes, a sponsor must have a high-quality system in place to accurately track the chain of custody, ensure patient-blinding and handle other logistical challenges. What You Will Learn Benefits and challenges associated with the Direct-to-Patient model Bellerophon's top considerations when implementing this trial design How IRT can equip study teams to successfully track chain of custody, ensure patient blinding, and handle logistical challenges
by Suvoda