AbCellera has reported that antibody LY-CoV1404, developed through its partnership with Eli Lilly, entered clinical trials in subjects with mild-to-moderate Covid-19.
Free Case Study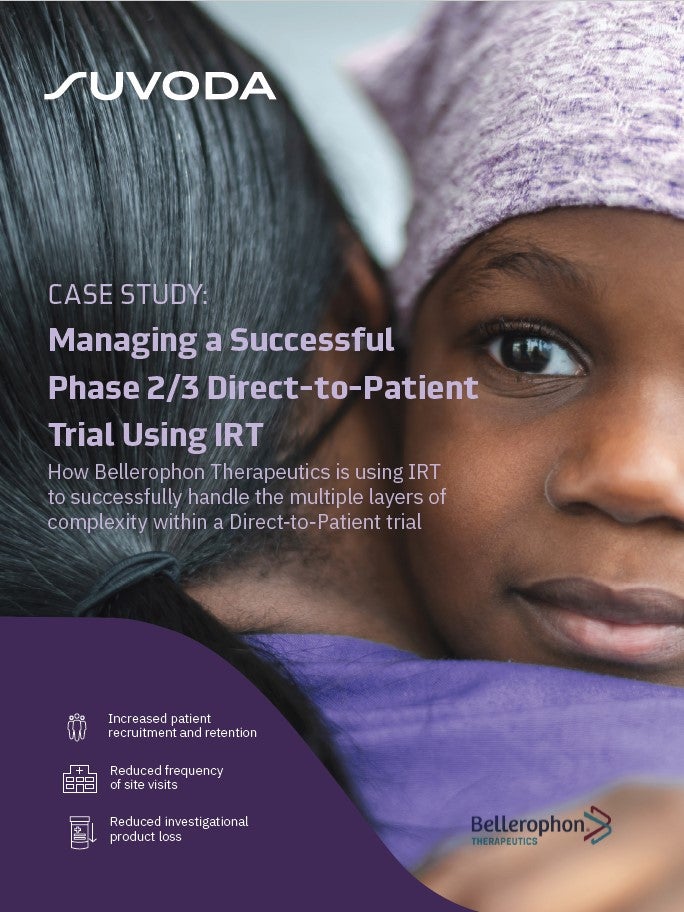 Direct-to-Patient Trials: How IRT Plays an Important Role in Bellerophon's Direct-to-Patient Trials
As the industry strengthens its focus on patient centricity, Direct-to-Patient clinical trials have emerged as a popular trial design that have the potential to increase patient recruitment and retention. IRT plays a crucial role in the success of a Direct-to-Patient trial. Because drug supplies are being managed and shipped from distribution facilities directly to patients' homes, a sponsor must have a high-quality system in place to accurately track the chain of custody, ensure patient-blinding and handle other logistical challenges. What You Will Learn Benefits and challenges associated with the Direct-to-Patient model Bellerophon's top considerations when implementing this trial design How IRT can equip study teams to successfully track chain of custody, ensure patient blinding, and handle logistical challenges
by Suvoda
Lilly expanded its ongoing BLAZE-4 trials to assess LY-CoV1404 alone and along with other monoclonal antibodies.
The antibody was developed from a fully human monoclonal antibody detected in a blood sample from a convalescent Covid-19 patient 60 days after onset of symptoms.
Unlike other neutralising antibodies, LY-CoV1404 attaches a conserved region of the SARS-CoV-2 receptor-binding domain (RBD).
According to the preclinical data released by AbCellera, LY-CoV1404 attaches to a hardly mutated area of the SARS-CoV-2 spike protein and neutralised SARS-CoV-2 and all existing variants of concern.
This includes the UK (B.1.1.7), South Africa (B.1.351), Brazil (P.1), California (B.1.426 and B.1.429), and New York (B.1.526) variants.
As LY-CoV1404 is greatly potent, it could potentially lower the quantity of antibody required for clinical dosing and could permit a subcutaneous way of administration for either Covid-19 treatment or prophylaxis, the company noted.
AbCellera scientific director Bo Barnhart said: "The ability of SARS-CoV-2 variants to negatively alter the trajectory of the pandemic emphasises the essential need for antibody therapies that can be developed in real-time to combat the virus as it evolves.
"LY-CoV1404's powerful neutralisation of SARS-CoV-2 allows for exploration of lower clinical doses, which may support subcutaneous administration and availability of more doses to treat patients around the world."
When the pandemic began, AbCellera developed a Covid-19 monoclonal antibody therapy, bamlanivimab. It received authorisation for emergency use from the US Food and Drug Administration (FDA).
Bamlanivimab alone and in combination with other antibodies is so far authorised for emergency/special use in over 15 countries across the globe.
Last month, the FDA revoked the emergency use authorisation granted to bamlanivimab 700mg alone for treating mild-to-moderate Covid-19 in adults and certain paediatric patients.
Free Case Study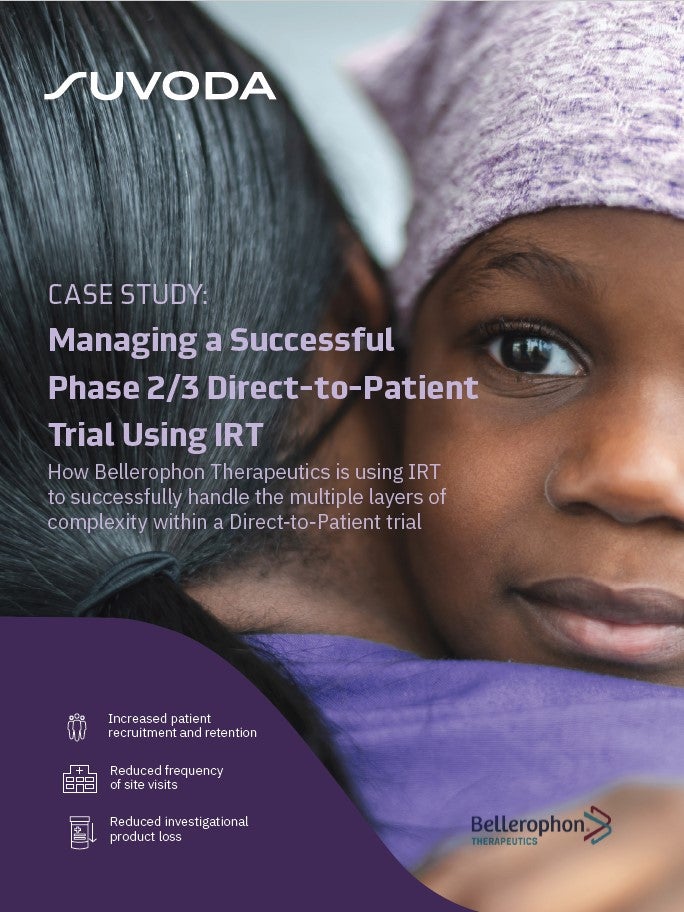 Direct-to-Patient Trials: How IRT Plays an Important Role in Bellerophon's Direct-to-Patient Trials
As the industry strengthens its focus on patient centricity, Direct-to-Patient clinical trials have emerged as a popular trial design that have the potential to increase patient recruitment and retention. IRT plays a crucial role in the success of a Direct-to-Patient trial. Because drug supplies are being managed and shipped from distribution facilities directly to patients' homes, a sponsor must have a high-quality system in place to accurately track the chain of custody, ensure patient-blinding and handle other logistical challenges. What You Will Learn Benefits and challenges associated with the Direct-to-Patient model Bellerophon's top considerations when implementing this trial design How IRT can equip study teams to successfully track chain of custody, ensure patient blinding, and handle logistical challenges
by Suvoda