Actinium Pharmaceuticals has announced the initiation of patient enrolment in the Phase I study of Iomab-ACT for targeted conditioning before treatment with Memorial Sloan Kettering Cancer Center 's (Msk ) CD19 targeted CAR T-cell 19-28z.
Free Case Study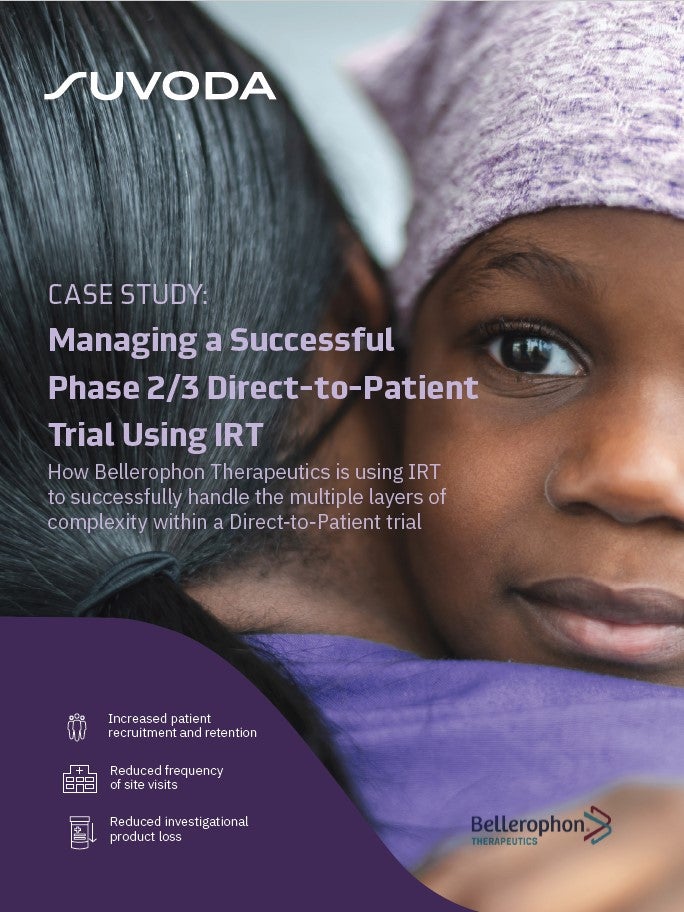 Direct-to-Patient Trials: How IRT Plays an Important Role in Bellerophon's Direct-to-Patient Trials
As the industry strengthens its focus on patient centricity, Direct-to-Patient clinical trials have emerged as a popular trial design that have the potential to increase patient recruitment and retention. IRT plays a crucial role in the success of a Direct-to-Patient trial. Because drug supplies are being managed and shipped from distribution facilities directly to patients' homes, a sponsor must have a high-quality system in place to accurately track the chain of custody, ensure patient-blinding and handle other logistical challenges. What You Will Learn Benefits and challenges associated with the Direct-to-Patient model Bellerophon's top considerations when implementing this trial design How IRT can equip study teams to successfully track chain of custody, ensure patient blinding, and handle logistical challenges
by Suvoda
A CD45 targeting antibody radiation conjugate, Iomab-ACT is a low dose version of Actinium's Phase III drug candidate Iomab-B.
It is intended to deplete CD45+ immune cells, such as macrophages, that are implicated in CAR-T related toxicities and could potentially have an anti-tumour effect on chemo-refractory cancers.
The US National Institutes of Health Small Business Technology Transfer grant funding was awarded to Actinium and Msk for carrying out this trial to analyse ARC-based targeted conditioning before CAR-T therapy.
The manufacturing of patient CAR T-cells has begun while patient conditioning with Iomab-ACT followed by 19-28z CAR T-cell infusion is anticipated early in Q2 2021.
Actinium noted that the proof-of-concept data is expected in the second half of this year.
Actinium chief scientific and technology officer Dr Dale Ludwig said: "Msk 's 19-28z CAR T-cell therapy has produced high response rates in patients with relapsed or refractory B-ALL who have previously undergone several lines of standard therapy.
"The ARC technology Iomab-ACT employs enables the delivery of targeted radiation that selective and specifically targets immune cells including those implicated in the CAR-T-associated toxicities of neurotoxicity and cytokine release syndrome.
"We are eager to begin treating patients in this first of its kind pilot study to explore the potential of Iomab-ACT targeted lymphodepletion to modulate the immune system and improve the safety profile of CAR T-cell therapy."
The scientific rationale for this trial builds on previously reported preclinical data, as well as clinical observations from the Sierra trial, to justify the combination of Msk 's 19-28z CAR T-cell therapy with Iomab-ACT.
Free Case Study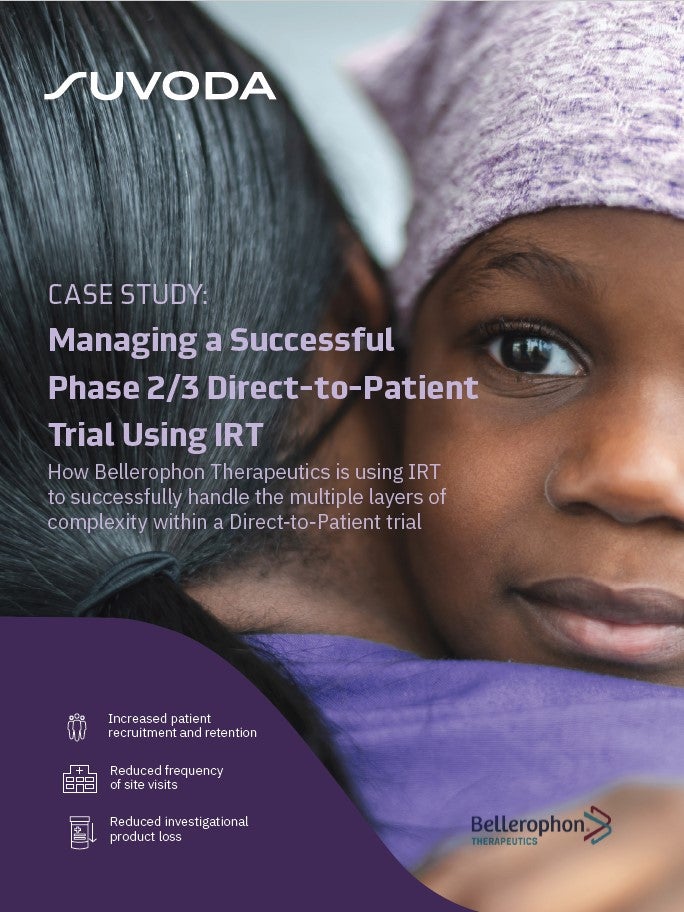 Direct-to-Patient Trials: How IRT Plays an Important Role in Bellerophon's Direct-to-Patient Trials
As the industry strengthens its focus on patient centricity, Direct-to-Patient clinical trials have emerged as a popular trial design that have the potential to increase patient recruitment and retention. IRT plays a crucial role in the success of a Direct-to-Patient trial. Because drug supplies are being managed and shipped from distribution facilities directly to patients' homes, a sponsor must have a high-quality system in place to accurately track the chain of custody, ensure patient-blinding and handle other logistical challenges. What You Will Learn Benefits and challenges associated with the Direct-to-Patient model Bellerophon's top considerations when implementing this trial design How IRT can equip study teams to successfully track chain of custody, ensure patient blinding, and handle logistical challenges
by Suvoda