Acucela has enrolled the first patient in its Phase III clinical trial to examine emixustat hydrochloride for the treatment of patients with macular atrophy secondary to Stargardt disease.
Free Case Study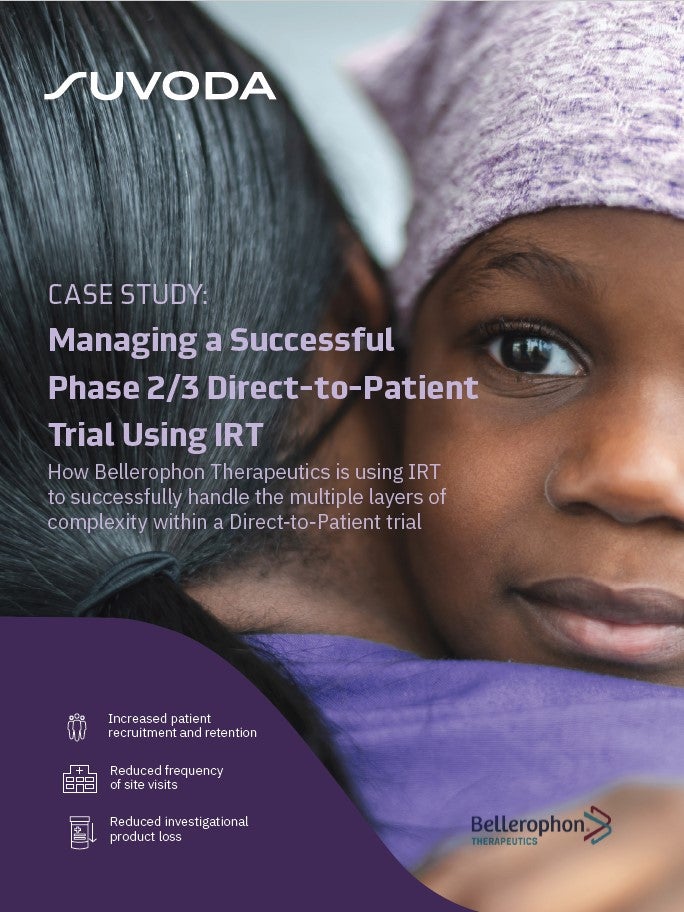 Direct-to-Patient Trials: How IRT Plays an Important Role in Bellerophon's Direct-to-Patient Trials
As the industry strengthens its focus on patient centricity, Direct-to-Patient clinical trials have emerged as a popular trial design that have the potential to increase patient recruitment and retention. IRT plays a crucial role in the success of a Direct-to-Patient trial. Because drug supplies are being managed and shipped from distribution facilities directly to patients' homes, a sponsor must have a high-quality system in place to accurately track the chain of custody, ensure patient-blinding and handle other logistical challenges. What You Will Learn Benefits and challenges associated with the Direct-to-Patient model Bellerophon's top considerations when implementing this trial design How IRT can equip study teams to successfully track chain of custody, ensure patient blinding, and handle logistical challenges
by Suvoda
The randomised, double-masked, placebo-controlled trial is expected to include around 160 subjects at 30 sites in ten countries.
Subjects will be randomly assigned in a 2:1 ratio to receive emixustat 10mg or placebo once daily for 24 months.
The trial's primary goal is to identify whether emixustat can reduce the rate of macular atrophy progression in comparison to placebo.
Secondary goals comprise evaluating changes in visual function parameters, including best-corrected visual acuity (BCVA) letter score and reading speed.
"We are now focused on initiating our study to advance our clinical programme to help patients facing vision loss."
Acucela chairman, president and CEO Dr Ryo Kubota said: "Stargardt is an unmet medical need with no known therapies to slow the progression of the disease.
"We are now focused on initiating our study to advance our clinical programme to help patients facing vision loss and blindness from this disease."
Also known as fundus flavimaculatus, Stargardt disease is a rare, genetically inherited condition that directly affects the retina of the eye.
The disease often leads to the slow progression of vision loss in children and is estimated to affect around one in 8,000-10,000 people worldwide.
Last year, the US Food and Drug Administration (FDA) awarded orphan drug designation to emixustat for the treatment of Stargardt disease.
Acucela is a Kubota Pharmaceutical subsidiary.
Free Case Study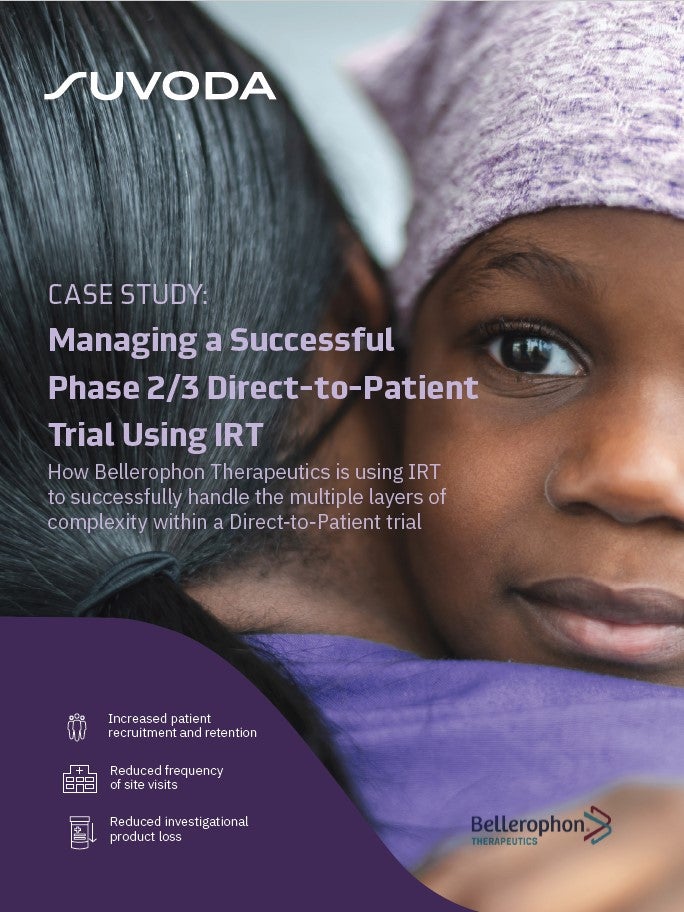 Direct-to-Patient Trials: How IRT Plays an Important Role in Bellerophon's Direct-to-Patient Trials
As the industry strengthens its focus on patient centricity, Direct-to-Patient clinical trials have emerged as a popular trial design that have the potential to increase patient recruitment and retention. IRT plays a crucial role in the success of a Direct-to-Patient trial. Because drug supplies are being managed and shipped from distribution facilities directly to patients' homes, a sponsor must have a high-quality system in place to accurately track the chain of custody, ensure patient-blinding and handle other logistical challenges. What You Will Learn Benefits and challenges associated with the Direct-to-Patient model Bellerophon's top considerations when implementing this trial design How IRT can equip study teams to successfully track chain of custody, ensure patient blinding, and handle logistical challenges
by Suvoda