Adaptive Research and UBERDOC have partnered to extend access to clinical trials to the physicians, patients and study sites in the latter's network.
Free Case Study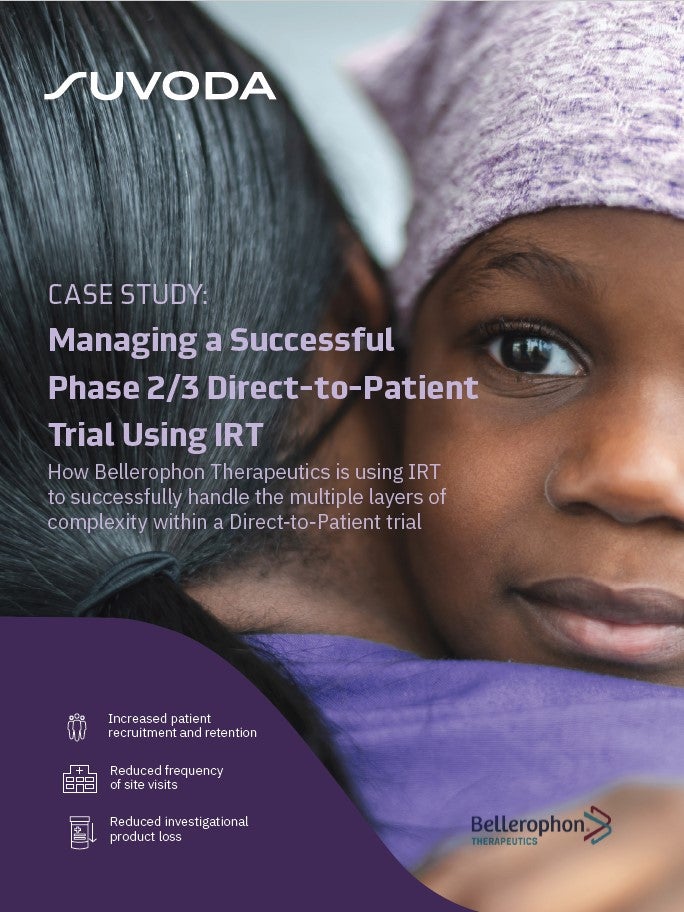 Direct-to-Patient Trials: How IRT Plays an Important Role in Bellerophon's Direct-to-Patient Trials
As the industry strengthens its focus on patient centricity, Direct-to-Patient clinical trials have emerged as a popular trial design that have the potential to increase patient recruitment and retention. IRT plays a crucial role in the success of a Direct-to-Patient trial. Because drug supplies are being managed and shipped from distribution facilities directly to patients' homes, a sponsor must have a high-quality system in place to accurately track the chain of custody, ensure patient-blinding and handle other logistical challenges. What You Will Learn Benefits and challenges associated with the Direct-to-Patient model Bellerophon's top considerations when implementing this trial design How IRT can equip study teams to successfully track chain of custody, ensure patient blinding, and handle logistical challenges
by Suvoda
Through the alliance, Adaptive Research will gain access to UBERDOC physicians who are eligible to become trial investigators. 
In addition, Adaptive Research will be able to access UBERDOC clinics and hospitals, as well as institutions that have the required staff and amenities to carry out a trial.
Under the collaboration, UBERDOC could provide clinical trial opportunities of Adaptive Research to more than 3,000 board-certified physicians and experts in their network. 
Adaptive Research provides a variety of solutions to pharmaceutical firms and clinical research organisations (CROs) for boosting recruitment in clinical trials.
These firms will now get access to patients using UBERDOC's physician network.
Adaptive Research president and CEO Deepak Behera said: "UBERDOC's mission to decentralise the healthcare treatment landscape perfectly synergises with our goal to bring clinical trials to the broader community. 
"We look forward to working together to generate greater access to clinical trials and provide a path to market for groundbreaking medical products."
An integrated clinical trial site organisation, Adaptive Research focuses on democratising clinical trials by leveraging digital technologies and incorporating community physicians into the trial process.
UBERDOC CEO and founder Paula Muto said: "As the leading direct-to-consumer digital healthcare platform, we are committed to connecting physicians and patients with the care they need. 
"This partnership with Adaptive Research will alert our physician network of certain clinical trials and give them the support to participate in the trial."
Free Case Study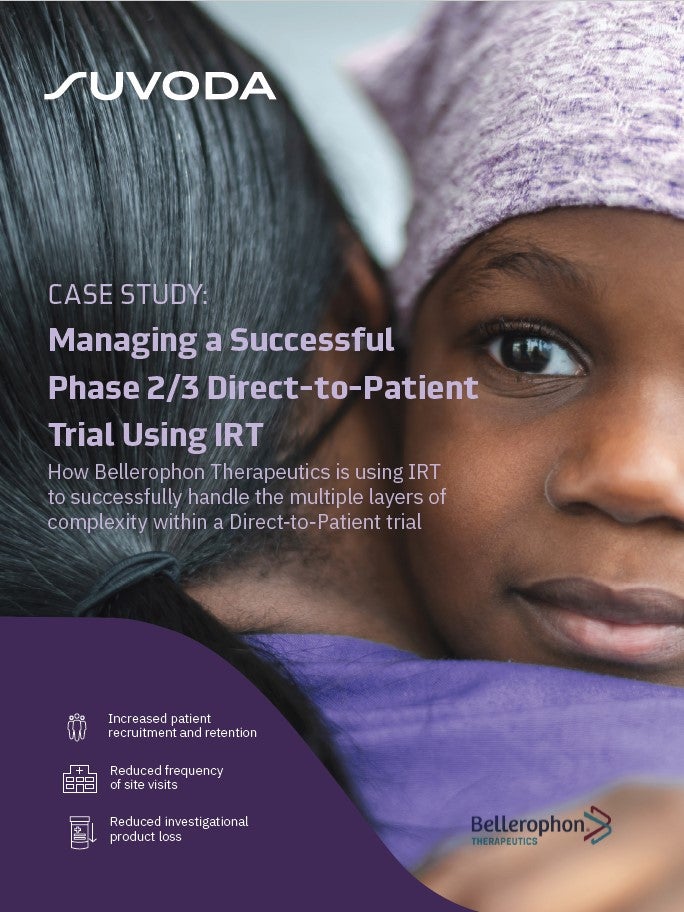 Direct-to-Patient Trials: How IRT Plays an Important Role in Bellerophon's Direct-to-Patient Trials
As the industry strengthens its focus on patient centricity, Direct-to-Patient clinical trials have emerged as a popular trial design that have the potential to increase patient recruitment and retention. IRT plays a crucial role in the success of a Direct-to-Patient trial. Because drug supplies are being managed and shipped from distribution facilities directly to patients' homes, a sponsor must have a high-quality system in place to accurately track the chain of custody, ensure patient-blinding and handle other logistical challenges. What You Will Learn Benefits and challenges associated with the Direct-to-Patient model Bellerophon's top considerations when implementing this trial design How IRT can equip study teams to successfully track chain of custody, ensure patient blinding, and handle logistical challenges
by Suvoda