US-based data analytics company AiCure and The IMA Group have formed a partnership to optimise clinical trial recruitment and patient engagement.
Free Case Study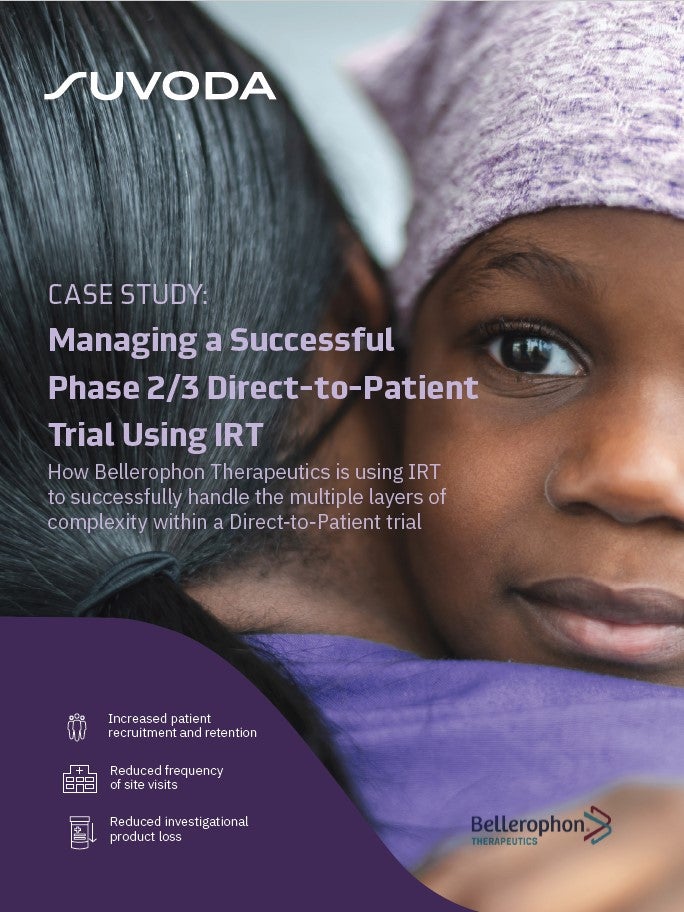 Direct-to-Patient Trials: How IRT Plays an Important Role in Bellerophon's Direct-to-Patient Trials
As the industry strengthens its focus on patient centricity, Direct-to-Patient clinical trials have emerged as a popular trial design that have the potential to increase patient recruitment and retention. IRT plays a crucial role in the success of a Direct-to-Patient trial. Because drug supplies are being managed and shipped from distribution facilities directly to patients' homes, a sponsor must have a high-quality system in place to accurately track the chain of custody, ensure patient-blinding and handle other logistical challenges. What You Will Learn Benefits and challenges associated with the Direct-to-Patient model Bellerophon's top considerations when implementing this trial design How IRT can equip study teams to successfully track chain of custody, ensure patient blinding, and handle logistical challenges
by Suvoda
This year-long collaboration aims to understand patient behaviour and drug compliance outside a clinical trial.
The IMA Group's division IMA Clinical Research will equip patients with AiCure's patient engagement solution 'Patient Connect' to study health management outside a trial. This solution is intended to help patients manage their treatment at home.
Sponsors will get access to a diverse pool of patients with known adherence patterns across therapeutic areas that could be recruited for upcoming trials.
AiCure CEO Dr Ed Ikeguchi said: "The success of a clinical trial depends on the quality of its data, which often comes down to how likely a patient is to comply with treatment protocols.
"Understanding that risk and how a patient manages their health in a non-trial setting before recruiting them can make a critical difference in a trial setting."
Through its partnership with AiCure, the company will start patient engagement and compliance measurement to medications outside of a study setting.
The partnership will also assess compliance to treatment across various conditions, ranging from pain to cardiovascular conditions, CNS diseases, and diabetes.
During a 30-day programme, patients will use AiCure's solution through their smartphone each time they take a dose.
The solution confirms adherent dosing behavior in a HIPAA compliant manner, using computer vision and AI.
Patient Connect can identify subtle changes in a patient's condition by aggregating ePRO and digital biomarker data.
Patients will also be able to connect directly to a clinician for further support.
The data collected can be fed into AiCure's predictive analytics engine, while will enable future sponsors to gain insights about dosing behaviour across various disease states.
Free Case Study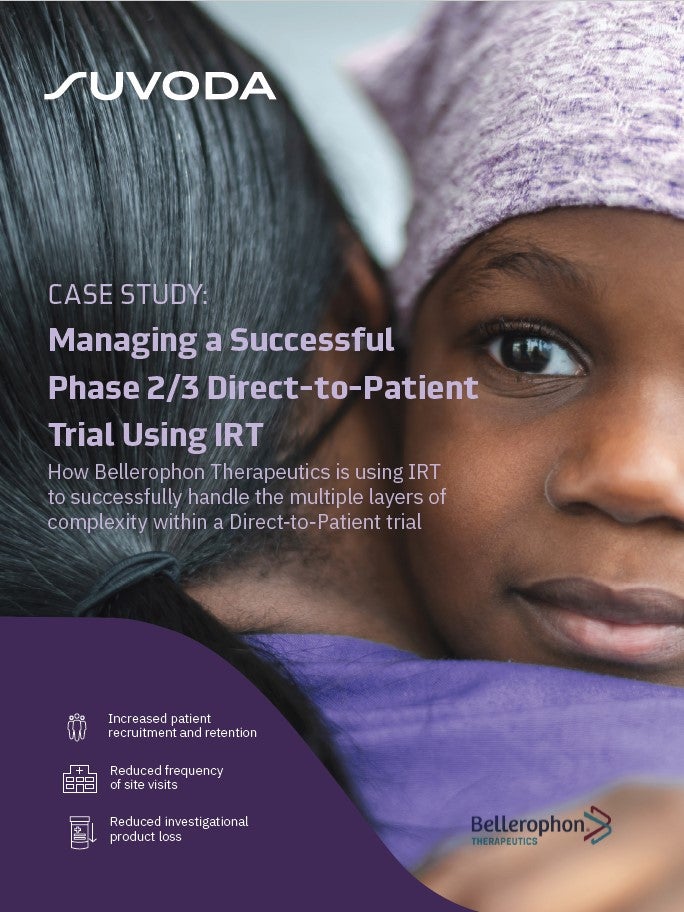 Direct-to-Patient Trials: How IRT Plays an Important Role in Bellerophon's Direct-to-Patient Trials
As the industry strengthens its focus on patient centricity, Direct-to-Patient clinical trials have emerged as a popular trial design that have the potential to increase patient recruitment and retention. IRT plays a crucial role in the success of a Direct-to-Patient trial. Because drug supplies are being managed and shipped from distribution facilities directly to patients' homes, a sponsor must have a high-quality system in place to accurately track the chain of custody, ensure patient-blinding and handle other logistical challenges. What You Will Learn Benefits and challenges associated with the Direct-to-Patient model Bellerophon's top considerations when implementing this trial design How IRT can equip study teams to successfully track chain of custody, ensure patient blinding, and handle logistical challenges
by Suvoda