Aimmune Therapeutics has commenced the Peanut Oral Immunotherapy Study of Early Intervention for Desensitisation (POSEIDON) trial.
Free Case Study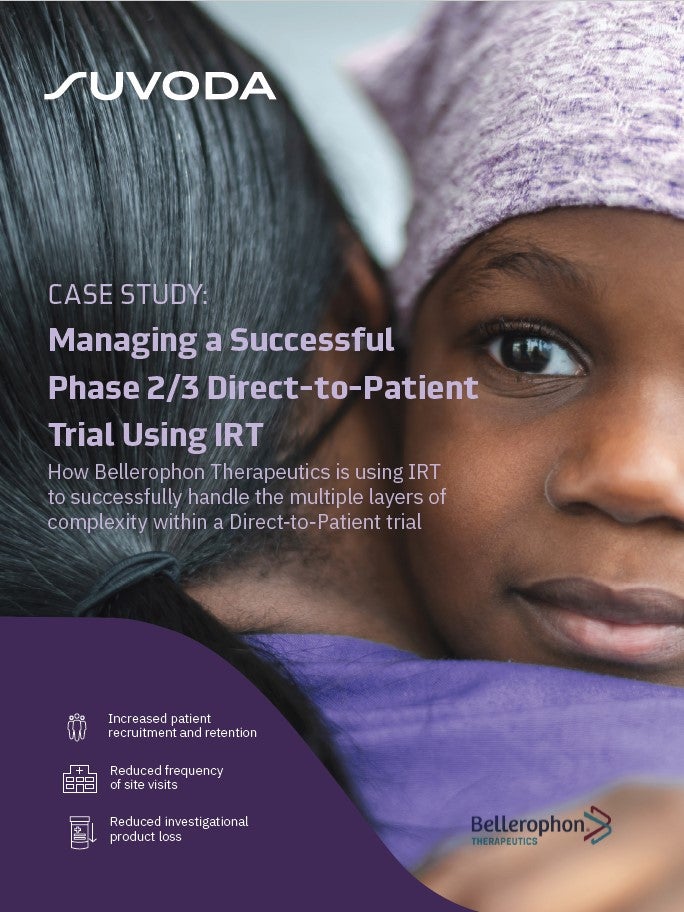 Direct-to-Patient Trials: How IRT Plays an Important Role in Bellerophon's Direct-to-Patient Trials
As the industry strengthens its focus on patient centricity, Direct-to-Patient clinical trials have emerged as a popular trial design that have the potential to increase patient recruitment and retention. IRT plays a crucial role in the success of a Direct-to-Patient trial. Because drug supplies are being managed and shipped from distribution facilities directly to patients' homes, a sponsor must have a high-quality system in place to accurately track the chain of custody, ensure patient-blinding and handle other logistical challenges. What You Will Learn Benefits and challenges associated with the Direct-to-Patient model Bellerophon's top considerations when implementing this trial design How IRT can equip study teams to successfully track chain of custody, ensure patient blinding, and handle logistical challenges
by Suvoda
POSEIDON is a Phase III clinical study of AR101 for the treatment of peanut allergy in children aged one to three years.
The global, randomised, double-blind, placebo-controlled trial is designed to assess the efficacy and safety of AR101.
It is expected to enrol 105 peanut-allergic children across five countries in North America and Europe.
Enrolment of the subjects will be based on a number of criteria, such as a documented clinical history of peanut allergy, positive skin prick tests, and placebo-controlled food challenge (DBPCFC).
The subjects will be randomised in 2:1 ratio to undergo a dose escalation phase of around 22 weeks to reach once daily dose of 300mg of AR101 or placebo, before being treated with the same dose for nearly six months.
"Food allergies are a growing, potentially life-threatening condition with no approved treatments, and peanut allergy is one of the most common food allergies."
Physicians are expected to use prophylactic antihistamines at their own discretion during the trial.
Once the trial ends, patients will undergo an exit DBPCFC.
The trial's primary efficacy endpoint is tolerating a 600mg single dose of peanut protein with mild symptoms in a progressive, exit, DBPCFC after around one year of treatment.
POSEIDON trial principal investigator Brian Vickery said: "Food allergies are a growing, potentially life-threatening condition with no approved treatments, and peanut allergy, which is often diagnosed in the first or second year of life, is one of the most common food allergies, affecting more than six million people in the United States and Europe.
"This trial represents the critical next step not only in validating that early immunotherapy in young peanut-allergic children is safe and highly effective, but in generating evidence that, pending approval, AR101 can be smoothly incorporated into allergists' practices to address the needs of children who can benefit."
Aimmune's AR101 is currently under development as a biologic oral immunotherapy for desensitisation of patients with peanut allergy.
Free Case Study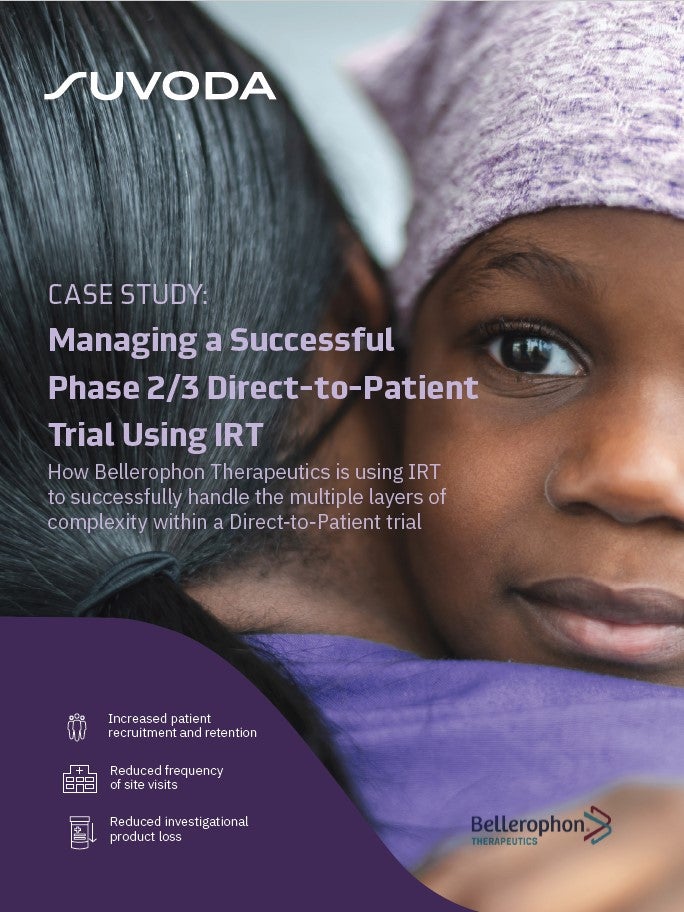 Direct-to-Patient Trials: How IRT Plays an Important Role in Bellerophon's Direct-to-Patient Trials
As the industry strengthens its focus on patient centricity, Direct-to-Patient clinical trials have emerged as a popular trial design that have the potential to increase patient recruitment and retention. IRT plays a crucial role in the success of a Direct-to-Patient trial. Because drug supplies are being managed and shipped from distribution facilities directly to patients' homes, a sponsor must have a high-quality system in place to accurately track the chain of custody, ensure patient-blinding and handle other logistical challenges. What You Will Learn Benefits and challenges associated with the Direct-to-Patient model Bellerophon's top considerations when implementing this trial design How IRT can equip study teams to successfully track chain of custody, ensure patient blinding, and handle logistical challenges
by Suvoda