Akeso has received approval from the Center for Drug Evaluation (CDE) of China's National Medical Products Administration to commence a Phase II clinical trial of monoclonal antibody ligufalimab (AK117) and bispecific antibody ivonescimab (AK112) for first-line breast cancer.
Free Case Study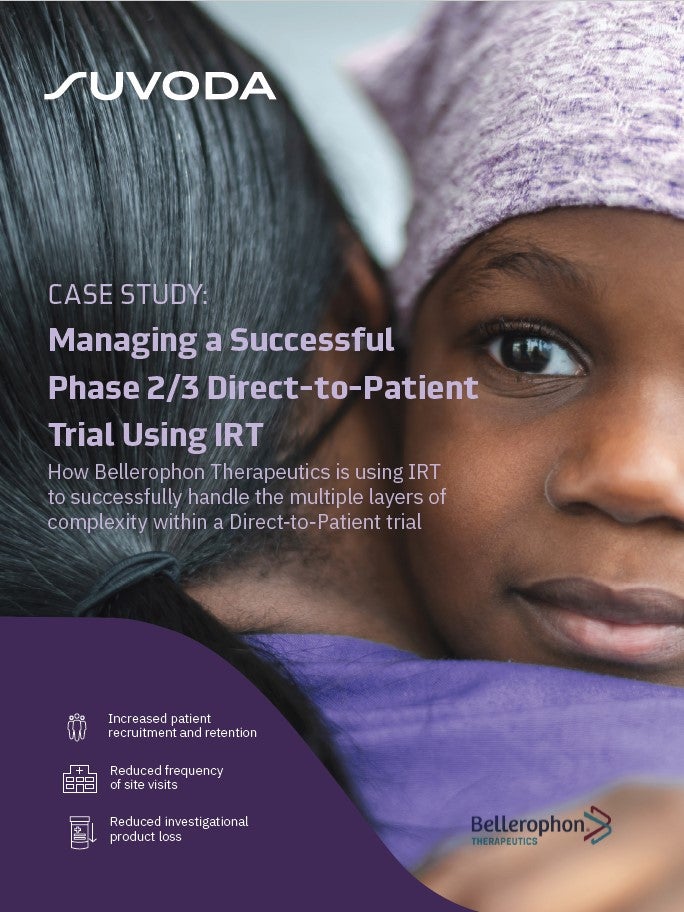 Direct-to-Patient Trials: How IRT Plays an Important Role in Bellerophon's Direct-to-Patient Trials
As the industry strengthens its focus on patient centricity, Direct-to-Patient clinical trials have emerged as a popular trial design that have the potential to increase patient recruitment and retention. IRT plays a crucial role in the success of a Direct-to-Patient trial. Because drug supplies are being managed and shipped from distribution facilities directly to patients' homes, a sponsor must have a high-quality system in place to accurately track the chain of custody, ensure patient-blinding and handle other logistical challenges. What You Will Learn Benefits and challenges associated with the Direct-to-Patient model Bellerophon's top considerations when implementing this trial design How IRT can equip study teams to successfully track chain of custody, ensure patient blinding, and handle logistical challenges
by Suvoda
In the multicentre trial, the antibodies will be analysed in combination with chemotherapy as first-line treatment for unresectable locally advanced or metastatic triple-negative breast cancer (TNBC).
A cluster of differentiation 47 (CD47) monoclonal antibody, ligufalimab is an immuno-oncology therapy developed by Akeso. 
Ivonescimab is a programmed cell death protein 1/ vascular endothelial growth factor (PD1/VEGF) bispecific antibody.
The trial will enrol subjects who have not received systemic antitumour treatment, and who are not fit for radical surgical resection or local treatment.
Individuals with locally advanced or metastatic TNBC whose ailment advances following surgical resection or local therapy will also be part of the trial.
The combination treatment of ivonescimab and ligufalimab is estimated to stimulate innate as well as adaptive immune pathways and boost the immune system to detect tumours.
Furthermore, the antibodies could potentially induce a synergy effect of immunity, antiangiogenesis and chemotherapy. 
Akeso anticipates attaining improved antitumour outcomes in advanced TNBC patients.
Lung cancer trial underway
Separately, the company has dosed the first subject in a Phase III trial of ivonescimab plus chemotherapy to treat locally advanced or metastatic nonsquamous non-small cell lung cancer (NSCLC) with EGFR mutation failed following EGFR-TKI therapy.
The double-blind, randomised, multicentre trial will enrol nearly 320 participants in China. 
It will analyse the safety and efficacy of ivonescimab along with pemetrexed plus carboplatin, versus placebo plus pemetrexed and carboplatin, in advanced nonsquamous NSCLC patients with resistance to EGFR-TKI.
Progression-free survival as evaluated by IRRC is the primary goal of the trial.
Free Case Study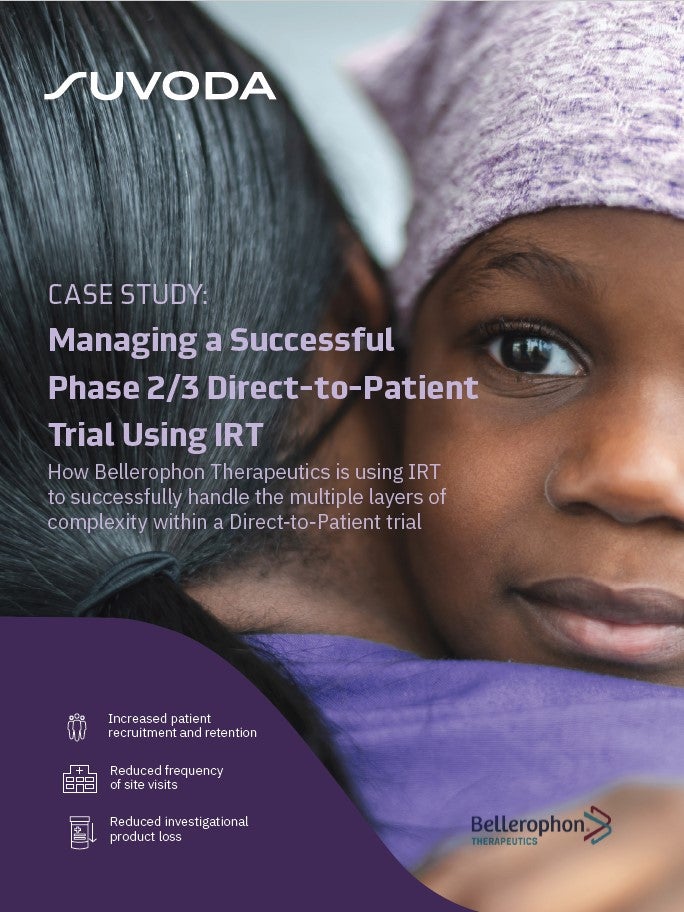 Direct-to-Patient Trials: How IRT Plays an Important Role in Bellerophon's Direct-to-Patient Trials
As the industry strengthens its focus on patient centricity, Direct-to-Patient clinical trials have emerged as a popular trial design that have the potential to increase patient recruitment and retention. IRT plays a crucial role in the success of a Direct-to-Patient trial. Because drug supplies are being managed and shipped from distribution facilities directly to patients' homes, a sponsor must have a high-quality system in place to accurately track the chain of custody, ensure patient-blinding and handle other logistical challenges. What You Will Learn Benefits and challenges associated with the Direct-to-Patient model Bellerophon's top considerations when implementing this trial design How IRT can equip study teams to successfully track chain of custody, ensure patient blinding, and handle logistical challenges
by Suvoda