Researchers at The Florey Institute of Neuroscience and Mental Health and St Vincent's Hospital in Australia have commenced a clinical trial of Belsomra (suvorexant) for the prevention of alcohol intake and alcohol use disorder relapse.
Free Case Study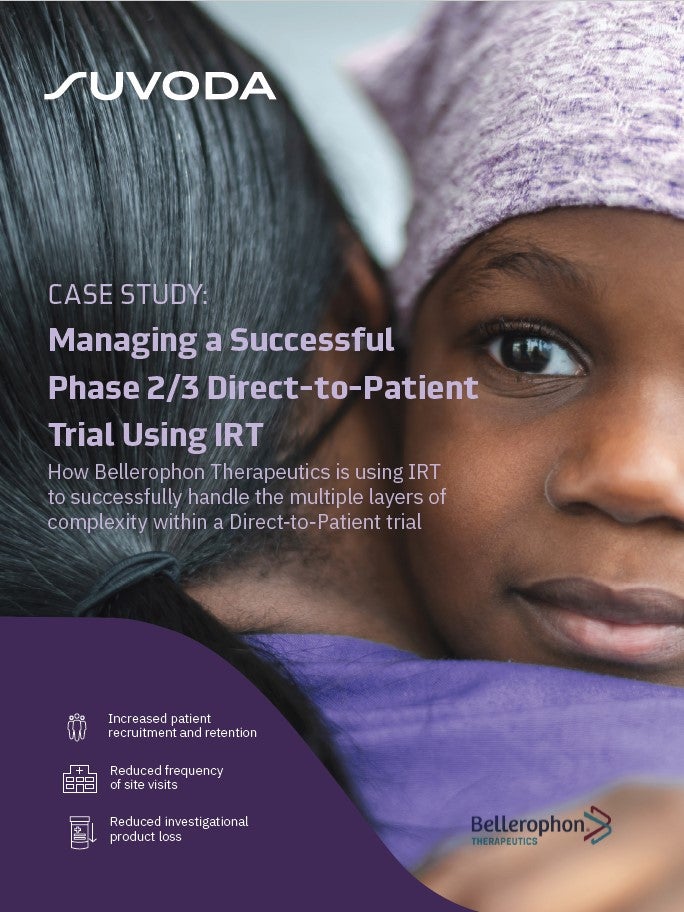 Direct-to-Patient Trials: How IRT Plays an Important Role in Bellerophon's Direct-to-Patient Trials
As the industry strengthens its focus on patient centricity, Direct-to-Patient clinical trials have emerged as a popular trial design that have the potential to increase patient recruitment and retention. IRT plays a crucial role in the success of a Direct-to-Patient trial. Because drug supplies are being managed and shipped from distribution facilities directly to patients' homes, a sponsor must have a high-quality system in place to accurately track the chain of custody, ensure patient-blinding and handle other logistical challenges. What You Will Learn Benefits and challenges associated with the Direct-to-Patient model Bellerophon's top considerations when implementing this trial design How IRT can equip study teams to successfully track chain of custody, ensure patient blinding, and handle logistical challenges
by Suvoda
Belsomra is manufactured by MSD . It is currently used to treat insomnia in the country.
The new double-blinded trial will assess the drug in 128 patients with co-occurring insomnia and alcohol use disorder.
The Florey Institute professor Andrew Lawrence said: "Over 155,000 Australians are hospitalised each year from alcohol use disorder. Yet despite the significant social and economic burden of this disease, no new treatments have been approved in Australia in over two decades."
For more than 15 years, Lawrence and his team have been exploring the brain mechanisms associated with alcohol use disorder. Researchers discovered that the orexin peptide system in the brain drives alcohol use relapse.
They believe that Belsomra could help in the integrated treatment of alcohol use disorder and co-occurring sleep disorder.
The drug works by inhibiting the binding of orexin in the brain parts related to addiction. It also acts on the amygdala region of the brain linked to mood disorders such as depression and anxiety.
Lawrence added: "The orexin system demonstrates just how complicated addiction can be. We know that chronic intake of alcohol greatly disrupts sleep and wake patterns which, in turn, can drive the brain to further seek and consume alcohol."
During the clinical trial, researchers will monitor sleep measures, along with alcohol withdrawal symptoms and ongoing alcohol use.
Participants will receive Belsomra or placebo daily for seven to ten days in the hospital, followed by treatment and monitoring for up to six months.
Based on the trial results, researchers hope to study the drug in larger populations and other types of substance abuse.
Free Case Study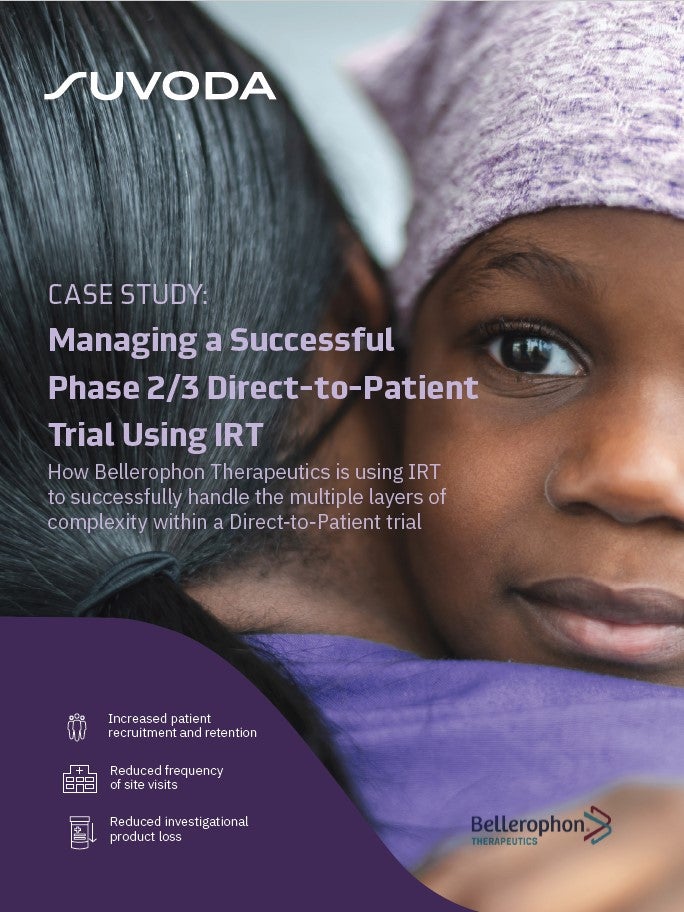 Direct-to-Patient Trials: How IRT Plays an Important Role in Bellerophon's Direct-to-Patient Trials
As the industry strengthens its focus on patient centricity, Direct-to-Patient clinical trials have emerged as a popular trial design that have the potential to increase patient recruitment and retention. IRT plays a crucial role in the success of a Direct-to-Patient trial. Because drug supplies are being managed and shipped from distribution facilities directly to patients' homes, a sponsor must have a high-quality system in place to accurately track the chain of custody, ensure patient-blinding and handle other logistical challenges. What You Will Learn Benefits and challenges associated with the Direct-to-Patient model Bellerophon's top considerations when implementing this trial design How IRT can equip study teams to successfully track chain of custody, ensure patient blinding, and handle logistical challenges
by Suvoda