AbbVie company Allergan has announced that the Phase III GEMINI 1 and 2 trials of investigational AGN-190584 (pilocarpine 1.25%) ophthalmic solution for treating presbyopia symptoms have met their primary efficacy endpoint.
Free Case Study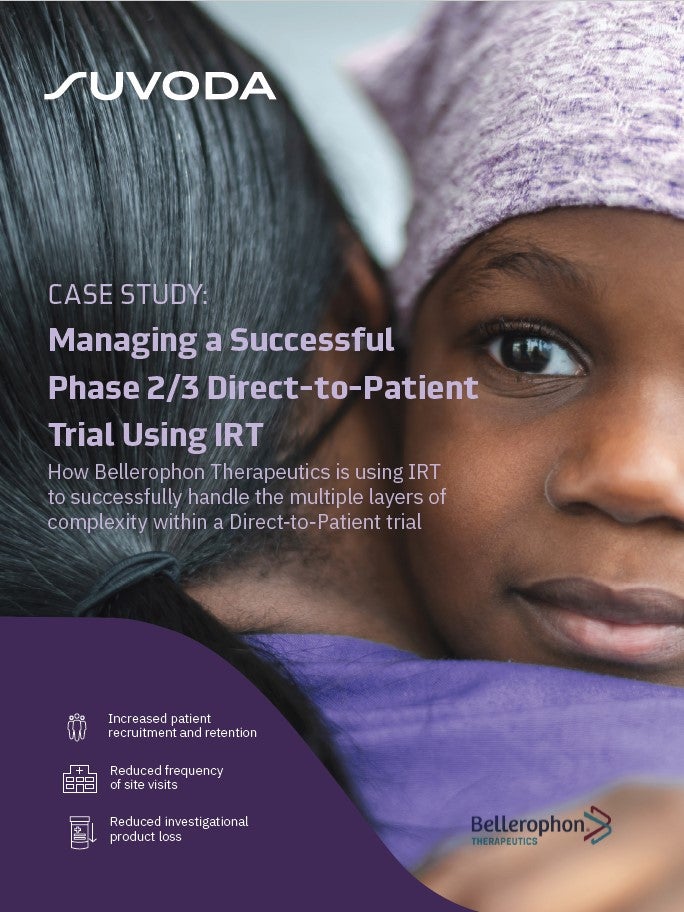 Direct-to-Patient Trials: How IRT Plays an Important Role in Bellerophon's Direct-to-Patient Trials
As the industry strengthens its focus on patient centricity, Direct-to-Patient clinical trials have emerged as a popular trial design that have the potential to increase patient recruitment and retention. IRT plays a crucial role in the success of a Direct-to-Patient trial. Because drug supplies are being managed and shipped from distribution facilities directly to patients' homes, a sponsor must have a high-quality system in place to accurately track the chain of custody, ensure patient-blinding and handle other logistical challenges. What You Will Learn Benefits and challenges associated with the Direct-to-Patient model Bellerophon's top considerations when implementing this trial design How IRT can equip study teams to successfully track chain of custody, ensure patient blinding, and handle logistical challenges
by Suvoda
Presbyopia is a progressive eye condition that decreases the eye's ability to focus on near objects.
AGN-190584 is an optimised formulation of pilocarpine, a cholinergic muscarinic receptor agonist.
The drug is being analysed as a topical, once-daily drop delivered by a vehicle for the treatment of symptoms associated with presbyopia.
AGN-190584 works through dynamic pupil modulation, an effect where the iris sphincter is contracted to achieve pupil size reduction in an optimal range. Pupil size reduction will result in an increased depth of focus.
For the trials, a total of 750 patients were enrolled and randomised in a one-to-one ratio to receive AGN-190584 (pilocarpine 1.25%) or vehicle (placebo).
Subjects with presbyopia were administered with AGN-190584 bilaterally, once-daily, for 30 days.
The formulation showed significant near vision gains in both studies and in mesopic (in low light) conditions without a loss of distance vision, meeting the primary endpoint.
Most of the trials' secondary endpoints were met, including a significant improvement in patient-reported outcomes.
The outcomes were increased vision-related reading ability and reductions in the impact of presbyopia on daily life and use of coping behaviours to manage presbyopia.
AbbVie ophthalmology vice-president, global therapeutic area head Michael Robinson said: "Our research shows that the symptoms associated with presbyopia can significantly impact people's daily lives.
"The positive results from the GEMINI studies show the potential of this investigational optimised formulation of pilocarpine 1.25% to treat symptoms associated with presbyopia."
The company plans to submit a New Drug Application to the US Food and Drug Administration (FDA) in the first half of next year. The results of these GEMINI trials will become the basis for the process.
Free Case Study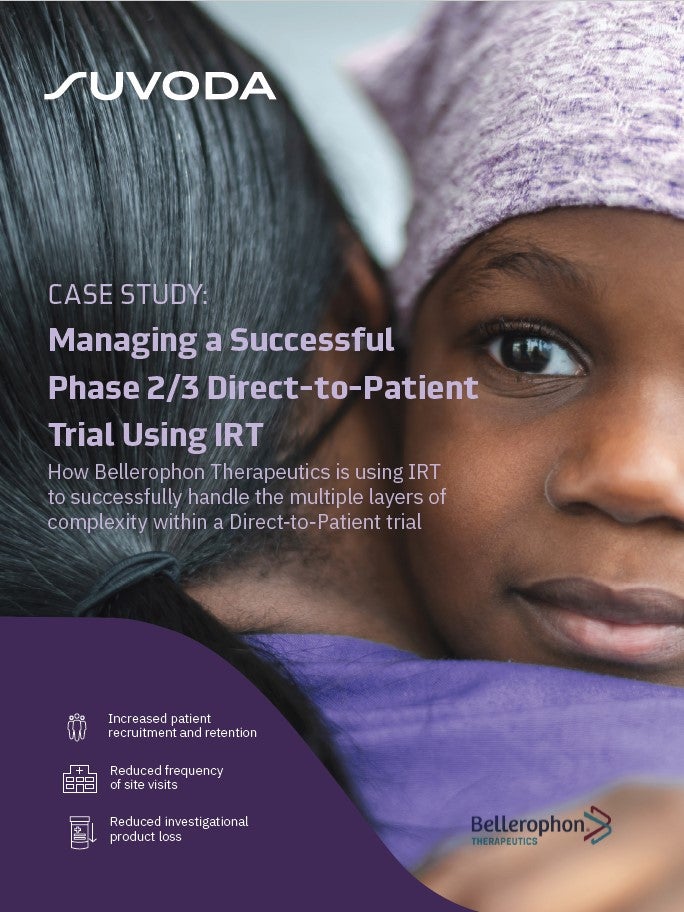 Direct-to-Patient Trials: How IRT Plays an Important Role in Bellerophon's Direct-to-Patient Trials
As the industry strengthens its focus on patient centricity, Direct-to-Patient clinical trials have emerged as a popular trial design that have the potential to increase patient recruitment and retention. IRT plays a crucial role in the success of a Direct-to-Patient trial. Because drug supplies are being managed and shipped from distribution facilities directly to patients' homes, a sponsor must have a high-quality system in place to accurately track the chain of custody, ensure patient-blinding and handle other logistical challenges. What You Will Learn Benefits and challenges associated with the Direct-to-Patient model Bellerophon's top considerations when implementing this trial design How IRT can equip study teams to successfully track chain of custody, ensure patient blinding, and handle logistical challenges
by Suvoda