Altoida is working with Click Therapeutics to power the latter's clinical trials with digital cognitive assessment, as well as its development pipeline.
Free Case Study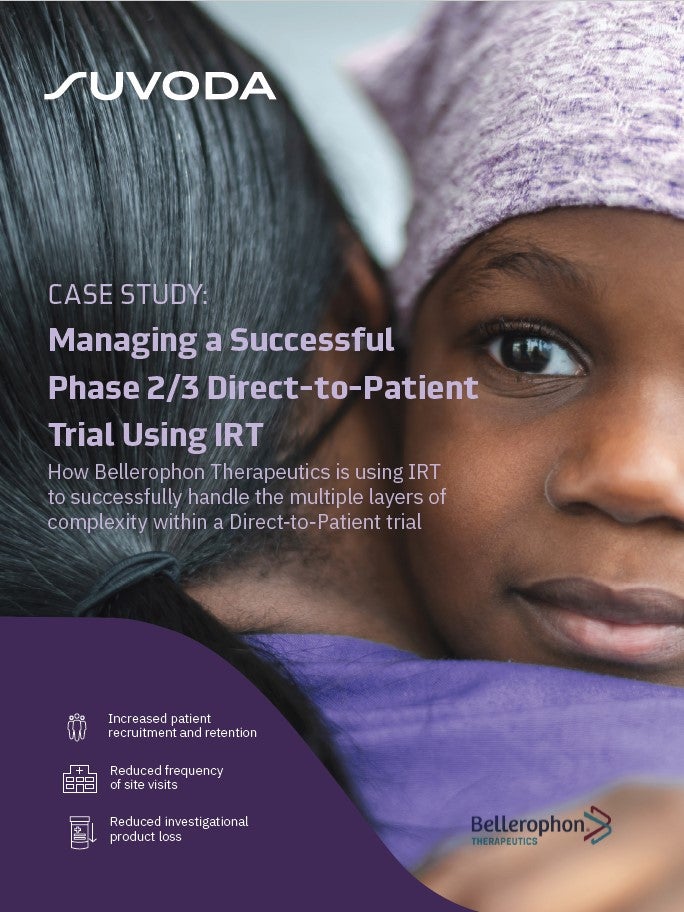 Direct-to-Patient Trials: How IRT Plays an Important Role in Bellerophon's Direct-to-Patient Trials
As the industry strengthens its focus on patient centricity, Direct-to-Patient clinical trials have emerged as a popular trial design that have the potential to increase patient recruitment and retention. IRT plays a crucial role in the success of a Direct-to-Patient trial. Because drug supplies are being managed and shipped from distribution facilities directly to patients' homes, a sponsor must have a high-quality system in place to accurately track the chain of custody, ensure patient-blinding and handle other logistical challenges. What You Will Learn Benefits and challenges associated with the Direct-to-Patient model Bellerophon's top considerations when implementing this trial design How IRT can equip study teams to successfully track chain of custody, ensure patient blinding, and handle logistical challenges
by Suvoda
The partnership will bring more sensitive measures of cognition into Click's digital therapeutics research for boosting clinical trials.
The technology of Altoida will be used as a measure of cognition across various trials, offering insights into components of conditions. 
Altoida CEO Travis Bond said: "Through this partnership, Altoida and Click Therapeutics will be the first to scale the development of cognitive biomarkers using augmented reality across a number of CNS clinical trials to give patients insight into their brain health and provide a better and earlier understanding of how cognition affects CNS disorders."
Click's mobile-first platform facilitates development of clinically established therapies that can be used alone or along with approved pharmaceutical treatment options to offer positive outcomes in patients. 
The company's products integrate clinical and engagement sciences to induce and regulate specific brain processes, offering digital interventions.
This approach could disturb specific thought patterns, behaviours and emotions to set up new neural connections and activity for long term results.
Click Therapeutics chief medical officer Shaheen Lakhan said: "Partnering with Altoida allows us to leverage their AI-driven augmented reality technology to help us better understand baseline measures of cognition and how it affects patient outcomes.
"Altoida's proprietary digital cognitive assessment uses augmented reality (AR) to simulate real-world activities of daily living, which can be completed on a smartphone or tablet under ten minutes, which we believe will accelerate insights into individual's patterns of disease."
Free Case Study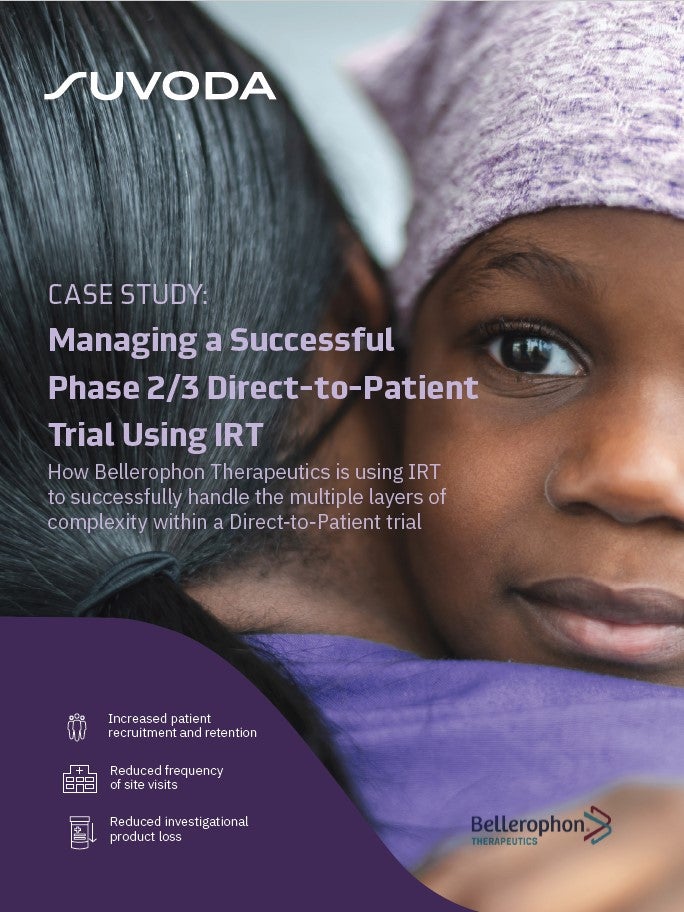 Direct-to-Patient Trials: How IRT Plays an Important Role in Bellerophon's Direct-to-Patient Trials
As the industry strengthens its focus on patient centricity, Direct-to-Patient clinical trials have emerged as a popular trial design that have the potential to increase patient recruitment and retention. IRT plays a crucial role in the success of a Direct-to-Patient trial. Because drug supplies are being managed and shipped from distribution facilities directly to patients' homes, a sponsor must have a high-quality system in place to accurately track the chain of custody, ensure patient-blinding and handle other logistical challenges. What You Will Learn Benefits and challenges associated with the Direct-to-Patient model Bellerophon's top considerations when implementing this trial design How IRT can equip study teams to successfully track chain of custody, ensure patient blinding, and handle logistical challenges
by Suvoda