Alzheon has received a $47m five-year grant from the US National Institute on Aging (NIA) to conduct a Phase III clinical trial of ALZ-801 as an oral treatment for Alzheimer's disease.
Free Case Study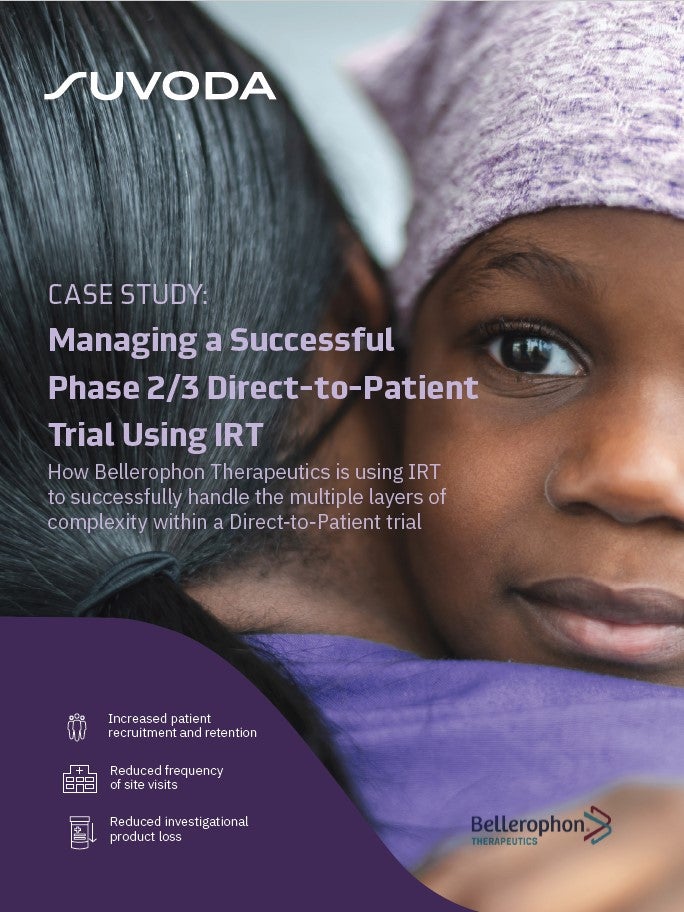 Direct-to-Patient Trials: How IRT Plays an Important Role in Bellerophon's Direct-to-Patient Trials
As the industry strengthens its focus on patient centricity, Direct-to-Patient clinical trials have emerged as a popular trial design that have the potential to increase patient recruitment and retention. IRT plays a crucial role in the success of a Direct-to-Patient trial. Because drug supplies are being managed and shipped from distribution facilities directly to patients' homes, a sponsor must have a high-quality system in place to accurately track the chain of custody, ensure patient-blinding and handle other logistical challenges. What You Will Learn Benefits and challenges associated with the Direct-to-Patient model Bellerophon's top considerations when implementing this trial design How IRT can equip study teams to successfully track chain of custody, ensure patient blinding, and handle logistical challenges
by Suvoda
ALZ-801 is designed to inhibit the formation of neurotoxic soluble amyloid oligomers. It is a brain-penetrant, small molecule prodrug of the active agent tramiprosate.
The Phase III trial will involve early Alzheimer's patients with two copies of the apolipoprotein e4 allele (APOE4/4).
This patient population is known to be at a higher risk of rapid disease progression and could be responsive to agents targeting pathogenic amyloid oligomers.
Alzheon said that the trial will assess the drug candidate in 300 patients, who will be given 265mg tablets of ALZ-801 or a matching placebo twice daily over 18 months.
The primary clinical outcome is cognitive endpoint on Alzheimer's Disease Assessment Scale–cognitive subscale (ADAS-cog). The trial will also track functional, behavioural, and global clinical endpoints.
Biomarker assessments will include plasma and cerebrospinal fluid (CSF) measures of core disease pathologies and neurodegeneration, and neuroinflammatory markers.
Imaging biomarkers will assess measurements of hippocampal volume and cortical thickness. The study is expected to launch in the first quarter of next year.
Alzheon chief medical officer Susan Abushakra said: "We are applying precision medicine by targeting patients who can be readily diagnosed, who develop the disease earlier when they are less likely to have comorbidities, and who are likely to benefit from the treatment.
"We are integrating advanced fluid biomarkers into Phase III programme to increase our understanding of the effects of ALZ-801 treatment on the course of the disease."
The company plans to expand the evaluation of ALZ-801 in prevention trials in healthy participants with high Alzheimer's risk, and in APOE4 heterozygotes with one copy of the APOE4 gene.
Free Case Study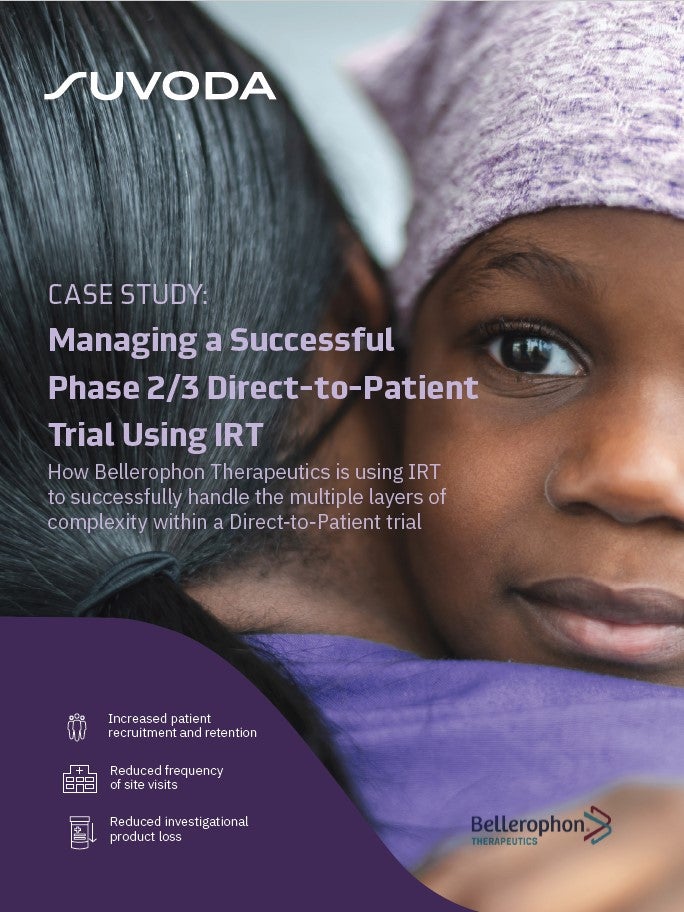 Direct-to-Patient Trials: How IRT Plays an Important Role in Bellerophon's Direct-to-Patient Trials
As the industry strengthens its focus on patient centricity, Direct-to-Patient clinical trials have emerged as a popular trial design that have the potential to increase patient recruitment and retention. IRT plays a crucial role in the success of a Direct-to-Patient trial. Because drug supplies are being managed and shipped from distribution facilities directly to patients' homes, a sponsor must have a high-quality system in place to accurately track the chain of custody, ensure patient-blinding and handle other logistical challenges. What You Will Learn Benefits and challenges associated with the Direct-to-Patient model Bellerophon's top considerations when implementing this trial design How IRT can equip study teams to successfully track chain of custody, ensure patient blinding, and handle logistical challenges
by Suvoda