Amgen has reported positive top-line results from Phase III ARROW clinical trial of Kyprolis (carfilzomib) in combination with dexamethasone for patients with relapsed and refractory multiple myeloma.
Free Case Study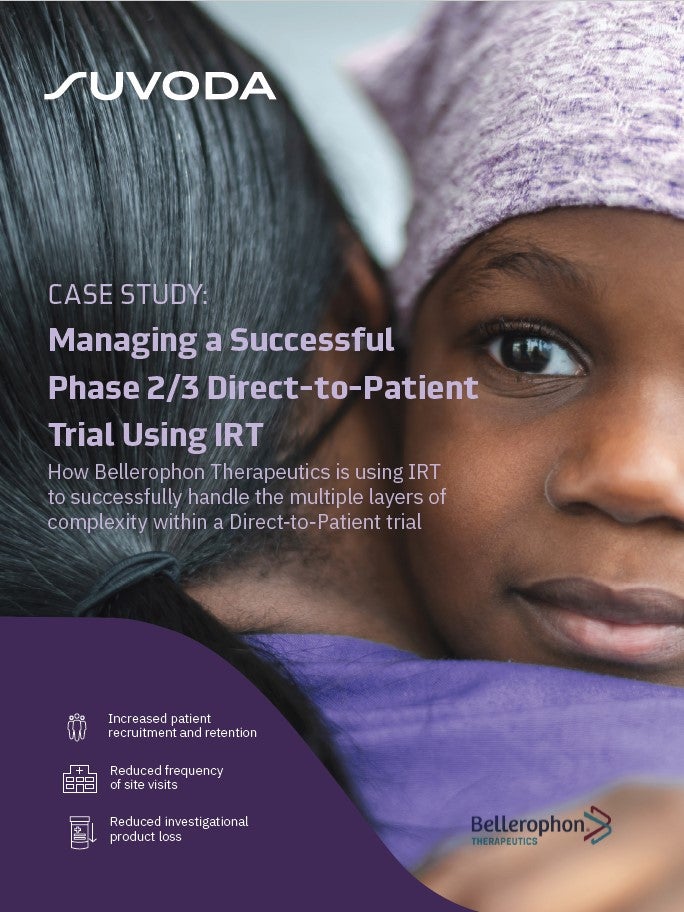 Direct-to-Patient Trials: How IRT Plays an Important Role in Bellerophon's Direct-to-Patient Trials
As the industry strengthens its focus on patient centricity, Direct-to-Patient clinical trials have emerged as a popular trial design that have the potential to increase patient recruitment and retention. IRT plays a crucial role in the success of a Direct-to-Patient trial. Because drug supplies are being managed and shipped from distribution facilities directly to patients' homes, a sponsor must have a high-quality system in place to accurately track the chain of custody, ensure patient-blinding and handle other logistical challenges. What You Will Learn Benefits and challenges associated with the Direct-to-Patient model Bellerophon's top considerations when implementing this trial design How IRT can equip study teams to successfully track chain of custody, ensure patient blinding, and handle logistical challenges
by Suvoda
Kyprolis is designed to block proteasomes, which break down proteins, to cause excessive build-up of proteins within cells, thereby leading to potential cell death.
The trial has met the primary endpoint of statistically significant superior progression-free survival (PFS) with an increase of patient survival by 3.6 months without worsening of disease.
These findings were observed in patients administered with once-weekly 70mg/m2 Kyprolis and 40mg dexamethasone, compared to twice weekly 27mg/m2 dose with 40mg dexamethasone.
The randomised, open-label Phase III trial compared the once-weekly and twice-weekly dosing regimen in 478 subjects who have undergone a minimum of two but not more than three previous therapies.
"Kyprolis has been demonstrated to be the most effective proteosome inhibitor available to patients with multiple myeloma."
Amgen Research and Development executive vice-president Sean Harper said: "Kyprolis has been demonstrated to be the most effective proteosome inhibitor available to patients with multiple myeloma.
"We are encouraged by the efficacy and safety profile of Kyprolis and dexamethasone administered once-weekly in the ARROW study."
Performed at around 100 centres, the trial evaluated safety, overall response rate, tolerability and overall survival as the secondary endpoints.
According to the reported results, the overall safety profile of the once-weekly regimen of Kyprolis was comparable to that of its twice-weekly dosing.
In the treatment group, the most frequently reported treatment-emergent adverse events were found to be anaemia, diarrhoea, fatigue, hypertension, insomnia and pyrexia.
Free Case Study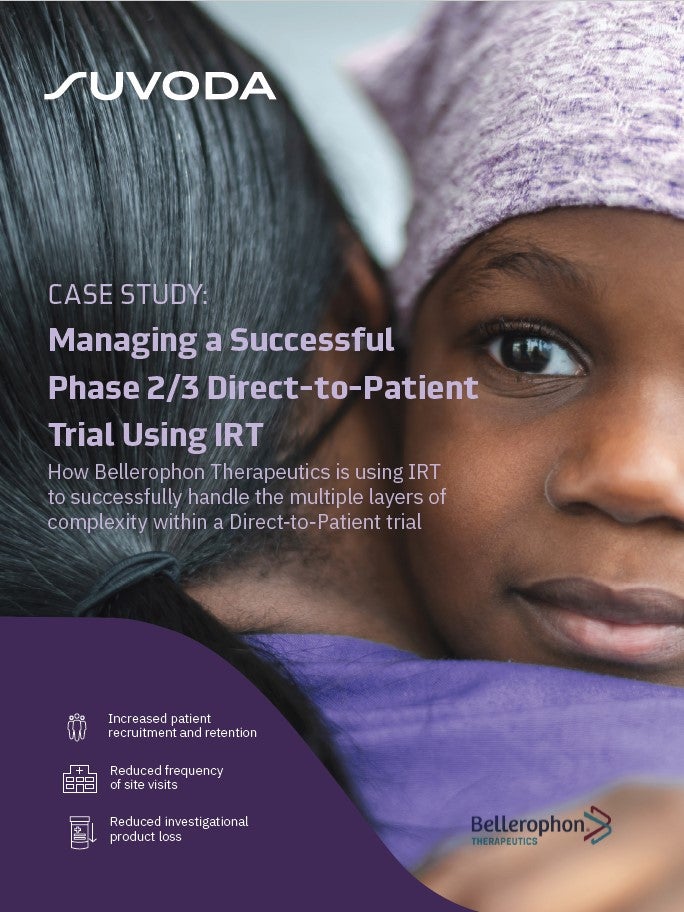 Direct-to-Patient Trials: How IRT Plays an Important Role in Bellerophon's Direct-to-Patient Trials
As the industry strengthens its focus on patient centricity, Direct-to-Patient clinical trials have emerged as a popular trial design that have the potential to increase patient recruitment and retention. IRT plays a crucial role in the success of a Direct-to-Patient trial. Because drug supplies are being managed and shipped from distribution facilities directly to patients' homes, a sponsor must have a high-quality system in place to accurately track the chain of custody, ensure patient-blinding and handle other logistical challenges. What You Will Learn Benefits and challenges associated with the Direct-to-Patient model Bellerophon's top considerations when implementing this trial design How IRT can equip study teams to successfully track chain of custody, ensure patient blinding, and handle logistical challenges
by Suvoda