Anika Therapeutics has reported negative top-line data in the 16-02 trial, a Phase III clinical study evaluating Cingal to treat patients with osteoarthritis (OA) in the knee.
Free Case Study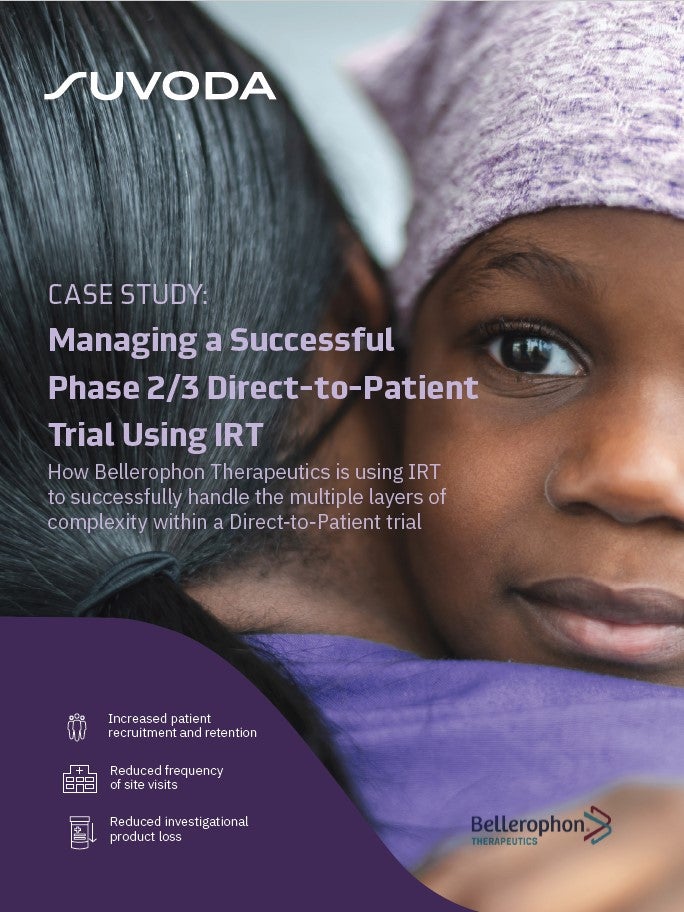 Direct-to-Patient Trials: How IRT Plays an Important Role in Bellerophon's Direct-to-Patient Trials
As the industry strengthens its focus on patient centricity, Direct-to-Patient clinical trials have emerged as a popular trial design that have the potential to increase patient recruitment and retention. IRT plays a crucial role in the success of a Direct-to-Patient trial. Because drug supplies are being managed and shipped from distribution facilities directly to patients' homes, a sponsor must have a high-quality system in place to accurately track the chain of custody, ensure patient-blinding and handle other logistical challenges. What You Will Learn Benefits and challenges associated with the Direct-to-Patient model Bellerophon's top considerations when implementing this trial design How IRT can equip study teams to successfully track chain of custody, ensure patient blinding, and handle logistical challenges
by Suvoda
The placebo-controlled trial compared Cingal with triamcinolone hexacetonide (TH) alone and cross-linked HA among the enrolled patients.
Its primary endpoint includes a comparison of the pain reduction of Cingal compared with TH alone at 26 weeks.
The trial found that Cingal achieved greater pain reduction numerically at every time point in the study, but the difference at 26 weeks did not reach statistical significance.
It also showed significant improvements in pain, function, and quality of life of the patients, as well as a strong safety profile of Cingal.
Anika is currently following up the patients in a prospectively designed extension phase of the trial, which will collect data through 39 weeks.
"While it has been observed that TH has a longer duration of effect than other corticosteroids, the results in this study were surprising."
The company, however, expects to work with the regulators to receive US approval to register Cingal in the country.
Cingal trials global principal investigator Laszlo Hangody said: "While it has been observed that TH has a longer duration of effect than other corticosteroids, the results in this study were surprising.
"Nevertheless, the patient response to Cingal in this study was strong as patients received statistically and clinically meaningful rapid and long-lasting improvement in symptoms compared with base-line, consistent with the previous study as well as my experience in my practice.
"Taken together, the results of the two Phase III studies validate the effectiveness of this novel combination for use in patients with knee osteoarthritis."
Cingal is a combination of cross-linked HA and TH. It is designed to provide rapid and long-lasting relief from pain and discomfort caused by OA.
Free Case Study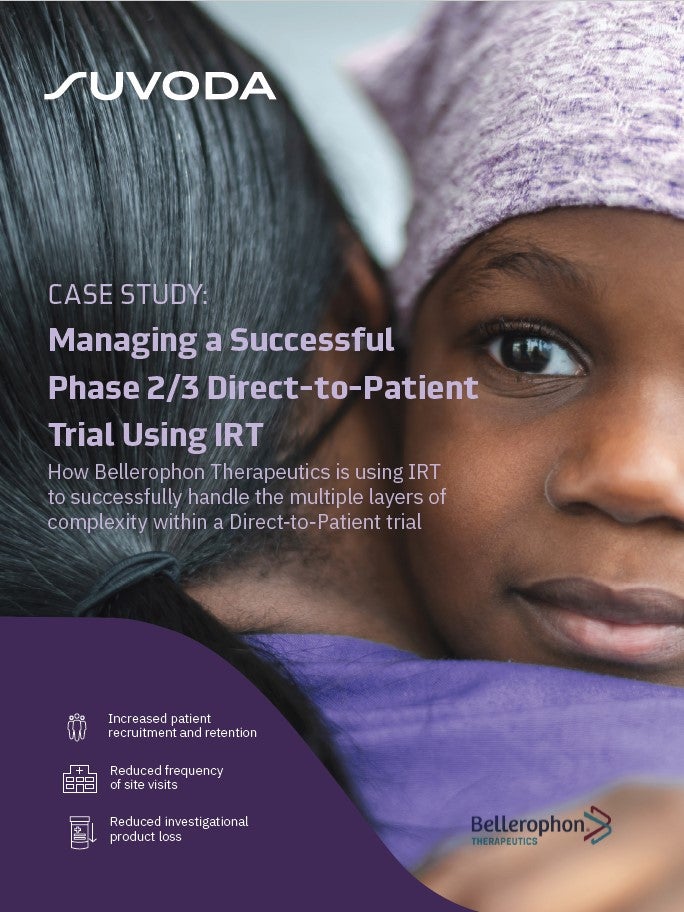 Direct-to-Patient Trials: How IRT Plays an Important Role in Bellerophon's Direct-to-Patient Trials
As the industry strengthens its focus on patient centricity, Direct-to-Patient clinical trials have emerged as a popular trial design that have the potential to increase patient recruitment and retention. IRT plays a crucial role in the success of a Direct-to-Patient trial. Because drug supplies are being managed and shipped from distribution facilities directly to patients' homes, a sponsor must have a high-quality system in place to accurately track the chain of custody, ensure patient-blinding and handle other logistical challenges. What You Will Learn Benefits and challenges associated with the Direct-to-Patient model Bellerophon's top considerations when implementing this trial design How IRT can equip study teams to successfully track chain of custody, ensure patient blinding, and handle logistical challenges
by Suvoda