Anixa Biosciences and its partner Moffitt Cancer Center have initiated treatment of the first subject in the Phase I clinical trial of new chimeric antigen receptor T-cell (CAR-T) therapy for ovarian cancer.
The dose-escalation trial will assess the safety and the maximum tolerated dose of follicle stimulating hormone receptor T-cells.
Moffitt Cancer Center is carrying out the trial, which will also evaluate the efficacy of the therapy in up to 48 subjects.
The CAR-T method utilised for the company's therapy is called chimeric endocrine receptor T-cell (CER-T), as the engineered T-cells' target is an endocrine receptor.
Anixa holds the exclusive, global license to this new technology.
This CER-T therapy varies from standard CAR-T as it acts on the follicle stimulating hormone receptor (FSHR), which was found in research to be specifically expressed on ovarian cells in healthy adult females.
Anixa Biosciences chairman and CEO Amit Kumar said: "We are pleased that the first patient has been treated in our ovarian cancer CAR-T clinical study.
"This is truly an exciting time for Anixa, as we have now begun treating patients in our second clinical trial.
"With our CAR-T study, we hope to determine whether our unique targeting approach will work in solid tumours, a difficult challenge for traditional CAR-T therapies."
A clinical-stage biotech firm, Anixa has various programmes for cancer and infectious diseases.
Its therapeutic portfolio comprises a cancer immunotherapy programme using CER-T technology, being developed along with Moffitt Cancer Center and MolGenie.
The portfolio of the company comprises a new vaccine being developed along with the Cleveland Clinic for breast cancer prevention, as well as a vaccine for preventing ovarian cancer.
Cell & Gene Therapy coverage on Clinical Trials Arena is supported by Cytiva.
Editorial content is independently produced and follows the highest standards of journalistic integrity. Topic sponsors are not involved in the creation of editorial content.
Free Whitepaper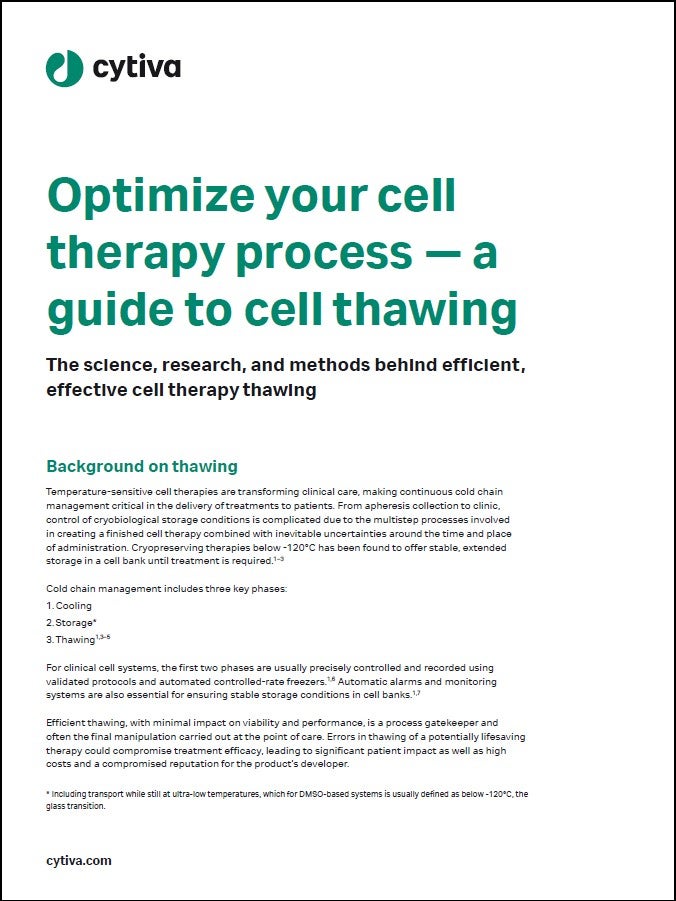 Optimise your cell therapy process: a guide to cell thawing
Typically carried out at the point of care, errors in cell therapy thawing could compromise treatment efficacy, leading to significant patient impact as well as high costs and a compromised reputation for the product's developer. This guide addresses how cell thawing has historically developed into the new techniques used today, along with the physical and biological implications of key metrics and components such as warming rate and ice structure. Also included are reviews of key studies from scientific literature and a consideration of the interactions between cooling and warming rates, as applicable to cell and gene therapies.
by Cytiva Thematic
By clicking the Download Free Whitepaper button, you accept the terms and conditions and acknowledge that your data will be used as described in the Cytiva Thematic privacy policy By downloading this Whitepaper, you acknowledge that we may share your information with our white paper partners/sponsors who may contact you directly with information on their products and services.

Visit our privacy policy for more information about our services, how we may use, process and share your personal data, including information on your rights in respect of your personal data and how you can unsubscribe from future marketing communications. Our services are intended for corporate subscribers and you warrant that the email address submitted is your corporate email address.