The time has come – Medical Device Week has returned to CTA! Back by popular demand, CTA's August spotlight seeks to answer all the burning questions facing medical device professionals. With new regulations already in play, the way medical device trials are run is constantly evolving. As such, we believe this to be the ideal time to focus issues on the industry's agenda.
Free Case Study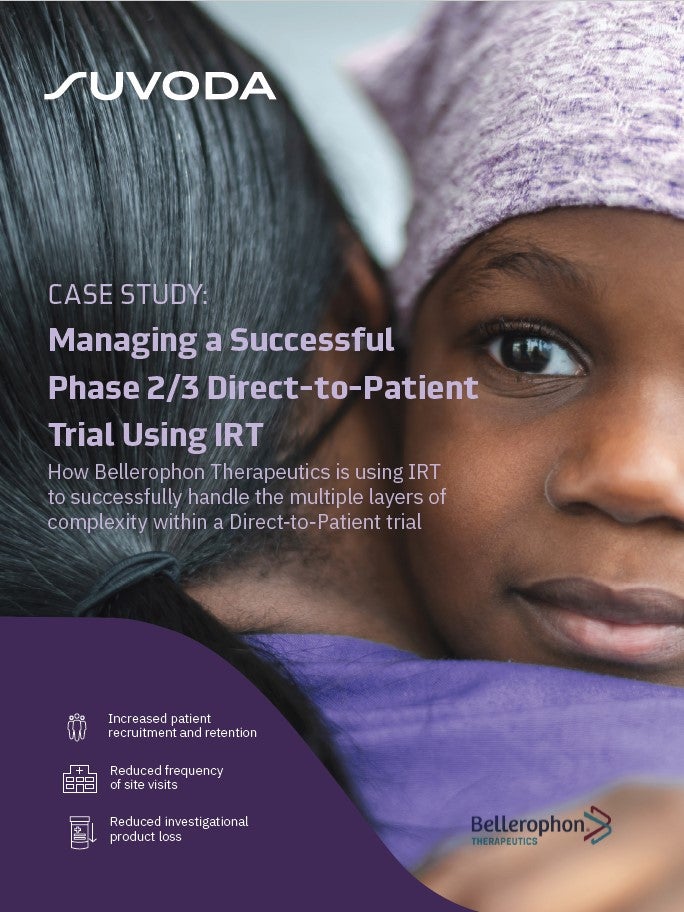 Direct-to-Patient Trials: How IRT Plays an Important Role in Bellerophon's Direct-to-Patient Trials
As the industry strengthens its focus on patient centricity, Direct-to-Patient clinical trials have emerged as a popular trial design that have the potential to increase patient recruitment and retention. IRT plays a crucial role in the success of a Direct-to-Patient trial. Because drug supplies are being managed and shipped from distribution facilities directly to patients' homes, a sponsor must have a high-quality system in place to accurately track the chain of custody, ensure patient-blinding and handle other logistical challenges. What You Will Learn Benefits and challenges associated with the Direct-to-Patient model Bellerophon's top considerations when implementing this trial design How IRT can equip study teams to successfully track chain of custody, ensure patient blinding, and handle logistical challenges
by Suvoda
Be sure to visit us tomorrow when John Schultz, formerly of Acutus Medical, highlights some of the challenges in running early-stage feasibility trials. On Wednesday, Monir El Azzouzi from Johnson & Johnson provides considerations for sponsors with the new Medical Device Regulation firmly in effect.
Later in the week, John Shillingford, Orsus Medical, ponders where the UK industry is headed in light of ongoing Brexit negotiations. And lastly, there's an Industry Viewpoint featuring Esther Gerteis from CorFlow Therapeutics focusing on the issues surrounding sample contracts. So naturally, a diverse range of issues will be highlighted on CTA, so be sure not to miss out!
In the meantime, catch up on some CTA's most popular stories delving into the challenges of medical device trials… (click on the headline to finish reading).
The journey of getting a medical device to market can be long and arduous, but ultimately rewarding. Throughout the process, there are many roving pieces that, if left unaccounted for, could halt a novel device in its tracks.
One key stepping stone on the path to approval is the FDA Advisory Committee meeting (ADCOM). For companies not familiar with ADCOM meetings, CTA sits down with Jennifer Bolton, a regulatory fellow at Boston Scientific, to explain all.
In this Industry Viewpoint, Bolton sits down with CTA Editor Henry Kerali to explain the steps required to best prepare for an ADCOM meeting.
Did you expect the future look like this when you were a kid? If you were from my generation, you'd say there are still no flying cars, or biometric scanners that let you enter your home. However, if you take a closer look you'll find many technological advancements have indeed been made. Do you remember when smartphones were reserved for business use? Or when many forms of cancer were almost incurable?
From that point of view, we can see there has been a lot of progress. But what about medical devices? Let's review two aspects of it, exploring the progress made in terms of products proposed as well as technological innovations.
While patient recruitment and retention are central to the success of clinical trials, achieving this can be difficult. These challenges, along with ensuring protocol compliance, directly influence overall study costs, results, and timelines.
Patient participation in a clinical study can confer significant difficulties to study patients due to the frequency of visits, travel to the study sites, long visit times, disruption in their schedules and activities, and finally, geographic exclusion from distant sites.
The end result of imposing hardship upon unwell or busy patients often has dire consequences upon patient enrollment and retention in the clinical trial, with dropout rates approaching 60 percent for complex multi-visit studies.
For most medical device companies, clinical trials are the largest single area of R&D operating expense. The need to develop an accurate study budget is therefore critical, since an insufficient study budget may result in the inability to cover all expenses and this may affect the credibility within the industry, the institution, and the Principal Investigator.
Budgeting a clinical trial is therefore a challenging task. At the time of creating the budget, there are still a lot of unknown variables, making it more difficult to accurately estimate the final budget. Several study assessments may not be known, and although a draft study design is most often in place at the time of budget creation, it still remains difficult to make the 'best estimate.'
Free Case Study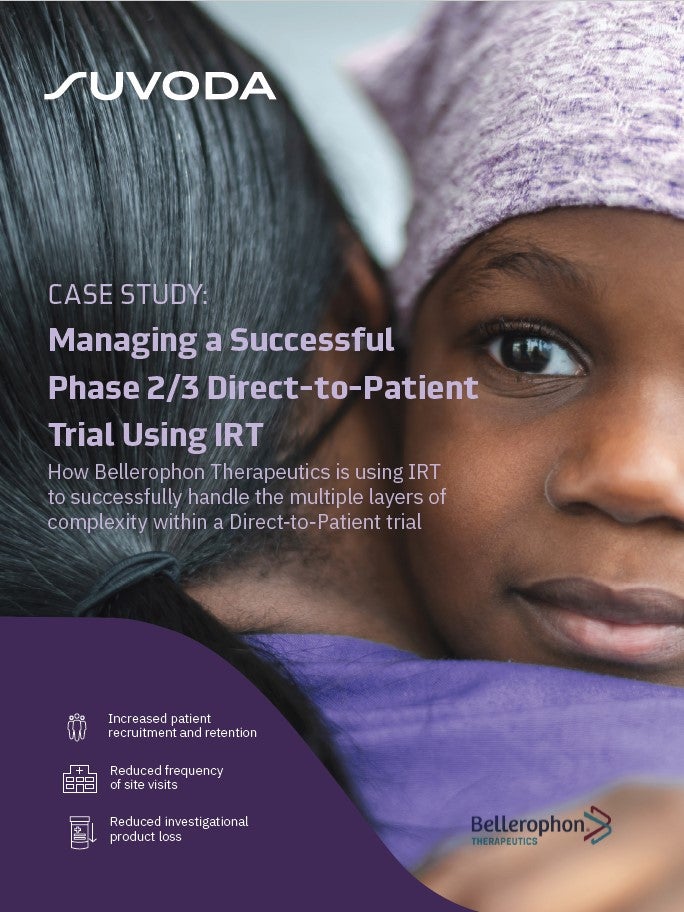 Direct-to-Patient Trials: How IRT Plays an Important Role in Bellerophon's Direct-to-Patient Trials
As the industry strengthens its focus on patient centricity, Direct-to-Patient clinical trials have emerged as a popular trial design that have the potential to increase patient recruitment and retention. IRT plays a crucial role in the success of a Direct-to-Patient trial. Because drug supplies are being managed and shipped from distribution facilities directly to patients' homes, a sponsor must have a high-quality system in place to accurately track the chain of custody, ensure patient-blinding and handle other logistical challenges. What You Will Learn Benefits and challenges associated with the Direct-to-Patient model Bellerophon's top considerations when implementing this trial design How IRT can equip study teams to successfully track chain of custody, ensure patient blinding, and handle logistical challenges
by Suvoda