Antengene has dosed the first subject in a Phase I/II HATCH trial of eltanexor (ATG-016) for treating patients with intermediate and higher-risk myelodysplastic syndrome (MDS) in China.
Free Case Study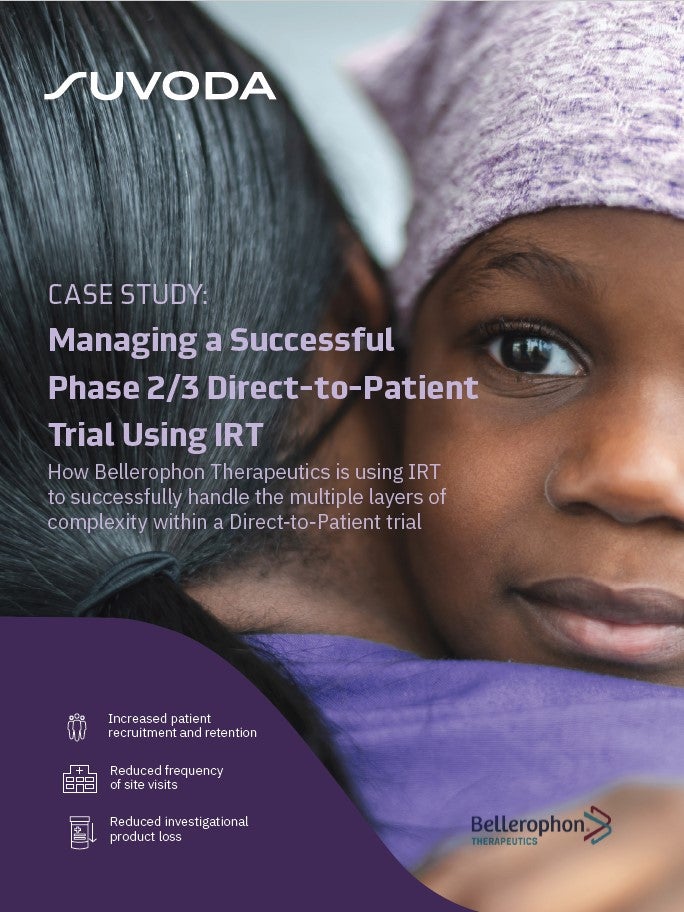 Direct-to-Patient Trials: How IRT Plays an Important Role in Bellerophon's Direct-to-Patient Trials
As the industry strengthens its focus on patient centricity, Direct-to-Patient clinical trials have emerged as a popular trial design that have the potential to increase patient recruitment and retention. IRT plays a crucial role in the success of a Direct-to-Patient trial. Because drug supplies are being managed and shipped from distribution facilities directly to patients' homes, a sponsor must have a high-quality system in place to accurately track the chain of custody, ensure patient-blinding and handle other logistical challenges. What You Will Learn Benefits and challenges associated with the Direct-to-Patient model Bellerophon's top considerations when implementing this trial design How IRT can equip study teams to successfully track chain of custody, ensure patient blinding, and handle logistical challenges
by Suvoda
A selective inhibitor of nuclear export compound, eltanexor stimulates apoptosis in tumour cells by hindering nuclear export protein XPO1.
The single-arm, open-label HATCH trial will assess the safety and efficacy of eltanexor as a single agent in MDS patients who had failed hypomethylating agent (HMA) based treatments.
According to results from a Phase I/II clinical trial in increased-risk MDS patients who are refractory to HMAs, eltanexor provided an objective response rate (ORR) of 35%, with all of them achieving bone marrow complete response.
Furthermore, eltanexor was found to have favourable safety and tolerability profile in the trial.
Apart from MDS, eltanexor is being analysed for treating advanced solid tumour patients in China.
Antengene founder, chairman and CEO Dr Jay Mei said: "We are encouraged by the dosing of the first MDS patient in the HATCH trial, as it marks the beginning of the clinical development of our second SINE compound.
"Eltanexor was found to be safe and well-tolerated in preclinical studies and showed potent anti-cancer activity in xenograft models, and demonstrated preliminary clinical efficacy and well-tolerated safety profile in patients with high-risk MDS."
MDS is a malignancy that develops in the bone marrow hemopoietic stem cells and its incidence rises drastically with age.
The median overall survivals (OS) of intermediate, high, and very high-risk MDS patients are 3, 1.6, and 0.8 years, respectively. They are also at an increased risk of advancing to acute myeloid leukaemia.
HMAs such as azacytidine and decitabine are used as standard of care therapies for MDS but they do not eliminate neoplastic clones and cause a response in nearly 50% of MDS patients, Antengene noted.
In addition, MDS patients who are refractory to HMA-based treatments have a reduced prognosis, fewer options for follow-up therapies and a median OS of just four to six months.
In November last year, Antengene announced plans to begin the Phase I/II clinical trial of eltanexor monotherapy in patients with intermediate and higher-risk MDS.
Free Case Study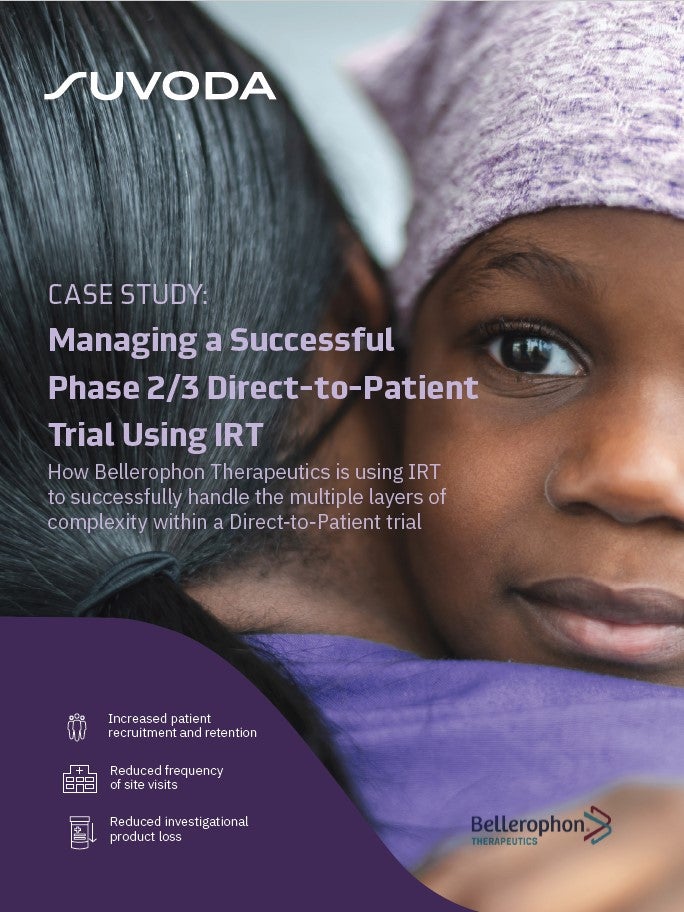 Direct-to-Patient Trials: How IRT Plays an Important Role in Bellerophon's Direct-to-Patient Trials
As the industry strengthens its focus on patient centricity, Direct-to-Patient clinical trials have emerged as a popular trial design that have the potential to increase patient recruitment and retention. IRT plays a crucial role in the success of a Direct-to-Patient trial. Because drug supplies are being managed and shipped from distribution facilities directly to patients' homes, a sponsor must have a high-quality system in place to accurately track the chain of custody, ensure patient-blinding and handle other logistical challenges. What You Will Learn Benefits and challenges associated with the Direct-to-Patient model Bellerophon's top considerations when implementing this trial design How IRT can equip study teams to successfully track chain of custody, ensure patient blinding, and handle logistical challenges
by Suvoda