Apollomics has dosed the first participant in a Phase III clinical trial of its new drug, APL-106 (uproleselan injection), in China to treat relapsed or refractory acute myeloid leukaemia (AML) patients.
Free Case Study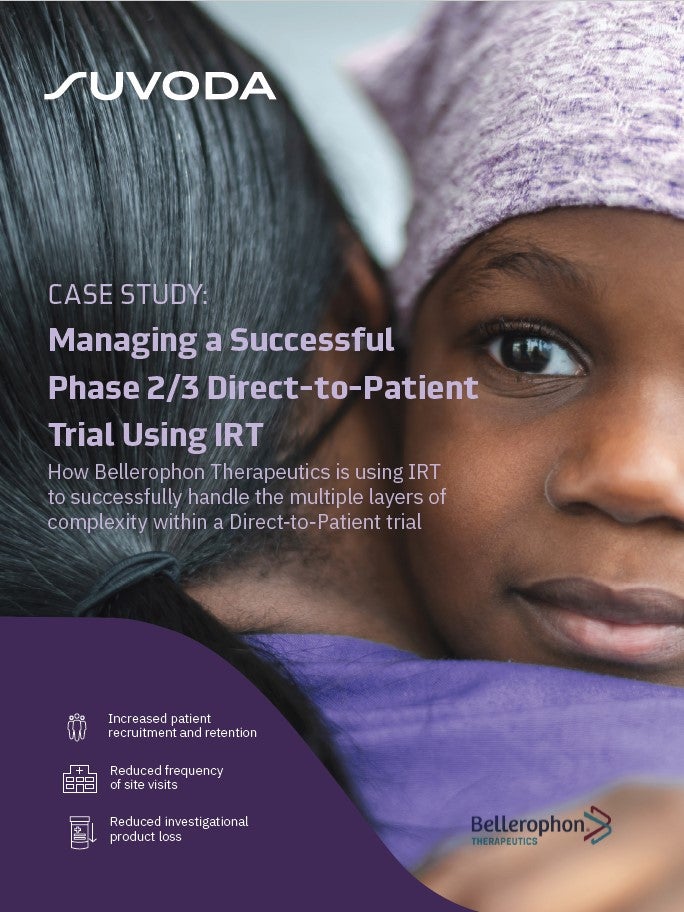 Direct-to-Patient Trials: How IRT Plays an Important Role in Bellerophon's Direct-to-Patient Trials
As the industry strengthens its focus on patient centricity, Direct-to-Patient clinical trials have emerged as a popular trial design that have the potential to increase patient recruitment and retention. IRT plays a crucial role in the success of a Direct-to-Patient trial. Because drug supplies are being managed and shipped from distribution facilities directly to patients' homes, a sponsor must have a high-quality system in place to accurately track the chain of custody, ensure patient-blinding and handle other logistical challenges. What You Will Learn Benefits and challenges associated with the Direct-to-Patient model Bellerophon's top considerations when implementing this trial design How IRT can equip study teams to successfully track chain of custody, ensure patient blinding, and handle logistical challenges
by Suvoda
Uproleselan has been licensed by Apollomics in the Greater China region from GlycoMimetics, which discovered and developed the drug.
The drug can potentially hinder E-selectin from adhering to blood cancer cells, to destroy the leukemic cell resistance mechanism within the bone marrow microenvironment.
The randomised, placebo-controlled, double-blind, bridging trial will assess uproleselan efficacy along with chemotherapy versus chemotherapy alone to treat adult patients with relapsed/refractory AML.
Nealy 140 adults with primary refractory or relapsed AML, who are eligible for induction chemotherapy, will be enrolled in the trial.
Overall survival is the primary goal of the trial while remission rate and duration; and uproleselan's ability to reduce oral mucositis rate will be included as secondary goals.
The company plans to carry out the trial at nearly 20 blood cancer clinical research centres in the country.
This trial is part of Apollomics' complete development programme in China, which also comprises a Phase I pharmacokinetic and tolerability trial currently underway.
Apollomics co-founder, chairman and CEO Guo-Liang Yu said: "As our first Phase III clinical trial, dosing of the first patient with APL-106 is a major inflection point for Apollomics as we now become a company in late-stage development.
"APL-106 acts via an innovative mechanism that drives cancer cells out of the bone marrow, making them a prime target to be killed by chemotherapy.
"This combined treatment approach could have a meaningful impact on the lives of patients living with relapsed or refractory AML."
AML is a kind of cancer that affects blood and bone marrow.
Free Case Study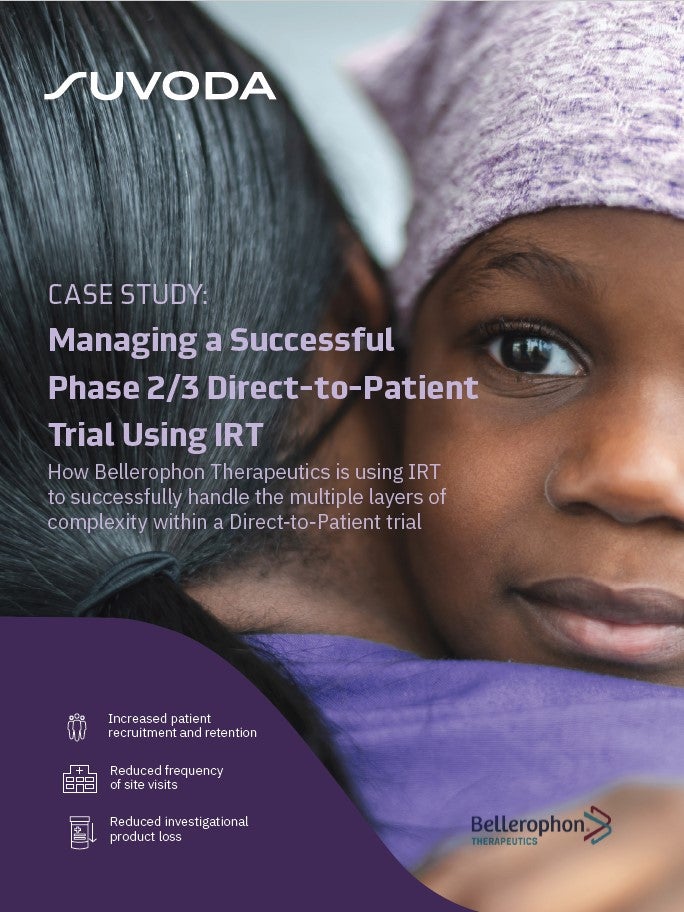 Direct-to-Patient Trials: How IRT Plays an Important Role in Bellerophon's Direct-to-Patient Trials
As the industry strengthens its focus on patient centricity, Direct-to-Patient clinical trials have emerged as a popular trial design that have the potential to increase patient recruitment and retention. IRT plays a crucial role in the success of a Direct-to-Patient trial. Because drug supplies are being managed and shipped from distribution facilities directly to patients' homes, a sponsor must have a high-quality system in place to accurately track the chain of custody, ensure patient-blinding and handle other logistical challenges. What You Will Learn Benefits and challenges associated with the Direct-to-Patient model Bellerophon's top considerations when implementing this trial design How IRT can equip study teams to successfully track chain of custody, ensure patient blinding, and handle logistical challenges
by Suvoda