aptaTargets has reported the dosing of the first subject in a Phase Ib clinical trial of its drug, ApTOLL, to treat Covid-19 patients admitted to the hospital.
Free Case Study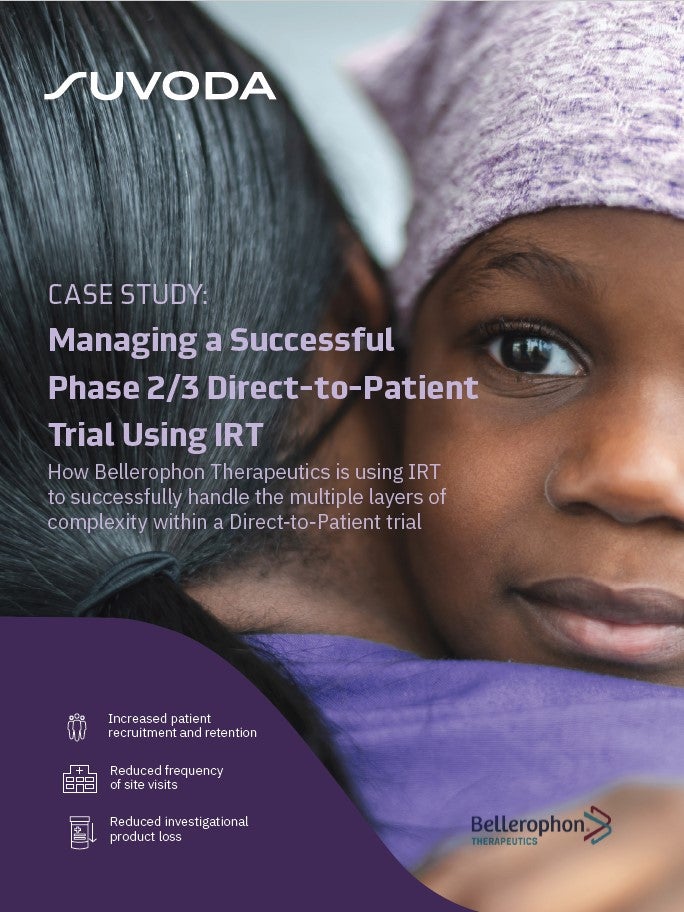 Direct-to-Patient Trials: How IRT Plays an Important Role in Bellerophon's Direct-to-Patient Trials
As the industry strengthens its focus on patient centricity, Direct-to-Patient clinical trials have emerged as a popular trial design that have the potential to increase patient recruitment and retention. IRT plays a crucial role in the success of a Direct-to-Patient trial. Because drug supplies are being managed and shipped from distribution facilities directly to patients' homes, a sponsor must have a high-quality system in place to accurately track the chain of custody, ensure patient-blinding and handle other logistical challenges. What You Will Learn Benefits and challenges associated with the Direct-to-Patient model Bellerophon's top considerations when implementing this trial design How IRT can equip study teams to successfully track chain of custody, ensure patient blinding, and handle logistical challenges
by Suvoda
The first subject was dosed at the University Hospital La Princesa in Madrid, Spain.
Named aptaCovid, the blind, randomised, multicentre, placebo-controlled trial will enrol 30 Covid-19 patients admitted to the hospital and are at cytokine storm syndrome development risk.
Cytokine storm syndrome is an uncontrolled inflammatory process of the ailment.
Analysing the safety and efficacy of ApTOLL is the aim of the trial.
The trial was also launched at three other Spanish hospitals, Ramón y Cajal, Clínico San Carlos of Madrid and the University Hospital of Burgos.
Subjects in the trial will be given three intravenous drug doses for three days and their clinical progress and inflammatory process development will be evaluated.
The company anticipates reporting the initial data from the trial in the third quarter of this year.
On obtaining positive findings, aptaTargets will progress ApTOLL to Phase II trials.
Last year, the Spanish Agency of Medicines and Medical Products (AEMPS) granted clearance to commence the trial, which also obtained funds from the Spanish Ministry of Science and Innovation agency and the Centre for the Development of Industrial Technology.
aptaTargets CEO David Segarra said: "We are very happy that this aptaCovid trial has included the first patient and that it is taking place at leading hospitals in infectious diseases.
"ApTOLL offers high potential to be an effective and safe treatment option in patients hospitalised for Covid-19."
In February this year, the company joined a consortium to advance ribonucleic acid oligonucleotide-based therapy development for treating rare diseases.
Free Case Study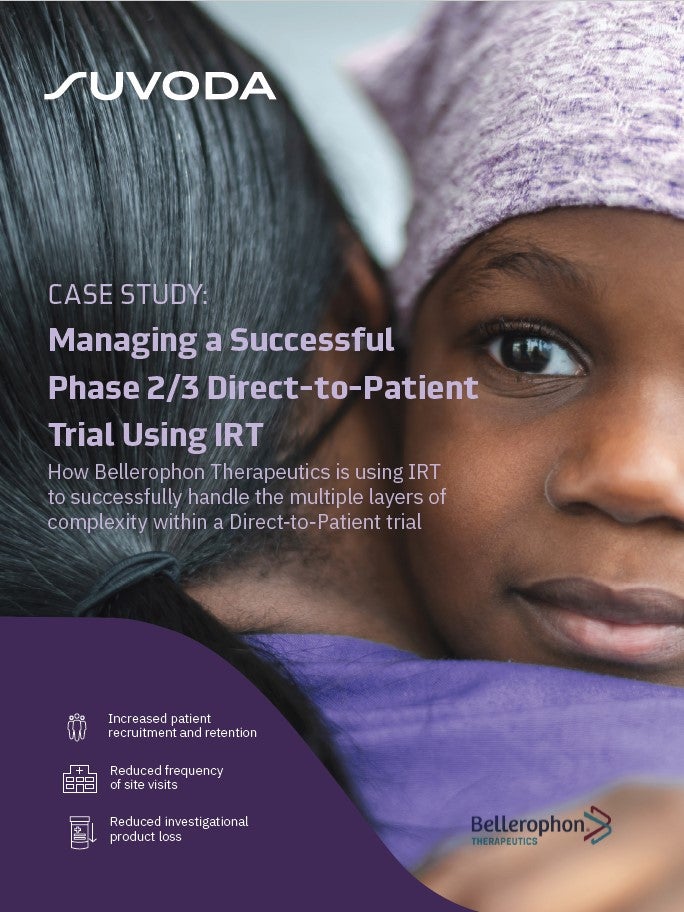 Direct-to-Patient Trials: How IRT Plays an Important Role in Bellerophon's Direct-to-Patient Trials
As the industry strengthens its focus on patient centricity, Direct-to-Patient clinical trials have emerged as a popular trial design that have the potential to increase patient recruitment and retention. IRT plays a crucial role in the success of a Direct-to-Patient trial. Because drug supplies are being managed and shipped from distribution facilities directly to patients' homes, a sponsor must have a high-quality system in place to accurately track the chain of custody, ensure patient-blinding and handle other logistical challenges. What You Will Learn Benefits and challenges associated with the Direct-to-Patient model Bellerophon's top considerations when implementing this trial design How IRT can equip study teams to successfully track chain of custody, ensure patient blinding, and handle logistical challenges
by Suvoda