Aptinyx has concluded the enrolment of subjects in the ongoing Phase IIb clinical trial of its new oral therapy, NYX-2925, to treat painful diabetic peripheral neuropathy (DPN).
Free Case Study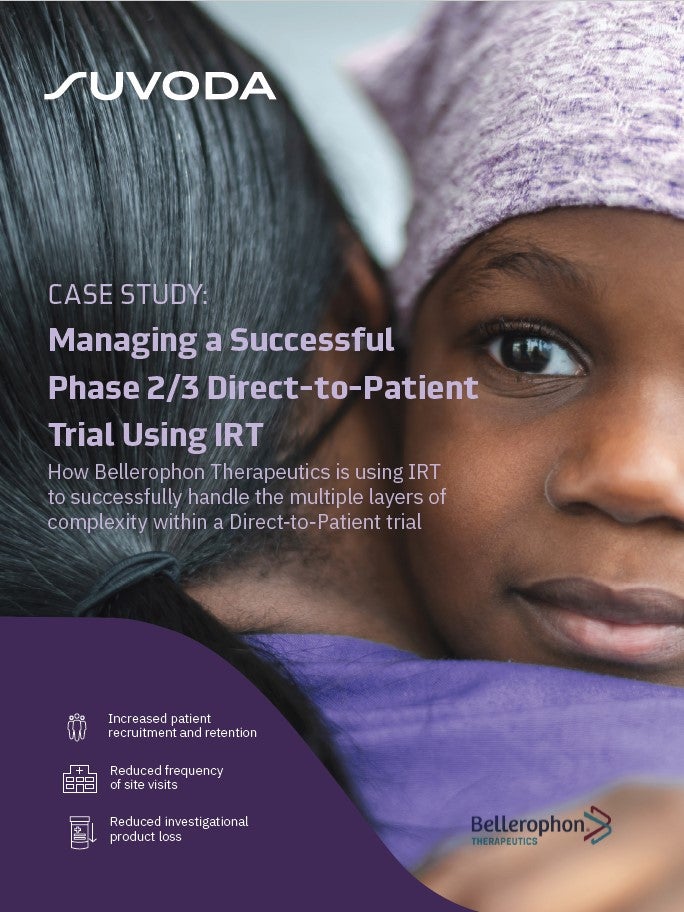 Direct-to-Patient Trials: How IRT Plays an Important Role in Bellerophon's Direct-to-Patient Trials
As the industry strengthens its focus on patient centricity, Direct-to-Patient clinical trials have emerged as a popular trial design that have the potential to increase patient recruitment and retention. IRT plays a crucial role in the success of a Direct-to-Patient trial. Because drug supplies are being managed and shipped from distribution facilities directly to patients' homes, a sponsor must have a high-quality system in place to accurately track the chain of custody, ensure patient-blinding and handle other logistical challenges. What You Will Learn Benefits and challenges associated with the Direct-to-Patient model Bellerophon's top considerations when implementing this trial design How IRT can equip study teams to successfully track chain of custody, ensure patient blinding, and handle logistical challenges
by Suvoda
A new N-methyl-D-aspartate (NMDA) receptor positive allosteric modulator, NYX-2925 is presently being analysed in a Phase II trial to treat chronic pain.
The randomised, placebo-controlled, double-blind Phase IIb trial will analyse the efficacy and safety of NYX-2925 in subjects with advanced painful DPN.
After the screening period, qualified subjects will be categorised to receive once-daily doses of either 50mg NYX-2925 or placebo during the treatment duration.
The change from baseline in weekly average daily pain score over a duration of 12 weeks as assessed on the ten-point numeric rating scale will be the primary goal of the trial.
In the trial, several secondary and exploratory goals linked to pain and the quality of life of the subject will also be analysed.
Subjects who complete the 12-week treatment duration will be subsequently followed up for safety after 30 days.
Aptinyx anticipates reporting data from the trial in the early-to-mid-second quarter of next year.
Aptinyx CEO Norbert Riedel said: "We look forward to completing the study and reporting results next year, which, if positive, would support the late-stage clinical development of NYX-2925 in painful DPN.
"This readout will be the first of the multiple Phase II data catalysts we expect across our development pipeline over the next 24 months."
A neuropathic pain condition, painful DPN affects nearly 7.5 million individuals in the US.
It develops in 60%-70% of diabetes patients when chronically increased levels of glucose injure nerves and disrupt information transmission between the central nervous system and other body parts.
Earlier this year, Aptinyx restarted recruiting and screening participants in a Phase II trial of NYX-2925 to treat painful DPN patients.
Free Case Study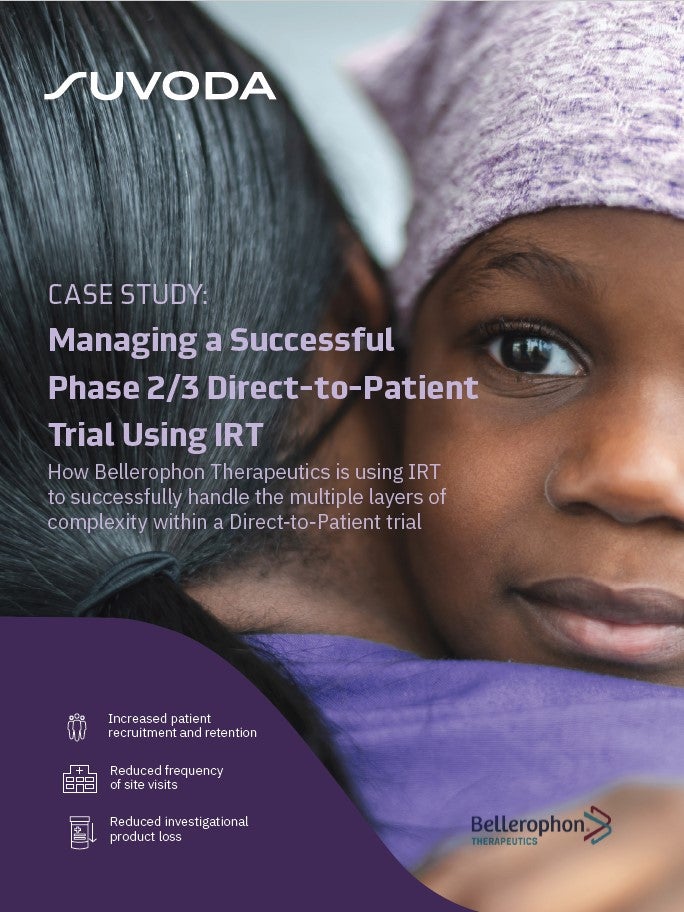 Direct-to-Patient Trials: How IRT Plays an Important Role in Bellerophon's Direct-to-Patient Trials
As the industry strengthens its focus on patient centricity, Direct-to-Patient clinical trials have emerged as a popular trial design that have the potential to increase patient recruitment and retention. IRT plays a crucial role in the success of a Direct-to-Patient trial. Because drug supplies are being managed and shipped from distribution facilities directly to patients' homes, a sponsor must have a high-quality system in place to accurately track the chain of custody, ensure patient-blinding and handle other logistical challenges. What You Will Learn Benefits and challenges associated with the Direct-to-Patient model Bellerophon's top considerations when implementing this trial design How IRT can equip study teams to successfully track chain of custody, ensure patient blinding, and handle logistical challenges
by Suvoda