AstraZeneca has reported data from two Phase III clinical trials where its long-acting antibody (LAAB) combination, AZD7442, demonstrated strong efficacy for Covid-19 treatment and prevention.
Free Case Study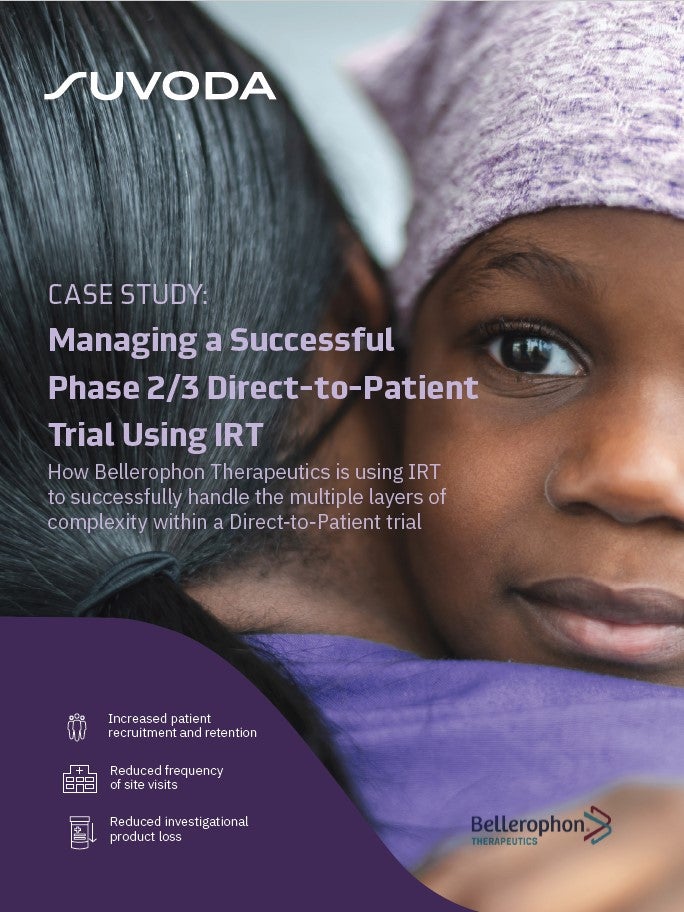 Direct-to-Patient Trials: How IRT Plays an Important Role in Bellerophon's Direct-to-Patient Trials
As the industry strengthens its focus on patient centricity, Direct-to-Patient clinical trials have emerged as a popular trial design that have the potential to increase patient recruitment and retention. IRT plays a crucial role in the success of a Direct-to-Patient trial. Because drug supplies are being managed and shipped from distribution facilities directly to patients' homes, a sponsor must have a high-quality system in place to accurately track the chain of custody, ensure patient-blinding and handle other logistical challenges. What You Will Learn Benefits and challenges associated with the Direct-to-Patient model Bellerophon's top considerations when implementing this trial design How IRT can equip study teams to successfully track chain of custody, ensure patient blinding, and handle logistical challenges
by Suvoda
AZD7442 is a cocktail of tixagevimab (AZD8895) and cilgavimab (AZD1061) LAABs, which are obtained from the B-cells of convalescent Covid-19 patients.
AstraZeneca licensed the Vanderbilt University Medical Center-discovered combination therapy for Covid-19 in June 2020.
The randomised, double-blind, multicentre, placebo-controlled Phase III PROVENT trial is analysing the safety and efficacy of one 300mg intramuscular (IM) dose of AZD7442 versus placebo to prevent Covid-19 in trial subjects.
Carried out at 87 centres in the UK, the US, Spain, Belgium and France, it enrolled 5,197 adult subjects.
The latest findings from the ongoing trial showed that one 300mg IM dose of the therapy offered an 83% reduction in the risk of symptomatic Covid-19 development versus placebo.
No cases of severe Covid-19 or disease-related deaths at the primary or six-month assessments were reported in the AZD7442 arm.
Two cases of severe Covid-19 were observed in subjects receiving a placebo at the six-month analysis.
The double-blind, randomised, placebo-controlled, multicentre Phase III TACKLE trial is evaluating the safety and efficacy of one 600mg IM dose of the antibody combination therapy versus placebo to treat Covid-19 in the outpatient setting.
The trial enrolled a total of 903 adult subjects with mild-to-moderate disease and have symptoms for seven days or less.
According to exploratory analysis data from the trial, a single 600mg IM dose of AZD7442 offered a 88% reduction in risk of severe Covid-19 or death from any cause versus placebo in subjects who were having symptoms for three days or less.
AZD7442 was demonstrated to be well tolerated in both trials without any novel safety concern detected in the six-month assessment of PROVENT.
AstraZeneca BioPharmaceuticals R&D executive vice-president Mene Pangalos said: "AZD7442 is the only long-acting antibody with Phase III data to demonstrate benefit in both pre-exposure prophylaxis and treatment of Covid-19 with one dose.
"These new data add to the growing body of evidence supporting AZD7442's potential to make a significant difference in the prevention and treatment of Covid-19."
Last month, AstraZeneca sought Emergency Use Authorization for AZD7442 from the US Food and Drug Administration for Covid-19 prophylaxis.
Free Case Study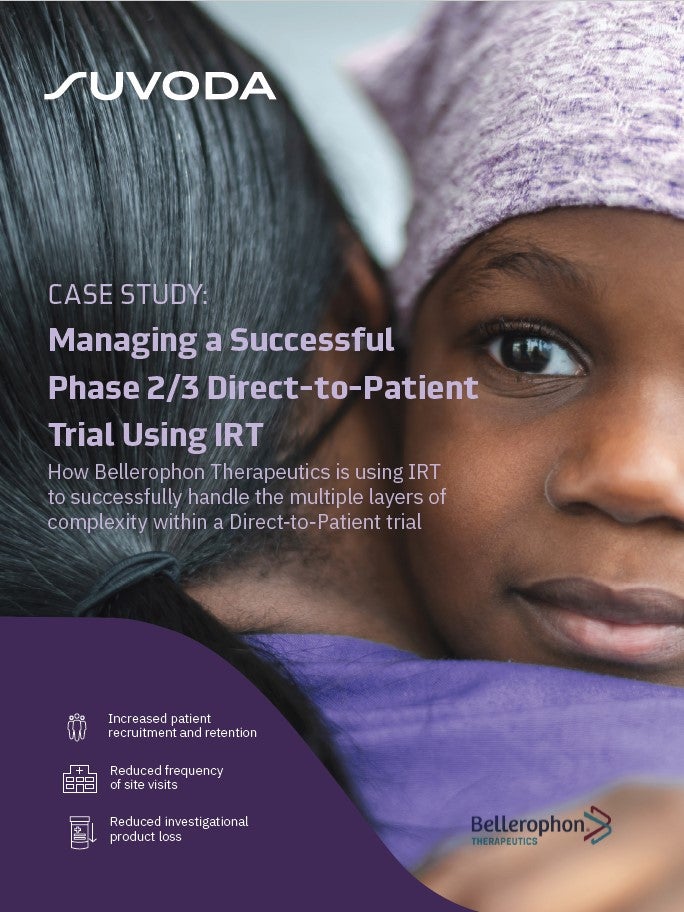 Direct-to-Patient Trials: How IRT Plays an Important Role in Bellerophon's Direct-to-Patient Trials
As the industry strengthens its focus on patient centricity, Direct-to-Patient clinical trials have emerged as a popular trial design that have the potential to increase patient recruitment and retention. IRT plays a crucial role in the success of a Direct-to-Patient trial. Because drug supplies are being managed and shipped from distribution facilities directly to patients' homes, a sponsor must have a high-quality system in place to accurately track the chain of custody, ensure patient-blinding and handle other logistical challenges. What You Will Learn Benefits and challenges associated with the Direct-to-Patient model Bellerophon's top considerations when implementing this trial design How IRT can equip study teams to successfully track chain of custody, ensure patient blinding, and handle logistical challenges
by Suvoda