AstraZeneca has started three new clinical trials to evaluate monoclonal antibody Fasenra for the treatment of eosinophil-driven skin diseases.
Free Case Study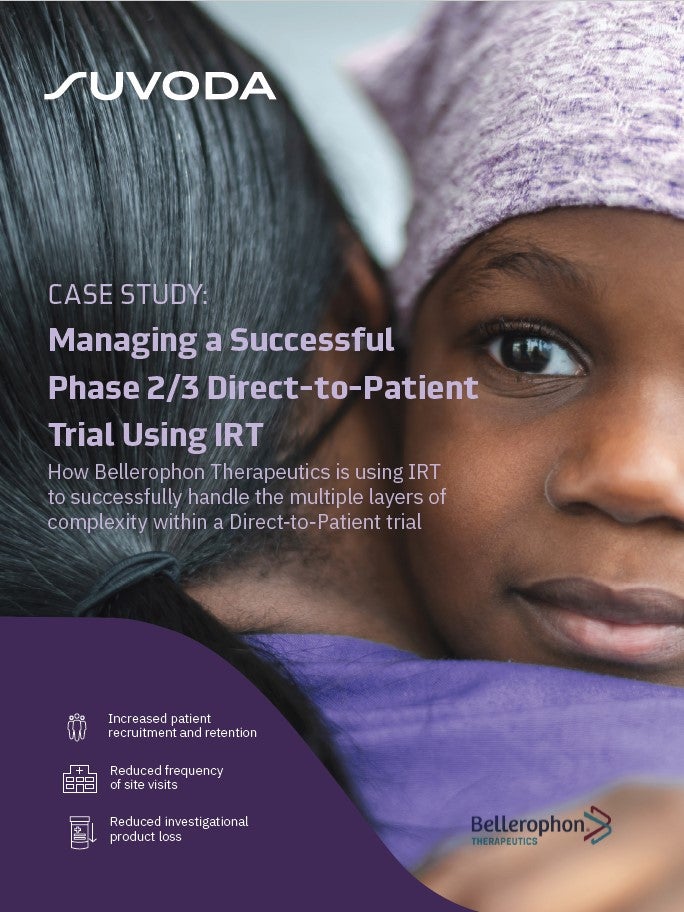 Direct-to-Patient Trials: How IRT Plays an Important Role in Bellerophon's Direct-to-Patient Trials
As the industry strengthens its focus on patient centricity, Direct-to-Patient clinical trials have emerged as a popular trial design that have the potential to increase patient recruitment and retention. IRT plays a crucial role in the success of a Direct-to-Patient trial. Because drug supplies are being managed and shipped from distribution facilities directly to patients' homes, a sponsor must have a high-quality system in place to accurately track the chain of custody, ensure patient-blinding and handle other logistical challenges. What You Will Learn Benefits and challenges associated with the Direct-to-Patient model Bellerophon's top considerations when implementing this trial design How IRT can equip study teams to successfully track chain of custody, ensure patient blinding, and handle logistical challenges
by Suvoda
The new trials include two Phase II studies in atopic dermatitis (AD) and chronic spontaneous urticaria (CSU) and one Phase III study in bullous pemphigoid (BP).
Eosinophil-driven diseases are characterised by dysfunction in the immune system leading to eosinophil chronic local and/or systemic inflammation due to eosinophil recruitment and activation.
Licensed from BioWa, Fasenra is designed to attach to IL-5 receptor alpha on eosinophils and draw natural killer cells to trigger apoptosis for fast and near-complete eosinophils depletion.
The drug currently holds approval as an add-on maintenance therapy for severe eosinophilic asthma in multiple countries, including the US.
AstraZeneca is also assessing Fasenra in five other studies involving patients with eosinophil-driven diseases, excluding asthma.
RESOLUTE study is evaluating the drug for the treatment of moderate to very severe chronic obstructive pulmonary disease (COPD) patients who experienced frequent exacerbations.
MESSINA and MANDARA studies are being conducted in eosinophilic esophagitis (EoE) and eosinophilic granulomatosis with polyangiitis (EGPA) patients, respectively. MANDARA is comparing benralizumab to mepolizumab.
The Phase III NATRON trial involves hypereosinophilic syndrome (HES) patients, while OSTRO is investigating Fasenra in severe nasal polyposis.
Results from the OSTRO study are expected in the second half of next year and those from RESOLUTE, MESSINA, MANDARA and NATRON in 2023.
AstraZeneca BioPharmaceuticals R&D executive vice-president Mene Pangalos said: "These clinical trials represent significant progress towards our ambition to establish Fasenra as the first-line, first-choice treatment for patients with eosinophil-driven diseases, which can be debilitating and potentially life-threatening."
The drug secured US Food and Drug Administration (FDA) orphan drug designation for EGPA, HES and EoE in November 2018, February last year, and August last year, respectively.
Free Case Study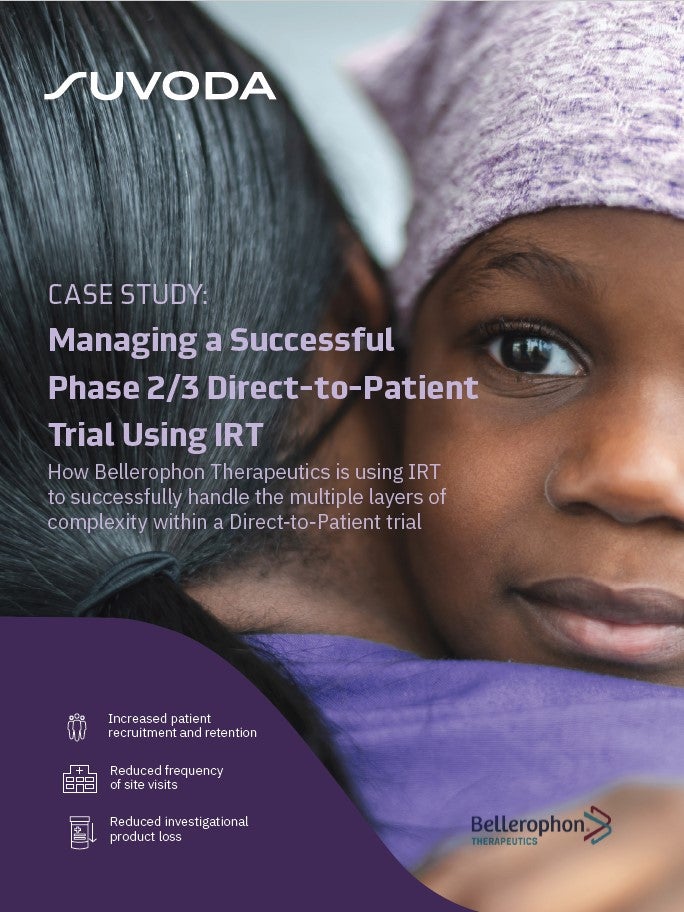 Direct-to-Patient Trials: How IRT Plays an Important Role in Bellerophon's Direct-to-Patient Trials
As the industry strengthens its focus on patient centricity, Direct-to-Patient clinical trials have emerged as a popular trial design that have the potential to increase patient recruitment and retention. IRT plays a crucial role in the success of a Direct-to-Patient trial. Because drug supplies are being managed and shipped from distribution facilities directly to patients' homes, a sponsor must have a high-quality system in place to accurately track the chain of custody, ensure patient-blinding and handle other logistical challenges. What You Will Learn Benefits and challenges associated with the Direct-to-Patient model Bellerophon's top considerations when implementing this trial design How IRT can equip study teams to successfully track chain of custody, ensure patient blinding, and handle logistical challenges
by Suvoda