Aurinia Pharmaceuticals has initiated an open-label exploratory trial to analyse the antiviral effects of voclosporin in kidney transplant recipients (KTRs) with Covid-19.
Free Case Study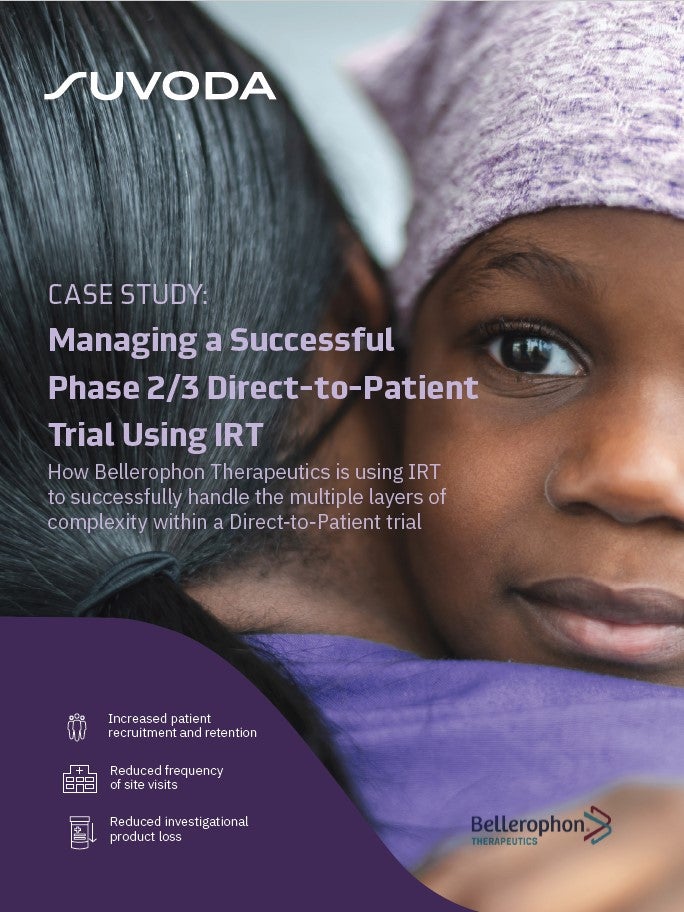 Direct-to-Patient Trials: How IRT Plays an Important Role in Bellerophon's Direct-to-Patient Trials
As the industry strengthens its focus on patient centricity, Direct-to-Patient clinical trials have emerged as a popular trial design that have the potential to increase patient recruitment and retention. IRT plays a crucial role in the success of a Direct-to-Patient trial. Because drug supplies are being managed and shipped from distribution facilities directly to patients' homes, a sponsor must have a high-quality system in place to accurately track the chain of custody, ensure patient-blinding and handle other logistical challenges. What You Will Learn Benefits and challenges associated with the Direct-to-Patient model Bellerophon's top considerations when implementing this trial design How IRT can equip study teams to successfully track chain of custody, ensure patient blinding, and handle logistical challenges
by Suvoda
Aurinia also secured funding for the VOCOVID study.
Voclosporin is a novel calcineurin inhibitor (CNI) used for treating patients with lupus nephritis. 
The drug hinders IL-2 expression and minimises T-cell mediated immune responses while synergistically stabilising podocytes in the kidney. 
Organ transplant recipients with Covid-19 infection are at high risk for complications as they need daily immunosuppressive medications to prevent organ rejection. 
In prior in-vitro studies, calcineurin inhibitors (CNIs) like voclosporin have demonstrated viral replication inhibition properties. 
The single-centre and investigator-initiated trial (IIT) is being carried out by Dr Aiko de Vries and Dr YK Onno Teng at the Leiden University Medical Center (LUMC) in the Netherlands.
Aurinia Pharmaceuticals Research executive vice-president Robert Huizinga said: "Working with our long-time collaborators at LUMC, we established the preclinical antiviral activity of voclosporin against the SARS-CoV-2 virus with results that further highlight voclosporin's differentiation from legacy CNIs.
"As we continue to prepare for potential FDA approval and commercial launch of voclosporin for the treatment of LN, we are pleased to test the potential of voclosporin to meet the urgent needs of this specific patient population driven by the Covid-19 pandemic."
The 56-day trial will assess the antiviral effects of voclosporin compared to tacrolimus in stable KTRs who contracted SARS-CoV-2.
It will randomise 20 KTRs testing positive for Covid-19 who are on dual immunosuppressives of prednisone and tacrolimus at study entry to remain on tacrolimus or be switched to voclosporin.
The trial's primary endpoint is the reduction in SARS-CoV-2 viral load over 56 days.
Furthermore, it will evaluate predefined endpoints as surrogate markers of improved viral clearance, including time to three-log reduction in viral load concentration and time to clinical recovery.
Free Case Study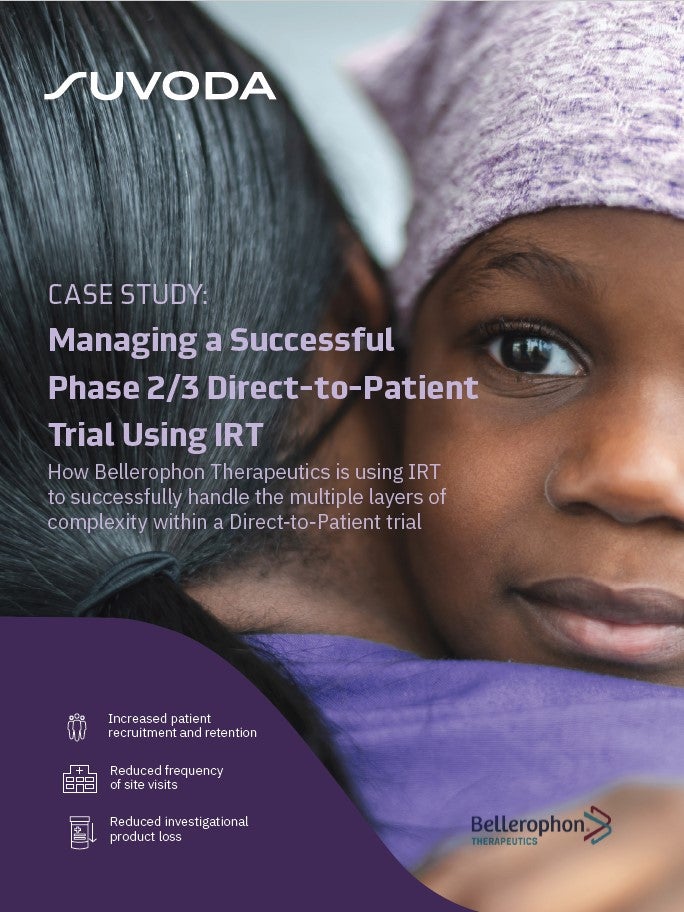 Direct-to-Patient Trials: How IRT Plays an Important Role in Bellerophon's Direct-to-Patient Trials
As the industry strengthens its focus on patient centricity, Direct-to-Patient clinical trials have emerged as a popular trial design that have the potential to increase patient recruitment and retention. IRT plays a crucial role in the success of a Direct-to-Patient trial. Because drug supplies are being managed and shipped from distribution facilities directly to patients' homes, a sponsor must have a high-quality system in place to accurately track the chain of custody, ensure patient-blinding and handle other logistical challenges. What You Will Learn Benefits and challenges associated with the Direct-to-Patient model Bellerophon's top considerations when implementing this trial design How IRT can equip study teams to successfully track chain of custody, ensure patient blinding, and handle logistical challenges
by Suvoda