Axalbion has treated the first subjects in Phase II clinical trial of its orally disintegrating tablet (ODT), AX-8, in refractory or unexplained chronic cough patients.
Free Case Study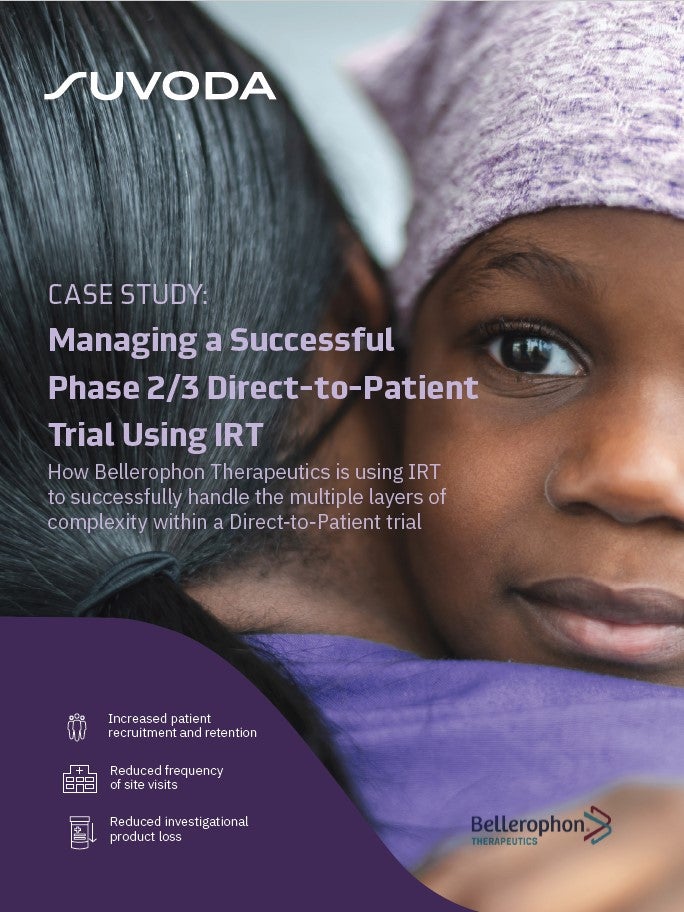 Direct-to-Patient Trials: How IRT Plays an Important Role in Bellerophon's Direct-to-Patient Trials
As the industry strengthens its focus on patient centricity, Direct-to-Patient clinical trials have emerged as a popular trial design that have the potential to increase patient recruitment and retention. IRT plays a crucial role in the success of a Direct-to-Patient trial. Because drug supplies are being managed and shipped from distribution facilities directly to patients' homes, a sponsor must have a high-quality system in place to accurately track the chain of custody, ensure patient-blinding and handle other logistical challenges. What You Will Learn Benefits and challenges associated with the Direct-to-Patient model Bellerophon's top considerations when implementing this trial design How IRT can equip study teams to successfully track chain of custody, ensure patient blinding, and handle logistical challenges
by Suvoda
Placed on the back of the tongue, AX-8 is a selective transient receptor potential melastatin 8 (TRPM8) agonist.
Axalbion estimates that stimulating TRPM8-expressing fibres using AX-8 will stabilise the upper airway sensitivity in patients with chronic cough, reducing coughing and throat irritation.
The randomised, placebo-controlled, double-blind, crossover Phase II trial is assessing the efficacy and safety of the drug in nearly 50 subjects enrolled at various sites in the UK.
Subjects will be given a twice-daily dose of 40mg AX-8 or a placebo for a period of two weeks.
A seven-day washout period will subsequently be initiated, prior to crossing over to the opposite therapy for two weeks.
An objective cough recording device will be used to evaluate cough frequency.
The placebo-adjusted change in cough frequency as against baseline will also be the trial's primary efficacy goal.
Data from the Phase II trial is anticipated during mid next year.
Axalbion CEO Michael Kitt said: "AX-8 has a novel mechanism of action targeting the TRPM8 ion channel, which may help normalise upper airway sensitivity in chronic cough patients, distinguishing it from other strategies in development.
"With its safety profile and ease of administration, AX-8 has the potential to be a first-in-class drug to treat chronic cough."
The company intends to commence further trials to investigate the safety and efficacy of the drug next year.
In an open-label pilot trial earlier that enrolled 12 subjects with refractory/unexplained chronic cough, AX-8 demonstrated to reduce cough when administered as a single 5mg ODT.
Stimulating TRPM8-expressing fibres in the skin showed to hinder sensory hypersensitivity in peripheral neuropathy, inflammation and itching in animal models.
Free Case Study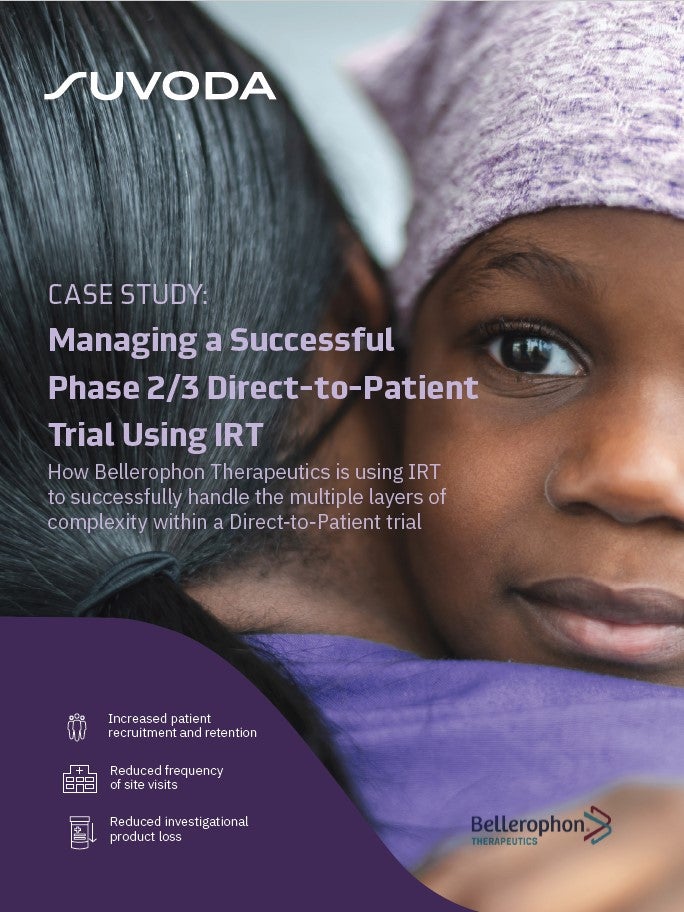 Direct-to-Patient Trials: How IRT Plays an Important Role in Bellerophon's Direct-to-Patient Trials
As the industry strengthens its focus on patient centricity, Direct-to-Patient clinical trials have emerged as a popular trial design that have the potential to increase patient recruitment and retention. IRT plays a crucial role in the success of a Direct-to-Patient trial. Because drug supplies are being managed and shipped from distribution facilities directly to patients' homes, a sponsor must have a high-quality system in place to accurately track the chain of custody, ensure patient-blinding and handle other logistical challenges. What You Will Learn Benefits and challenges associated with the Direct-to-Patient model Bellerophon's top considerations when implementing this trial design How IRT can equip study teams to successfully track chain of custody, ensure patient blinding, and handle logistical challenges
by Suvoda