Axcella Therapeutics has commenced a Phase IIa clinical trial to assess its therapy, AXA1125, to potentially treat long Covid-19 patients.
Free Case Study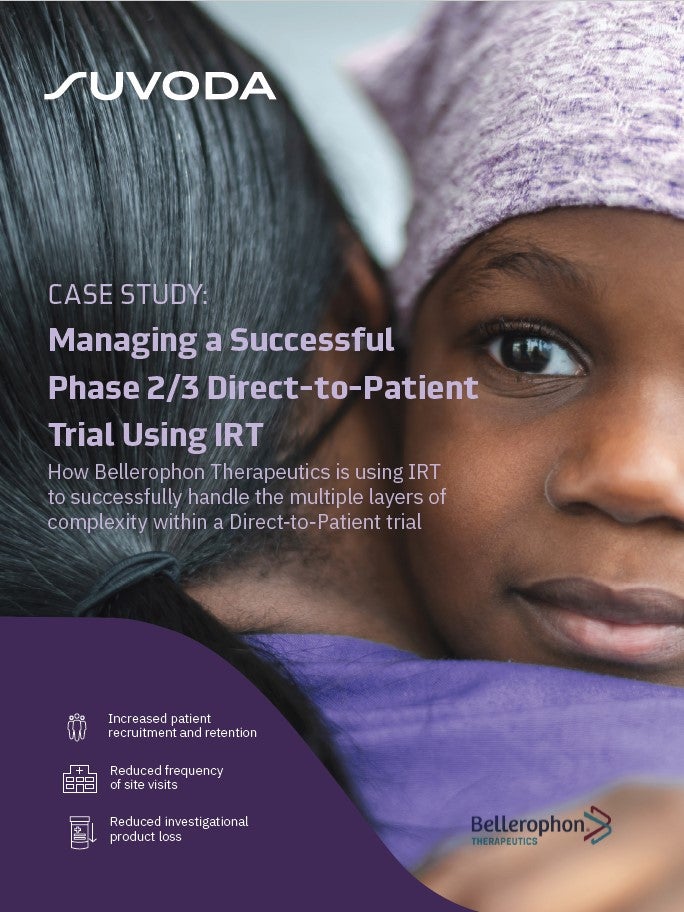 Direct-to-Patient Trials: How IRT Plays an Important Role in Bellerophon's Direct-to-Patient Trials
As the industry strengthens its focus on patient centricity, Direct-to-Patient clinical trials have emerged as a popular trial design that have the potential to increase patient recruitment and retention. IRT plays a crucial role in the success of a Direct-to-Patient trial. Because drug supplies are being managed and shipped from distribution facilities directly to patients' homes, a sponsor must have a high-quality system in place to accurately track the chain of custody, ensure patient-blinding and handle other logistical challenges. What You Will Learn Benefits and challenges associated with the Direct-to-Patient model Bellerophon's top considerations when implementing this trial design How IRT can equip study teams to successfully track chain of custody, ensure patient blinding, and handle logistical challenges
by Suvoda
A complex condition, long Covid-19 is also called post-Covid-19 and post-acute sequelae of Covid-19 (PASC).
On 22 October, the UK Medicines and Healthcare products Regulatory Agency (MHRA) had accepted the company's clinical trial authorisation (CTA) submission for Phase IIa.
Anticipated to commence at the Oxford Centre for Clinical Magnetic Resonance Research by this year-end, the randomised, placebo-controlled double-blind trial will assess the efficacy and safety of AXA1125 in subjects with exertional fatigue linked to long Covid-19.
It will enrol nearly 40 subjects, who will be categorised to receive either 67.8g AXA1125 daily or a matching placebo for 28 days.
The trial will be led by the University of Oxford's Radcliffe Department of Medicine scientists and have a safety follow-up duration of one week.
Axcella anticipates top-line results from the trial during the middle of next year.
The improvement of mitochondrial function in the skeletal muscle from baseline to day 28 as assessed by variations in phosphocreatine (PCr) recovery time will be the trial's primary goal.
Lactate levels, fatigue scores, a walk test for six minutes, and safety and tolerability will be the key secondary goals.
Axcella R&D president Dr Alison Schecter said: "While Long Covid's enormous patient and socioeconomic burden has become readily apparent, its underlying pathophysiology is now emerging.
"In two prior successful clinical studies and in preclinical models, AXA1125 has demonstrated an ability to restore mitochondrial function and improve energetic efficiency via increased fatty acid oxidation, restored cellular homeostasis, and reduced inflammation."
The company is analysing AXA1125 in non-alcoholic steatohepatitis patients in the Phase IIb EMMPACT trial.
Free Case Study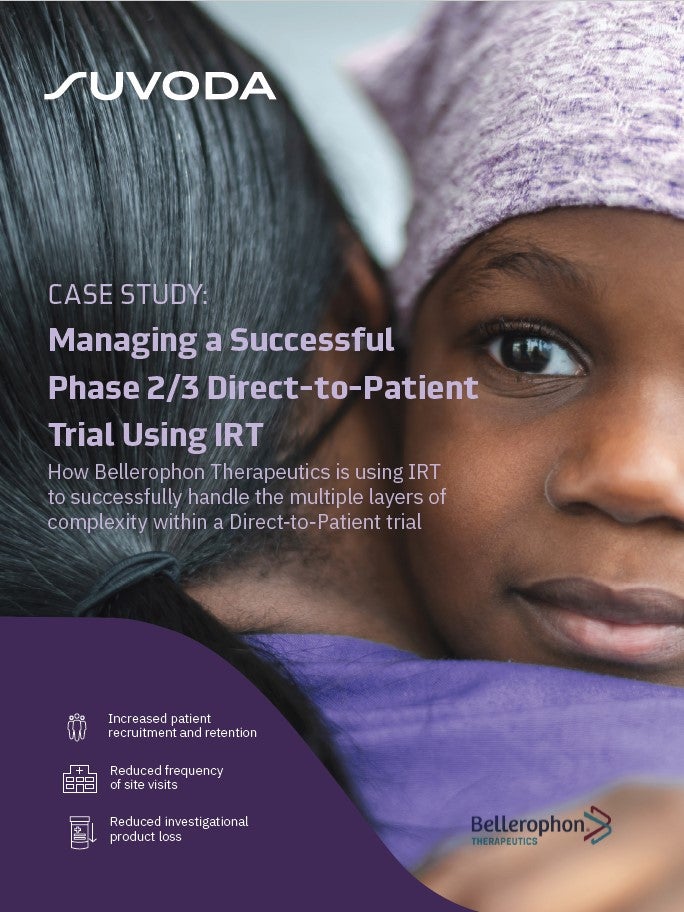 Direct-to-Patient Trials: How IRT Plays an Important Role in Bellerophon's Direct-to-Patient Trials
As the industry strengthens its focus on patient centricity, Direct-to-Patient clinical trials have emerged as a popular trial design that have the potential to increase patient recruitment and retention. IRT plays a crucial role in the success of a Direct-to-Patient trial. Because drug supplies are being managed and shipped from distribution facilities directly to patients' homes, a sponsor must have a high-quality system in place to accurately track the chain of custody, ensure patient-blinding and handle other logistical challenges. What You Will Learn Benefits and challenges associated with the Direct-to-Patient model Bellerophon's top considerations when implementing this trial design How IRT can equip study teams to successfully track chain of custody, ensure patient blinding, and handle logistical challenges
by Suvoda