Axsome Therapeutics has enrolled the first patient in the Assessing Clinical Episodes in Depression (ASCEND ) trial of AXS-05 to treat major depressive disorder (MDD), a serious condition characterised by depressed mood or a loss of interest or pleasure in daily activities.
Free Case Study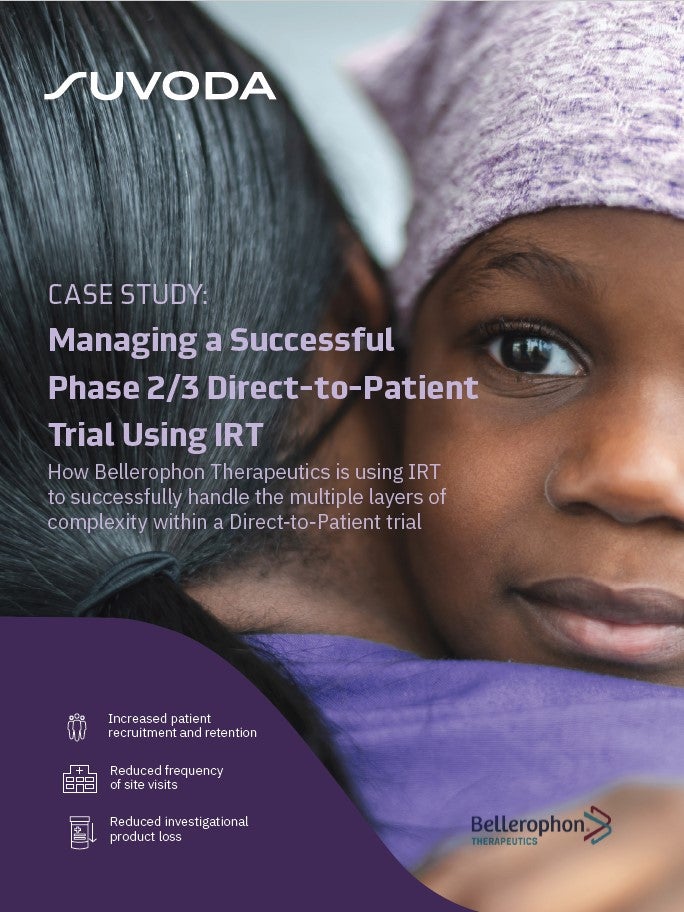 Direct-to-Patient Trials: How IRT Plays an Important Role in Bellerophon's Direct-to-Patient Trials
As the industry strengthens its focus on patient centricity, Direct-to-Patient clinical trials have emerged as a popular trial design that have the potential to increase patient recruitment and retention. IRT plays a crucial role in the success of a Direct-to-Patient trial. Because drug supplies are being managed and shipped from distribution facilities directly to patients' homes, a sponsor must have a high-quality system in place to accurately track the chain of custody, ensure patient-blinding and handle other logistical challenges. What You Will Learn Benefits and challenges associated with the Direct-to-Patient model Bellerophon's top considerations when implementing this trial design How IRT can equip study teams to successfully track chain of custody, ensure patient blinding, and handle logistical challenges
by Suvoda
The double-blind, randomised, active-controlled, multi-centre Phase ll trial aims to enrol around 74 patients.
Under the trial, the patients will be randomised in a 1:1 ratio to receive AXS-05 or bupropion for a period of six weeks.
The trial will evaluate the safety parameters, Montgomery-Åsberg Depression Rating Scale (MADRS), other clinician-rated scales, as well as patient-reported outcome measures throughout the study duration.
Topline results from the ASCEND trial are scheduled to be released in the second half of this year.
"AXS-05 is now being studied in four clinical trials across four indications."
Axsome Therapeutics CEO Herriot Tabuteau said: "AXS-05 features multiple novel mechanisms of action, which, along with the recent positive interim futility analysis of the Phase ll trial in Trd , support its evaluation in the broader MDD population.
"AXS-05 is now being studied in four clinical trials across four indications.
"We look forward to a busy second half of 2018 for AXS-05, with anticipated topline results from the Phase ll ASCEND trial in MDD, the first interim analysis of the Phase ll/lll ADVANCE-1 trial in Alzheimer's disease agitation, and the next and final interim analysis for efficacy of the Phase lll STRIDE-1 trial in Trd ."
AXS-05 is a new, oral, glutamatergic and monoaminergic investigational medicine that features dextromethorphan and bupropion.
It is currently under development for the treatment of central nervous system (CNS) disorders.
Free Case Study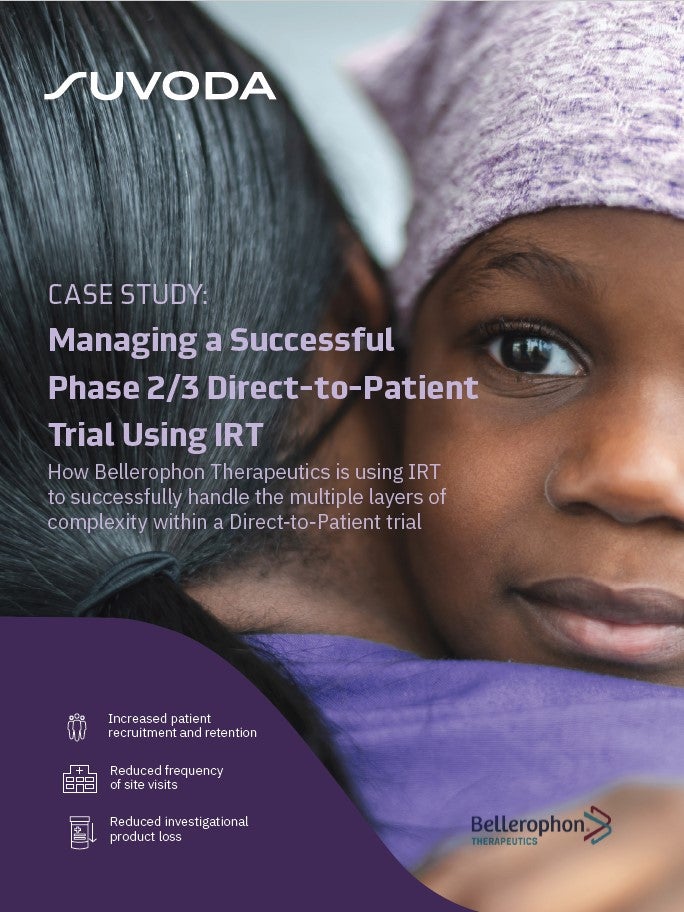 Direct-to-Patient Trials: How IRT Plays an Important Role in Bellerophon's Direct-to-Patient Trials
As the industry strengthens its focus on patient centricity, Direct-to-Patient clinical trials have emerged as a popular trial design that have the potential to increase patient recruitment and retention. IRT plays a crucial role in the success of a Direct-to-Patient trial. Because drug supplies are being managed and shipped from distribution facilities directly to patients' homes, a sponsor must have a high-quality system in place to accurately track the chain of custody, ensure patient-blinding and handle other logistical challenges. What You Will Learn Benefits and challenges associated with the Direct-to-Patient model Bellerophon's top considerations when implementing this trial design How IRT can equip study teams to successfully track chain of custody, ensure patient blinding, and handle logistical challenges
by Suvoda