Bausch Health Companies has initiated a clinical trial programme in Canada to evaluate the investigational use of VIRAZOLE (Ribavirin for Inhalation Solution, USP).
Free Case Study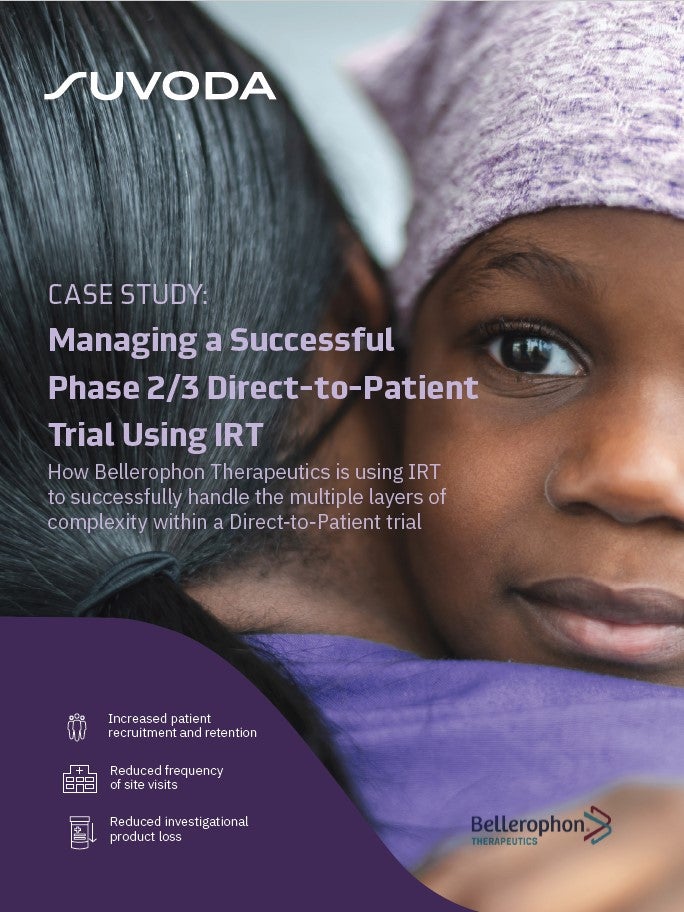 Direct-to-Patient Trials: How IRT Plays an Important Role in Bellerophon's Direct-to-Patient Trials
As the industry strengthens its focus on patient centricity, Direct-to-Patient clinical trials have emerged as a popular trial design that have the potential to increase patient recruitment and retention. IRT plays a crucial role in the success of a Direct-to-Patient trial. Because drug supplies are being managed and shipped from distribution facilities directly to patients' homes, a sponsor must have a high-quality system in place to accurately track the chain of custody, ensure patient-blinding and handle other logistical challenges. What You Will Learn Benefits and challenges associated with the Direct-to-Patient model Bellerophon's top considerations when implementing this trial design How IRT can equip study teams to successfully track chain of custody, ensure patient blinding, and handle logistical challenges
by Suvoda
The company is using VIRAZOLE in combination with standard of care therapy to treat hospitalised adult patients identified with respiratory distress due to coronavirus (Covid-19).
As the ingredient ribavirin is a synthetic nucleoside that works to stop viral replication, VIRAZOLE is expected to be effective in reducing the severity of coronavirus infection.
VIRAZOLE is currently available for use in the US and Canada for the treatment of hospitalised infants and young children identified with severe lower respiratory tract infections due to respiratory syncytial virus (RSV).
Bausch Health chairman and CEO Joseph C. Papa said: "VIRAZOLE has demonstrated antiviral activity in treating severe pediatric respiratory infections, and we believe it may be a valuable agent in reducing respiratory distress in adults suffering from Covid-19.
"We are actively pursuing approval of our trial protocol around the world to test the efficacy and safety of VIRAZOLE in this patient population.
"Bausch Health will remain focused, for as long as necessary, on doing our part to help end this unprecedented global health pandemic, including donating our health care products, conducting research to find new treatment options and supporting patients, health care providers and our employees."
The initial clinical study, which is approved by Health Canada, is expected to start in the near term.
Bausch Health is also in talks with the US Food and Drug Administration (FDA) and health authorities in multiple countries regarding additional studies to analyse the efficacy of VIRAZOLE as a treatment for coronavirus infection.
The Bausch Foundation is also interacting with Italian health authorities to make VIRAZOLE available for inhalation in the country's hospitals.
Free Case Study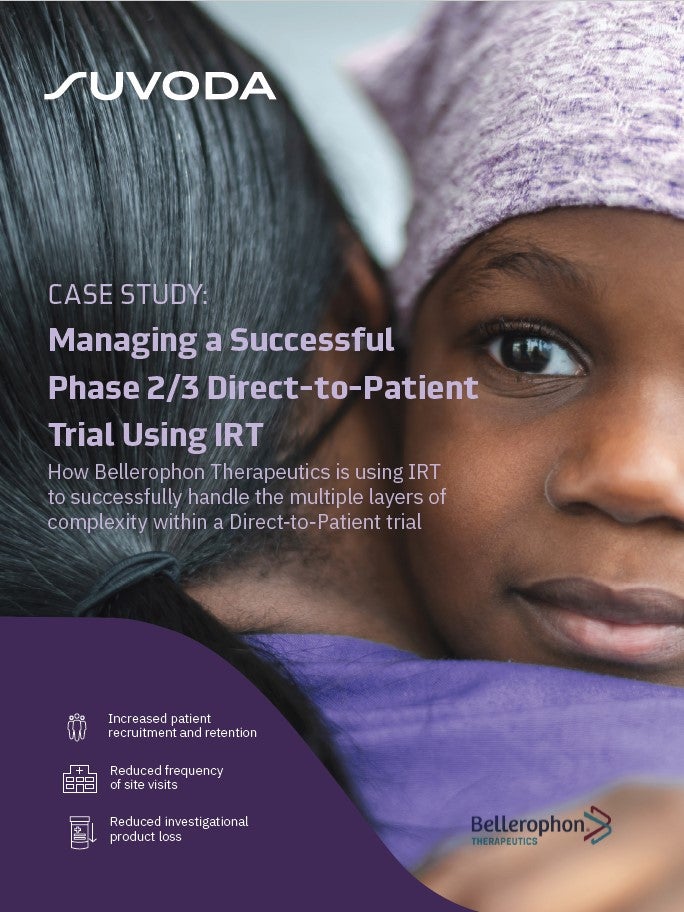 Direct-to-Patient Trials: How IRT Plays an Important Role in Bellerophon's Direct-to-Patient Trials
As the industry strengthens its focus on patient centricity, Direct-to-Patient clinical trials have emerged as a popular trial design that have the potential to increase patient recruitment and retention. IRT plays a crucial role in the success of a Direct-to-Patient trial. Because drug supplies are being managed and shipped from distribution facilities directly to patients' homes, a sponsor must have a high-quality system in place to accurately track the chain of custody, ensure patient-blinding and handle other logistical challenges. What You Will Learn Benefits and challenges associated with the Direct-to-Patient model Bellerophon's top considerations when implementing this trial design How IRT can equip study teams to successfully track chain of custody, ensure patient blinding, and handle logistical challenges
by Suvoda