Bayer has reported positive results from its Phase III ARAMIS trial after it met the primary endpoint.
Free Case Study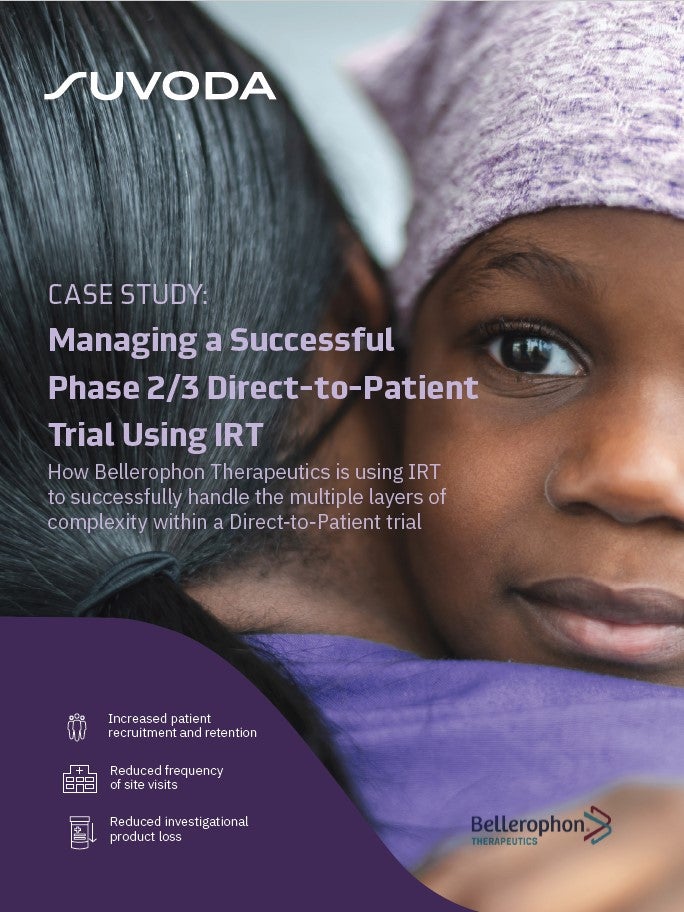 Direct-to-Patient Trials: How IRT Plays an Important Role in Bellerophon's Direct-to-Patient Trials
As the industry strengthens its focus on patient centricity, Direct-to-Patient clinical trials have emerged as a popular trial design that have the potential to increase patient recruitment and retention. IRT plays a crucial role in the success of a Direct-to-Patient trial. Because drug supplies are being managed and shipped from distribution facilities directly to patients' homes, a sponsor must have a high-quality system in place to accurately track the chain of custody, ensure patient-blinding and handle other logistical challenges. What You Will Learn Benefits and challenges associated with the Direct-to-Patient model Bellerophon's top considerations when implementing this trial design How IRT can equip study teams to successfully track chain of custody, ensure patient blinding, and handle logistical challenges
by Suvoda
Results showed that darolutamide significantly improved metastasis-free survival (MFS) compared to placebo.
They also demonstrated that the safety profile and tolerability of darolutamide were similar to previously published data.
ARAMIS ('Androgen Receptor inhibiting Agent for MetastatIc-free Survival') is a randomised, multi-centre trial that examined the safety and efficacy of oral darolutamide for the treatment of patients with non-metastatic castration-resistant prostate cancer (nmCRPC).
The double-blind, placebo-controlled trial enrolled more than 1,500 men who were under the treatment of androgen deprivation therapy (ADT) as standard of care and were at risk for developing metastatic disease.
Patients were randomised in a 2:1 ratio to receive 600mg of darolutamide twice a day or placebo.
"Despite recent advances in nmCRPC, there remains a high unmet need for additional treatment options."
Secondary endpoints of the trial included overall survival (OS), time to first symptomatic skeletal event (SSE), time to initiation of first cytotoxic chemotherapy, and time to pain progression.
Bayer Pharmaceutical Division oncology development head and senior vice-president Scott Fields said: "Despite recent advances in nmCRPC, there remains a high unmet need for additional treatment options that delay the time to metastases with a manageable safety profile."
Darolutamide has been jointly developed by Bayer and pharmaceutical company Orion as an oral and non-steroidal androgen receptor (AR) antagonist.
The drug features a distinct chemical structure that binds to the receptor with high affinity and shows strong antagonistic activity, restricting the growth of prostate cancer cells.
Free Case Study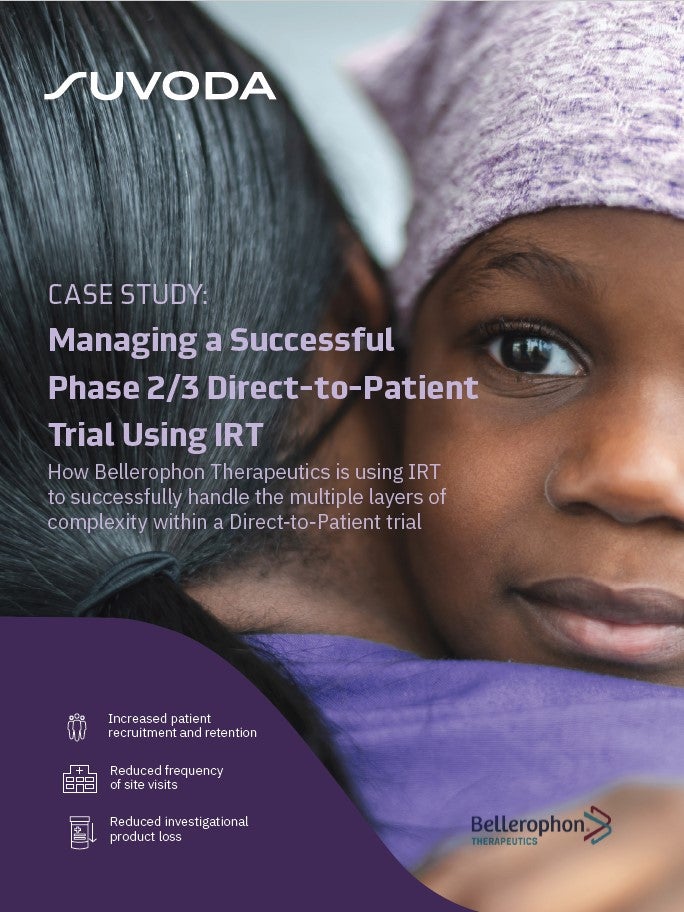 Direct-to-Patient Trials: How IRT Plays an Important Role in Bellerophon's Direct-to-Patient Trials
As the industry strengthens its focus on patient centricity, Direct-to-Patient clinical trials have emerged as a popular trial design that have the potential to increase patient recruitment and retention. IRT plays a crucial role in the success of a Direct-to-Patient trial. Because drug supplies are being managed and shipped from distribution facilities directly to patients' homes, a sponsor must have a high-quality system in place to accurately track the chain of custody, ensure patient-blinding and handle other logistical challenges. What You Will Learn Benefits and challenges associated with the Direct-to-Patient model Bellerophon's top considerations when implementing this trial design How IRT can equip study teams to successfully track chain of custody, ensure patient blinding, and handle logistical challenges
by Suvoda