BeiGene has dosed the first subject in a Phase I clinical trial of its experimental tyrosine kinase 2 (TYK2) inhibitor, BGB-23339, being developed to potentially treat multiple immune-mediated disorders.
Free Case Study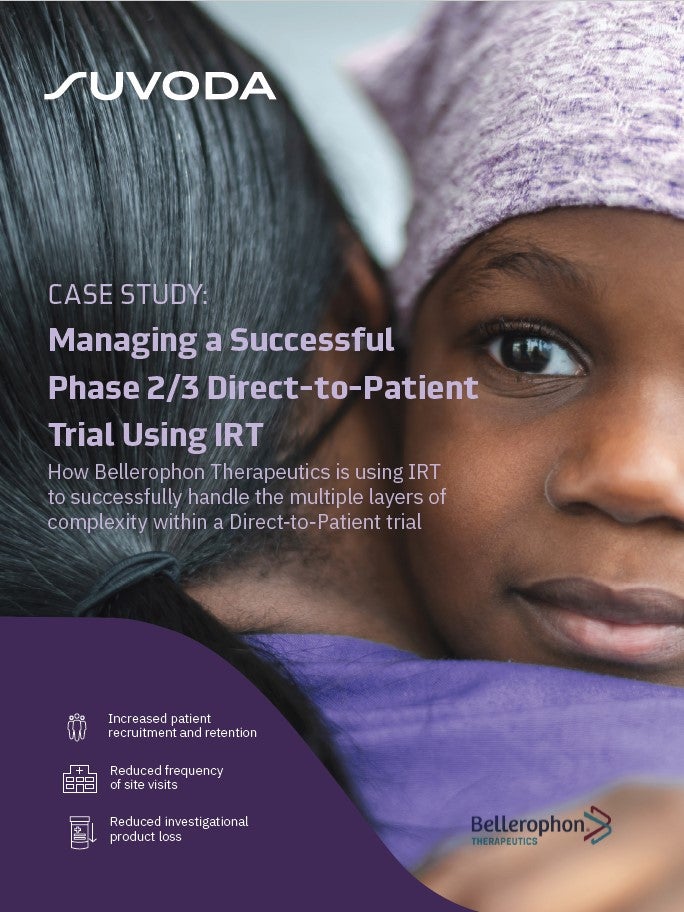 Direct-to-Patient Trials: How IRT Plays an Important Role in Bellerophon's Direct-to-Patient Trials
As the industry strengthens its focus on patient centricity, Direct-to-Patient clinical trials have emerged as a popular trial design that have the potential to increase patient recruitment and retention. IRT plays a crucial role in the success of a Direct-to-Patient trial. Because drug supplies are being managed and shipped from distribution facilities directly to patients' homes, a sponsor must have a high-quality system in place to accurately track the chain of custody, ensure patient-blinding and handle other logistical challenges. What You Will Learn Benefits and challenges associated with the Direct-to-Patient model Bellerophon's top considerations when implementing this trial design How IRT can equip study teams to successfully track chain of custody, ensure patient blinding, and handle logistical challenges
by Suvoda
A potent, greatly-selective, allosteric inhibitor of TYK2, BGB-23339 acts on TYK2's regulatory pseudokinase (JH2) domain.
TYK2 is a key mediator in cytokine signalling pathways that have been linked to various multiple immune-mediated diseases, including psoriasis and inflammatory bowel disease.
The randomised, first-in-human trial will assess the safety, tolerability, pharmacokinetics, as well as initial activity of BGB-23339.
BeiGene expects to enrol a total of up to 115 healthy subjects in Australia and/or China.
The number of subjects experiencing adverse events (AEs), clinically substantial differences from baseline in vital signs will be the primary outcomes of the trial.
BeiGene R&D global head Lai Wang said: "Discovered and developed by BeiGene, BGB-23339 is a highly selective, potent, allosteric TYK2 inhibitor that has shown promising activity in preclinical evaluation.
"Building on our proven track record in oncology, BeiGene is expanding its clinical focus to discover new modalities and platforms in areas of high unmet need, including inflammation and immunology, to bring innovative, impactful medicines to patients."
In preclinical trials, BGB-23339 showed robust selectivity to hinder interleukin (IL)-12, IL-23, and Type 1 interferons (IFNs). These pro-inflammatory cytokines play a pivotal role in triggering inflammation, BeiGene noted.
Another internally developed asset of the company, Brukinsa (zanubrutinib) is presently being analysed in a Phase II trial in individuals with active proliferative lupus nephritis.
Brukinsa is a highly selective BTK inhibitor.
Last month, BeiGene obtained regulatory approval in Australia for Brukinsa for the treatment of subjects with Waldenström's macroglobulinemia.
Free Case Study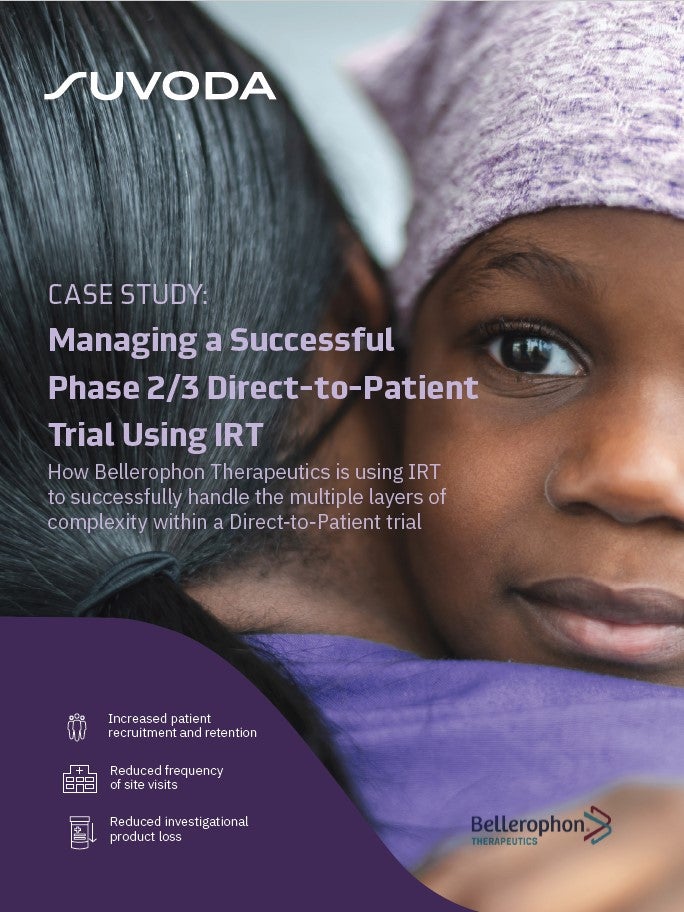 Direct-to-Patient Trials: How IRT Plays an Important Role in Bellerophon's Direct-to-Patient Trials
As the industry strengthens its focus on patient centricity, Direct-to-Patient clinical trials have emerged as a popular trial design that have the potential to increase patient recruitment and retention. IRT plays a crucial role in the success of a Direct-to-Patient trial. Because drug supplies are being managed and shipped from distribution facilities directly to patients' homes, a sponsor must have a high-quality system in place to accurately track the chain of custody, ensure patient-blinding and handle other logistical challenges. What You Will Learn Benefits and challenges associated with the Direct-to-Patient model Bellerophon's top considerations when implementing this trial design How IRT can equip study teams to successfully track chain of custody, ensure patient blinding, and handle logistical challenges
by Suvoda