BerGenBio has concluded subject enrolment in a Phase Ib/II BGBC003 clinical trial of bemcentinib in acute myeloid leukaemia (AML) and myelodysplastic syndrome (MDS) patients.
Free Case Study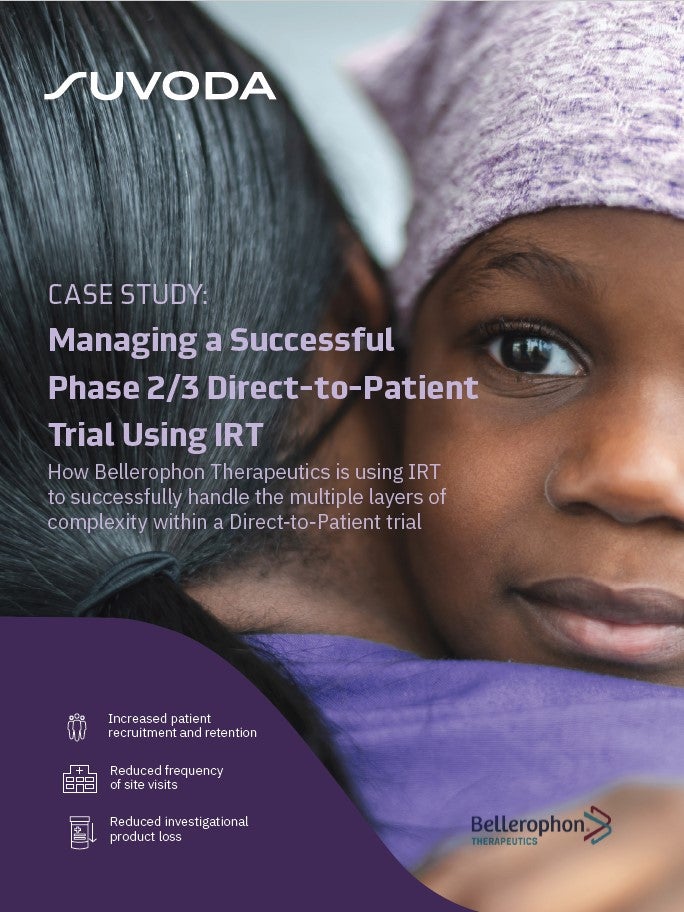 Direct-to-Patient Trials: How IRT Plays an Important Role in Bellerophon's Direct-to-Patient Trials
As the industry strengthens its focus on patient centricity, Direct-to-Patient clinical trials have emerged as a popular trial design that have the potential to increase patient recruitment and retention. IRT plays a crucial role in the success of a Direct-to-Patient trial. Because drug supplies are being managed and shipped from distribution facilities directly to patients' homes, a sponsor must have a high-quality system in place to accurately track the chain of custody, ensure patient-blinding and handle other logistical challenges. What You Will Learn Benefits and challenges associated with the Direct-to-Patient model Bellerophon's top considerations when implementing this trial design How IRT can equip study teams to successfully track chain of custody, ensure patient blinding, and handle logistical challenges
by Suvoda
According to the trial protocol, a total of 86 subjects were enrolled in cohort B, with nearly 14 to 18 subjects in each of the cohorts B1 to B4 and 20 subjects in cohort B5.
A once-daily oral capsule, bemcentinib is a potent and greatly selective AXL inhibitor.
It attaches to the intracellular catalytic kinase domain of AXL receptor tyrosine kinase, thereby hindering its activity.
The multicentre, open-label Phase Ib/II trial is evaluating bemcentinib as monotherapy and along with cytarabine or decitabine in AML patients or as a single agent in MDS patients.
BerGenBio interim CEO Rune Skeie said: "We are pleased to have completed enrolment of the BGBC003 study and now look forward to delivering our full analysis of the data from this important trial.
"There is a significant unmet need for an effective therapy for relapsed elderly AML patients unfit for intensive chemotherapy, for whom there are currently few treatment options available."
According to findings from a recent study published in June 2021, bemcentinib plus low dose cytarabine (LDAC) was demonstrated to be effective and well-tolerated in relapsed elderly AML patients who were unfit for rigorous chemotherapy.
Furthermore, the combination provided an overall response rate of 31% and a median overall survival of 13.3 months.
The preliminary survival results showed that the addition of bemcentinib offered more than two times the historic survival rates observed with the standard of care therapies in these patients.
BerGenBio is holding discussions with regulatory authorities in the US and Europe to launch a pivotal registration trial of bemcentinib plus LDAC in relapsed elderly AML patients who are not fit for intensive chemotherapy.
An in-depth translational research programme to detect the predictive molecular, as well as biological factors linked with the response, is currently underway.
In June 2020, BerGenBio started dosing participants in the Phase II ACCORD trial of bemcentinib to treat hospitalised Covid-19 patients.
Free Case Study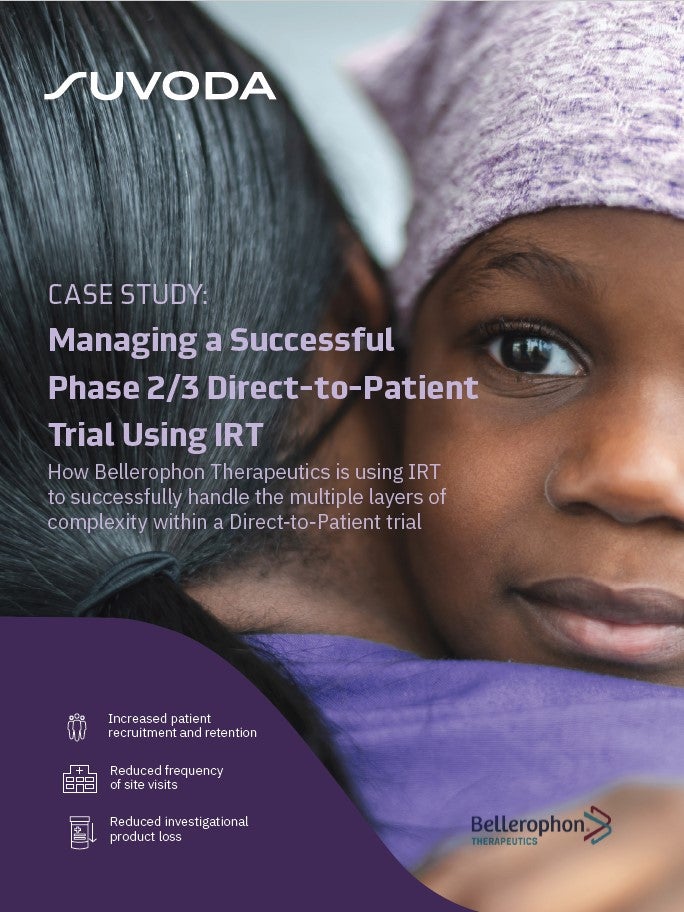 Direct-to-Patient Trials: How IRT Plays an Important Role in Bellerophon's Direct-to-Patient Trials
As the industry strengthens its focus on patient centricity, Direct-to-Patient clinical trials have emerged as a popular trial design that have the potential to increase patient recruitment and retention. IRT plays a crucial role in the success of a Direct-to-Patient trial. Because drug supplies are being managed and shipped from distribution facilities directly to patients' homes, a sponsor must have a high-quality system in place to accurately track the chain of custody, ensure patient-blinding and handle other logistical challenges. What You Will Learn Benefits and challenges associated with the Direct-to-Patient model Bellerophon's top considerations when implementing this trial design How IRT can equip study teams to successfully track chain of custody, ensure patient blinding, and handle logistical challenges
by Suvoda