Biotechnology company and Ocugen partner Bharat Biotech has reported positive data from a Phase II analysis of booster shot of the investigational vaccine candidate for Covid-19, Covaxin (BBV152), in subjects aged 12 to 64 years. 
Free Case Study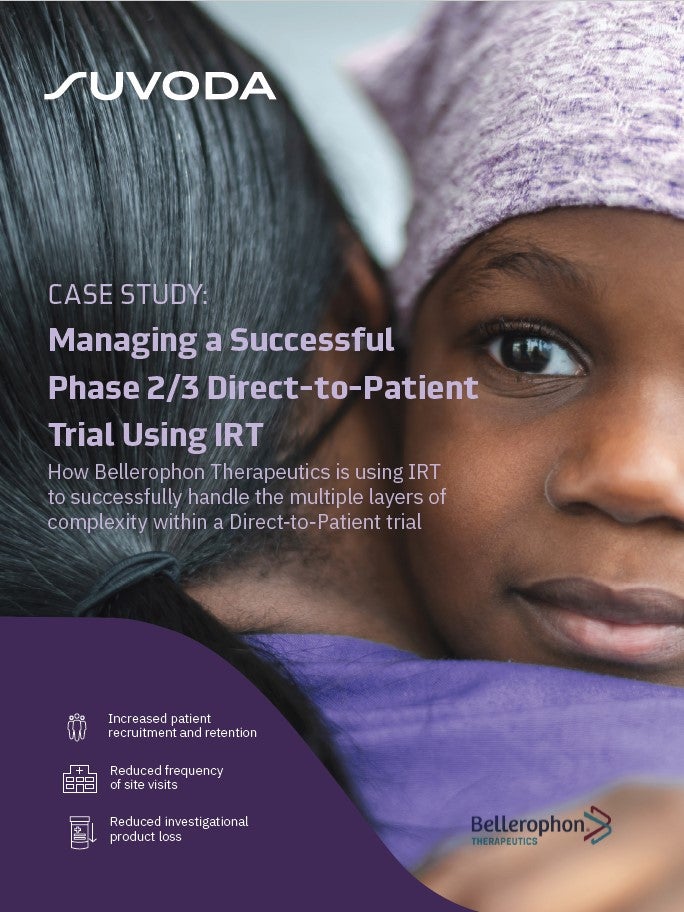 Direct-to-Patient Trials: How IRT Plays an Important Role in Bellerophon's Direct-to-Patient Trials
As the industry strengthens its focus on patient centricity, Direct-to-Patient clinical trials have emerged as a popular trial design that have the potential to increase patient recruitment and retention. IRT plays a crucial role in the success of a Direct-to-Patient trial. Because drug supplies are being managed and shipped from distribution facilities directly to patients' homes, a sponsor must have a high-quality system in place to accurately track the chain of custody, ensure patient-blinding and handle other logistical challenges. What You Will Learn Benefits and challenges associated with the Direct-to-Patient model Bellerophon's top considerations when implementing this trial design How IRT can equip study teams to successfully track chain of custody, ensure patient blinding, and handle logistical challenges
by Suvoda
Administered six months after the second dose, the booster offered a substantial rise in neutralising titers in subjects, the findings showed.
Neutralising titers serve as key vaccine efficacy predictors.
A highly purified and inactivated vaccine, Covaxin is produced by leveraging a vero cell manufacturing platform.
Bharat Biotech developed the vaccine in partnership with the Indian Council of Medical Research (ICMR) – National Institute of Virology (NIV).
Additional analysis data showed that over 75% of all subjects had an identifiable neutralising antibody response six months after receiving the second vaccine dose.
On administering the booster shot, trial subjects demonstrated a rise in antibody titers at day 28, which were found to be greater than those observed after the initial two-dose vaccine regimen.
Furthermore, wild-type neutralising antibodies (PRNT₅₀) GMTs against Alpha, Beta, Delta and Delta plus SARS-CoV-2 variants at one month following booster rose 10·9, 161·0, 264·7, and 174·2 fold from baseline at six months following the second vaccine, respectively.
No serious adverse events, including hospital admission or mortality, were observed in the booster dose assessment.
Ocugen Clinical Development associate vice-president Huma Qamar said: "Although protection against severe disease remains high six months following the second dose, a decline in efficacy against symptomatic disease over time and the continued emergence of variants are expected and consistent with what we are seeing with other vaccines.
"Based on emerging data, a third dose may be beneficial to maintain the highest levels of protection."
In December last year, Covaxin obtained Emergency Use Authorization (EUA) from the Drug Controller General of India for usage in children aged 12 to 18 years.
Free Case Study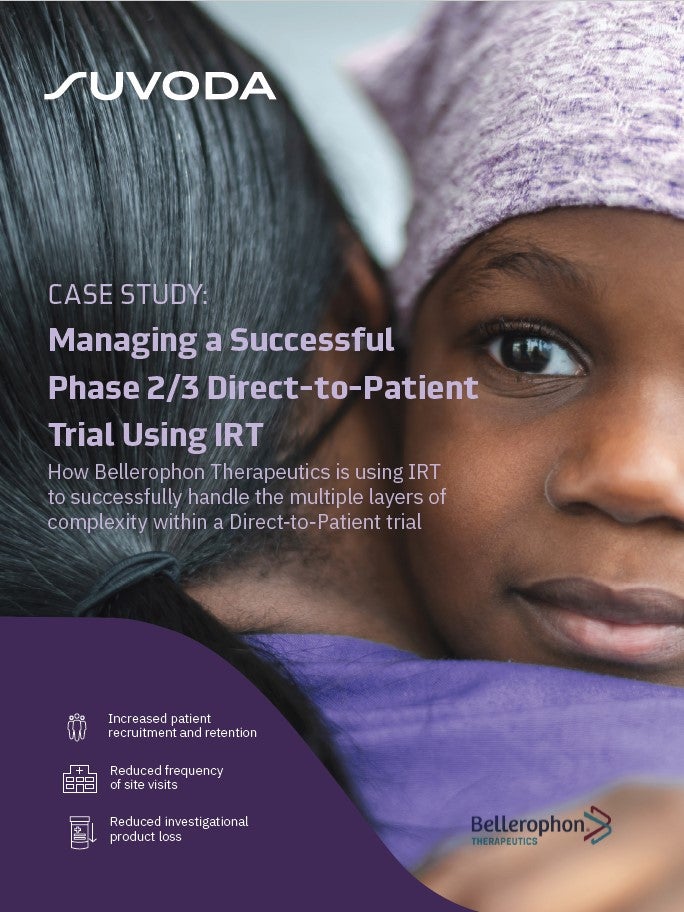 Direct-to-Patient Trials: How IRT Plays an Important Role in Bellerophon's Direct-to-Patient Trials
As the industry strengthens its focus on patient centricity, Direct-to-Patient clinical trials have emerged as a popular trial design that have the potential to increase patient recruitment and retention. IRT plays a crucial role in the success of a Direct-to-Patient trial. Because drug supplies are being managed and shipped from distribution facilities directly to patients' homes, a sponsor must have a high-quality system in place to accurately track the chain of custody, ensure patient-blinding and handle other logistical challenges. What You Will Learn Benefits and challenges associated with the Direct-to-Patient model Bellerophon's top considerations when implementing this trial design How IRT can equip study teams to successfully track chain of custody, ensure patient blinding, and handle logistical challenges
by Suvoda