China-based commercial stage pharmaceutical firm Bio-Thera Solutions has commenced dosing in the Phase I clinical trial of BAT6005, a monoclonal antibody to target TIGIT in cancer patients.
Free Case Study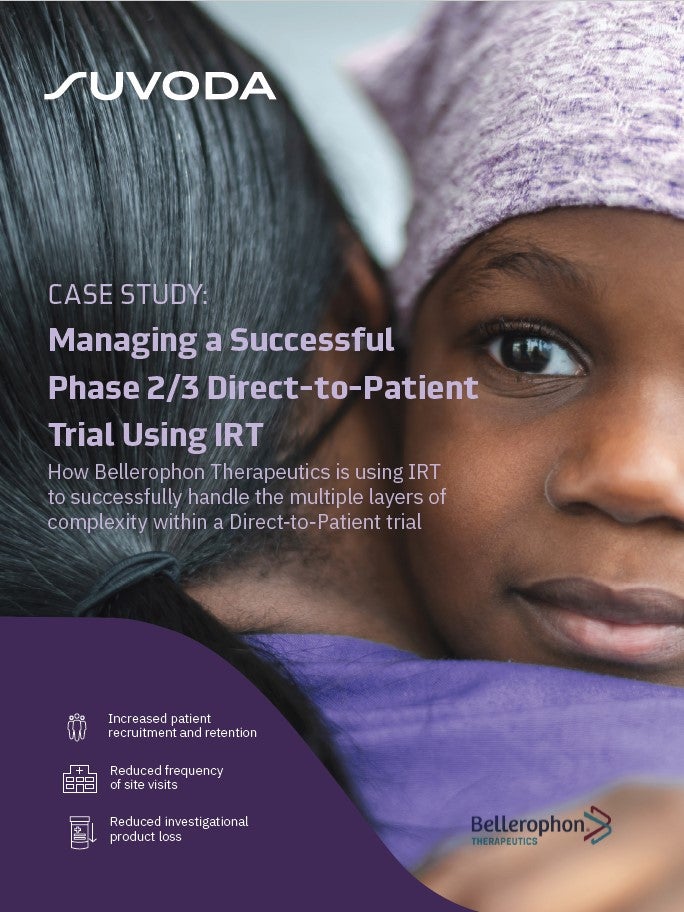 Direct-to-Patient Trials: How IRT Plays an Important Role in Bellerophon's Direct-to-Patient Trials
As the industry strengthens its focus on patient centricity, Direct-to-Patient clinical trials have emerged as a popular trial design that have the potential to increase patient recruitment and retention. IRT plays a crucial role in the success of a Direct-to-Patient trial. Because drug supplies are being managed and shipped from distribution facilities directly to patients' homes, a sponsor must have a high-quality system in place to accurately track the chain of custody, ensure patient-blinding and handle other logistical challenges. What You Will Learn Benefits and challenges associated with the Direct-to-Patient model Bellerophon's top considerations when implementing this trial design How IRT can equip study teams to successfully track chain of custody, ensure patient blinding, and handle logistical challenges
by Suvoda
The trial will evaluate the pharmacokinetics and safety of BAT6005, which was discovered using the firm's fully synthetic human antibody discovery platform, called IDEAL, which stands for Intelligent Design and Engineered Antibody Libraries.
BAT6005 has normal IgG1 ADCC function.
Bio-Thera Solutions SVP Dr. Jin-Chen Yu said: "TIGIT is an immune-oncology drug target of significant interest. Preclinical data generated in support of the BAT6005 IND is very promising.
"BAT6005 is one of several IO assets that are entering Phase 1 studies and transition Bio-Thera's innovative IO pipeline from primarily a preclinical pipeline to a clinical pipeline. We plan to explore combinations of BAT6005 with BAT1308, our novel PD-1 antibody, to treat a broad range of cancers."
The multicentre, open-label, dose-escalation Phase I trial to evaluate the safety and tolerability aspects of BAT6005 as a single agent.
This trial expects to enrol patients suffering with advanced solid tumour.
The primary aim of the trial includes ascertaining maximum tolerated dose, preliminary anti-tumour activity, and pharmacokinetics.
Bio-Thera Solutions stated that it plans to enrol disease-specific expansion groups at the biologically relevant or maximally tolerated dose.
Based in Guangzhou of China, Bio-Thera Solutions develops drugs for the treatment of cancer, autoimmune, cardiovascular diseases, and other serious unmet medical needs, as well as biosimilars for existing, branded biologics for the treatment of a range of cancer and autoimmune diseases.
It has advanced six drug candidates into late-stage clinical trials and two candidates, QLETLI and POBEVCY are available for treatment in the country.
Free Case Study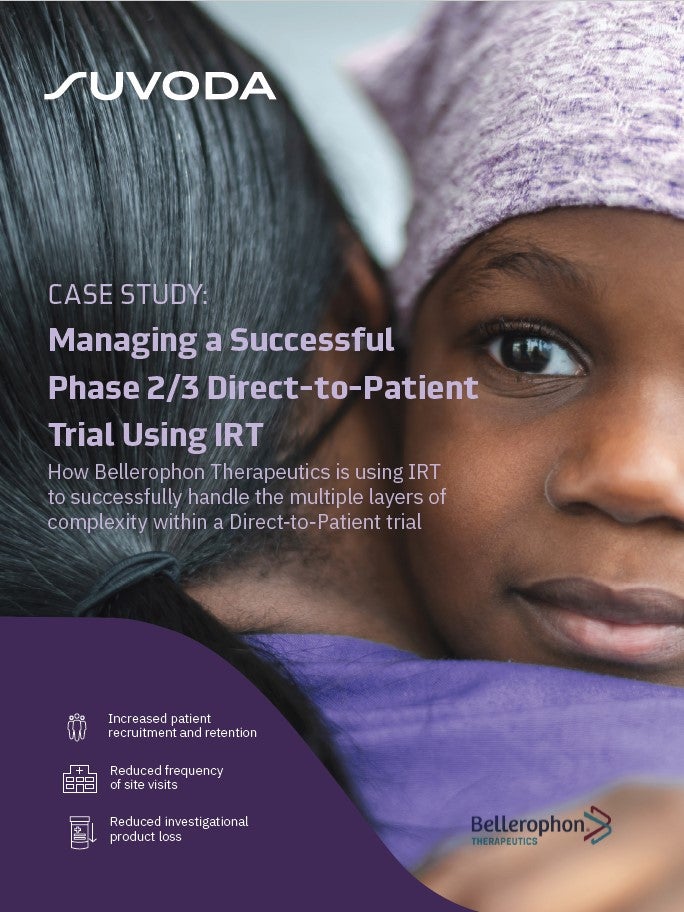 Direct-to-Patient Trials: How IRT Plays an Important Role in Bellerophon's Direct-to-Patient Trials
As the industry strengthens its focus on patient centricity, Direct-to-Patient clinical trials have emerged as a popular trial design that have the potential to increase patient recruitment and retention. IRT plays a crucial role in the success of a Direct-to-Patient trial. Because drug supplies are being managed and shipped from distribution facilities directly to patients' homes, a sponsor must have a high-quality system in place to accurately track the chain of custody, ensure patient-blinding and handle other logistical challenges. What You Will Learn Benefits and challenges associated with the Direct-to-Patient model Bellerophon's top considerations when implementing this trial design How IRT can equip study teams to successfully track chain of custody, ensure patient blinding, and handle logistical challenges
by Suvoda