Biogen has enrolled the first patient in the CHARM trial, a Phase llll clinical study investigating BIIB093 (intravenous (IV) glibenclamide) for the prevention and treatment of severe cerebral edema in large hemispheric infarction (LHI).
Free Case Study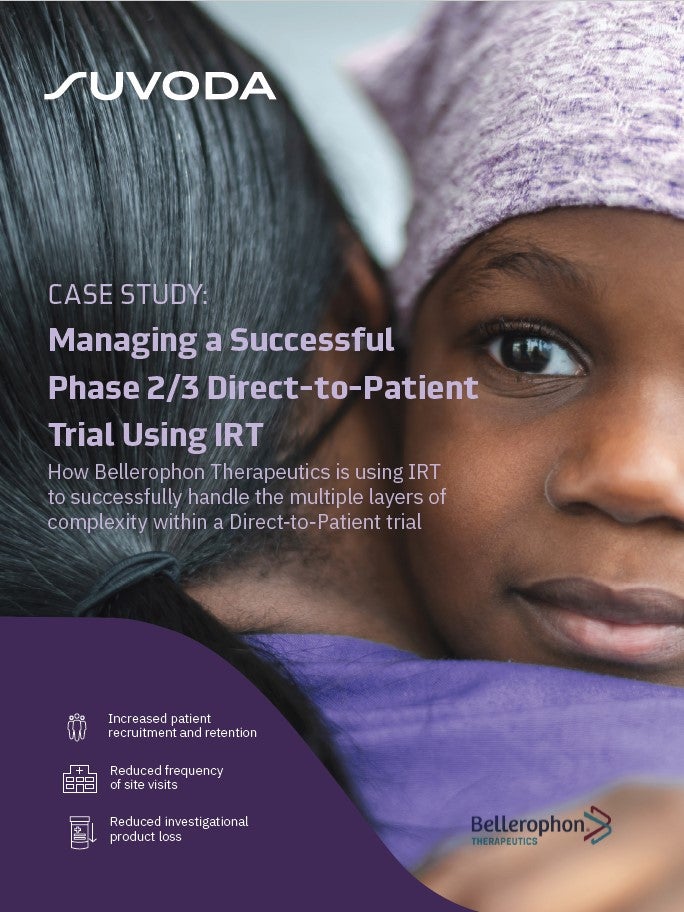 Direct-to-Patient Trials: How IRT Plays an Important Role in Bellerophon's Direct-to-Patient Trials
As the industry strengthens its focus on patient centricity, Direct-to-Patient clinical trials have emerged as a popular trial design that have the potential to increase patient recruitment and retention. IRT plays a crucial role in the success of a Direct-to-Patient trial. Because drug supplies are being managed and shipped from distribution facilities directly to patients' homes, a sponsor must have a high-quality system in place to accurately track the chain of custody, ensure patient-blinding and handle other logistical challenges. What You Will Learn Benefits and challenges associated with the Direct-to-Patient model Bellerophon's top considerations when implementing this trial design How IRT can equip study teams to successfully track chain of custody, ensure patient blinding, and handle logistical challenges
by Suvoda
The global, multicentre, randomised, double-blind, placebo-controlled trial expects to enrol 680 patients with LHI in around 20 countries.
The trial intends to examine the efficacy and safety of IV glibenclamide treatment within ten hours following the beginning of stroke.
The primary endpoint of the trial is the modified Rankin Scale (mRS), a functional outcome, calculated at 90 days.
The trial's secondary endpoints include time to all-cause death from baseline up to day 90, proportion of participants who achieved mRS 0-4 at day 90, incidence of adverse events (AEs) and serious adverse events (SAEs) at day 90, among others.
"BIIB093 has the potential to be the first major innovation in stroke in over 20 years."
Biogen research and development executive vice-president Michael Ehlers said: "We believe IV glibenclamide could represent a first-in-class therapy with the aim of giving physicians an effective option to improve patient outcomes and reduce mortality risk.
"LHI is a severe type of ischemic stroke with high mortality (40% to 80%) and no currently available therapy.
"BIIB093 has the potential to be the first major innovation in stroke in over 20 years, and we believe the advancement to Phase lll represents a significant milestone in our stroke clinical programme."
Around 1.7 million ischemic strokes are estimated to occur in the US, Europe and Japan annually, and nearly 15% of these are classified as LHI.
In a number of preclinical studies, IV glibenclamide has demonstrated its ability to inhibit SUR1-TRPM4 channels that mediate stroke-related brain swelling.
Free Case Study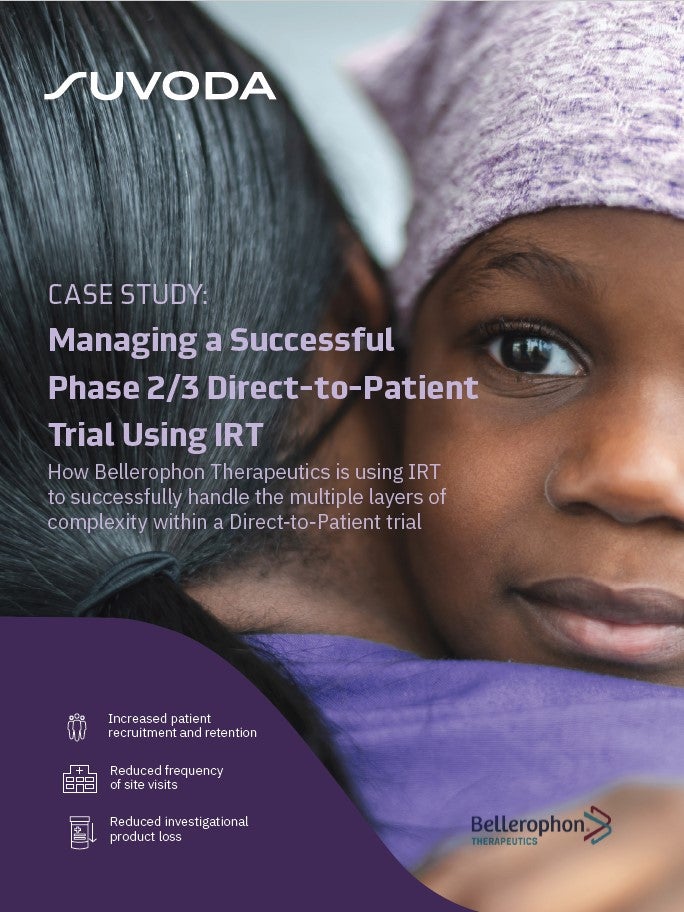 Direct-to-Patient Trials: How IRT Plays an Important Role in Bellerophon's Direct-to-Patient Trials
As the industry strengthens its focus on patient centricity, Direct-to-Patient clinical trials have emerged as a popular trial design that have the potential to increase patient recruitment and retention. IRT plays a crucial role in the success of a Direct-to-Patient trial. Because drug supplies are being managed and shipped from distribution facilities directly to patients' homes, a sponsor must have a high-quality system in place to accurately track the chain of custody, ensure patient-blinding and handle other logistical challenges. What You Will Learn Benefits and challenges associated with the Direct-to-Patient model Bellerophon's top considerations when implementing this trial design How IRT can equip study teams to successfully track chain of custody, ensure patient blinding, and handle logistical challenges
by Suvoda