BioLineRx has completed subject enrolment in the Phase I/IIa trial of its intratumoural cancer vaccine candidate, AGI-134, to treat unresectable metastatic solid tumour patients.
Free Case Study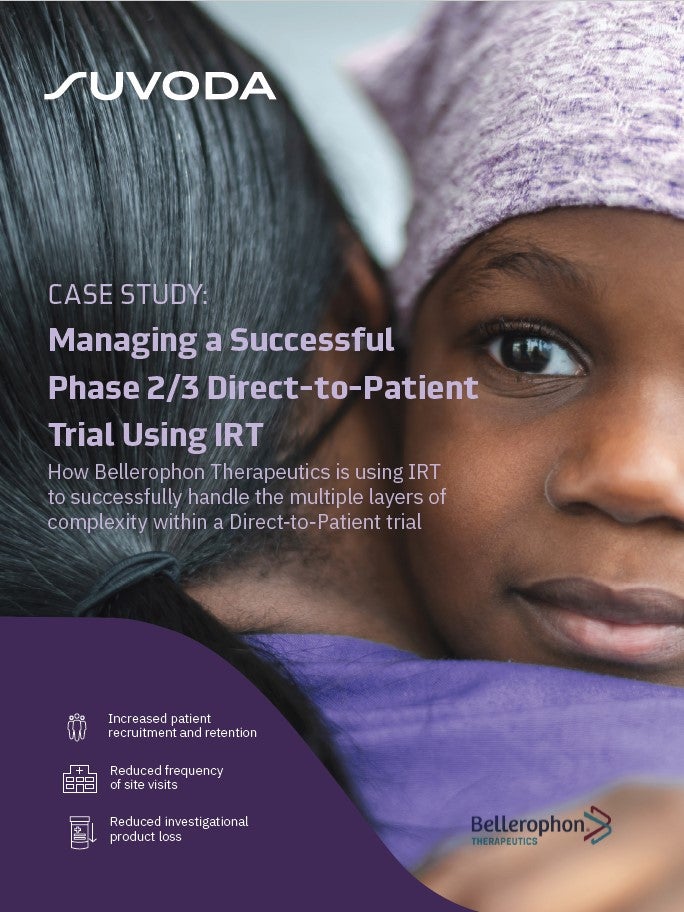 Direct-to-Patient Trials: How IRT Plays an Important Role in Bellerophon's Direct-to-Patient Trials
As the industry strengthens its focus on patient centricity, Direct-to-Patient clinical trials have emerged as a popular trial design that have the potential to increase patient recruitment and retention. IRT plays a crucial role in the success of a Direct-to-Patient trial. Because drug supplies are being managed and shipped from distribution facilities directly to patients' homes, a sponsor must have a high-quality system in place to accurately track the chain of custody, ensure patient-blinding and handle other logistical challenges. What You Will Learn Benefits and challenges associated with the Direct-to-Patient model Bellerophon's top considerations when implementing this trial design How IRT can equip study teams to successfully track chain of custody, ensure patient blinding, and handle logistical challenges
by Suvoda
A synthetic alpha-Gal glycolipid, AGI-134 is intended to label cancer cells with alpha-Gal through intra-tumoral administration. It thereby acts on the already existing anti-alpha-Gal (anti-Gal) antibodies in the body and redirects them to treated tumours. 
The multicentre, open-label trial recruited 38 subjects in the UK, Spain, and Israel. The company expects data on the safety and proof of mechanism of AGI-134 in the first half of this year.
The study consists of two parts. The completed Part 1 dose-escalation study enrolled five subjects to detect the maximum tolerated dose as well as the recommended dose for part 2 of the trial.
A dose-expansion study, Part 2 enrolled 33 subjects to assess the tolerability and safety of AGI-134 at the recommended dose.
It also intends to establish the mechanism of action of AGI-134 using several biomarkers.
BioLineRx CEO Philip Serlin said: "AGI-134, our second clinical-stage oncology asset, has a unique mode of action, applicable to all injectable tumour types.
"This clinical study aims to confirm the proposed mechanism of action and safety profile of AGI-134 in humans, based on which we also plan to explore potential combinations as part of its future clinical development programme."
AGI-134 treatment offered regression of established primary tumours as well as secondary tumour (metastases) development suppression in a mouse melanoma model.
In addition, synergy was observed in further pre-clinical studies on combining with an anti-programmed cell death protein 1 (PD1) immune checkpoint inhibitor, thereby providing the potential to expand the use of such immunotherapies and boost the response rate and extend in various types of cancer.
The company is set to commence Phase Ib trial of Motixafortide in patients with acute respiratory distress syndrome (ARDS) secondary to Covid-19 and other respiratory viral infections.
BioLineRx obtained AGI-134 through takeover of Agalimmune.
Free Case Study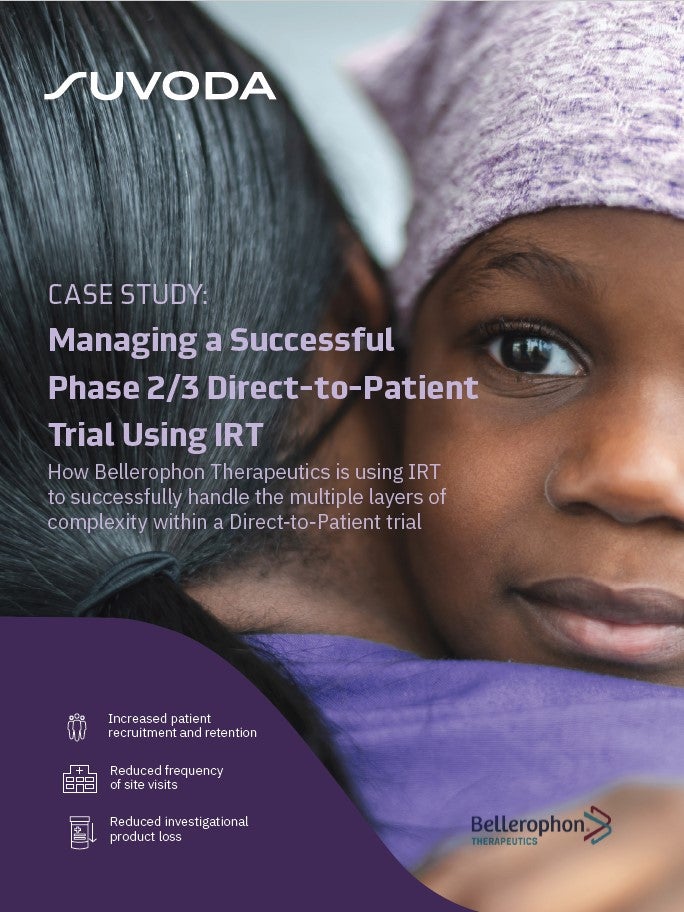 Direct-to-Patient Trials: How IRT Plays an Important Role in Bellerophon's Direct-to-Patient Trials
As the industry strengthens its focus on patient centricity, Direct-to-Patient clinical trials have emerged as a popular trial design that have the potential to increase patient recruitment and retention. IRT plays a crucial role in the success of a Direct-to-Patient trial. Because drug supplies are being managed and shipped from distribution facilities directly to patients' homes, a sponsor must have a high-quality system in place to accurately track the chain of custody, ensure patient-blinding and handle other logistical challenges. What You Will Learn Benefits and challenges associated with the Direct-to-Patient model Bellerophon's top considerations when implementing this trial design How IRT can equip study teams to successfully track chain of custody, ensure patient blinding, and handle logistical challenges
by Suvoda