Blade Therapeutics has commenced a Phase l clinical trial to investigate the safety and pharmacokinetics (PK) of BLD-2660 for the treatment of fibrosis.
Free Case Study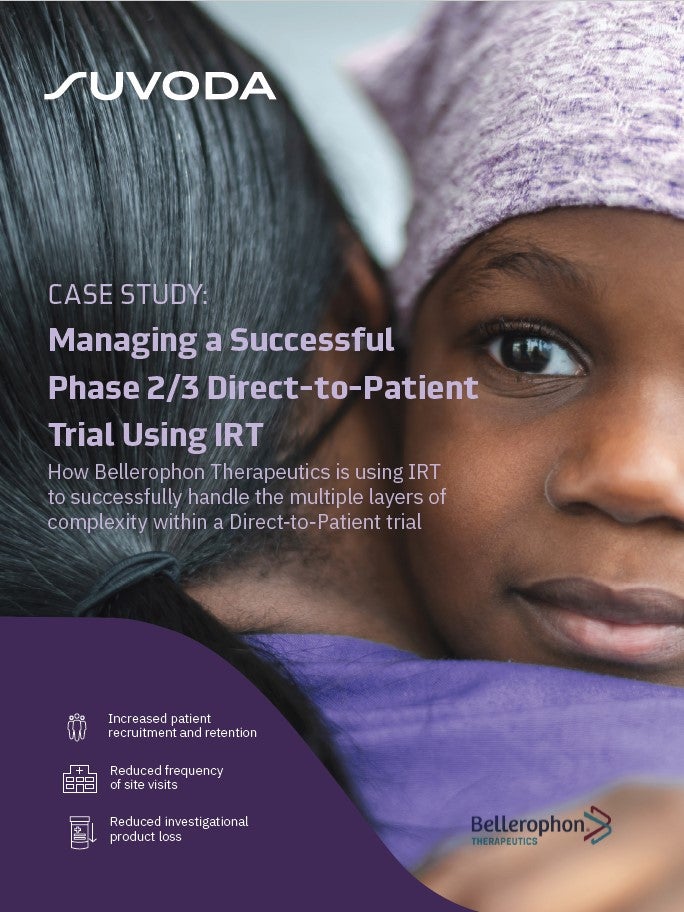 Direct-to-Patient Trials: How IRT Plays an Important Role in Bellerophon's Direct-to-Patient Trials
As the industry strengthens its focus on patient centricity, Direct-to-Patient clinical trials have emerged as a popular trial design that have the potential to increase patient recruitment and retention. IRT plays a crucial role in the success of a Direct-to-Patient trial. Because drug supplies are being managed and shipped from distribution facilities directly to patients' homes, a sponsor must have a high-quality system in place to accurately track the chain of custody, ensure patient-blinding and handle other logistical challenges. What You Will Learn Benefits and challenges associated with the Direct-to-Patient model Bellerophon's top considerations when implementing this trial design How IRT can equip study teams to successfully track chain of custody, ensure patient blinding, and handle logistical challenges
by Suvoda
Fibrosis is the development of additional fibrous connective tissue in an organ or tissue in a reparative or reactive process.
As part of the first-in-human, placebo-controlled, dose-escalation Phase l trial, BLD-2660 will be orally administered to healthy subjects.
The trial is being conducted in Australia and expected to provide initial results by the last quarter of this year.
Blade Therapeutics CEO Wendye Robbins said: "BLD-2660 has shown remarkable anti-fibrotic properties in multiple preclinical disease models.
"BLD-2660 has shown remarkable anti-fibrotic properties in multiple preclinical disease models."
"We believe it will be an effective treatment option with a favourable safety profile for patients suffering from debilitating fibrotic diseases. By initiating the clinical trial in Australia, we are able to expedite our development timelines, work with top clinicians, and take advantage of favourable government rebates.
"We plan to file a US Investigational New Drug Application (IND) with human safety and PK data by the end of the year, which we anticipate will allow us to move BLD-2660 into human proof-of-concept studies in 2019."
BLD-2660 is an optimised small molecule inhibitor of dimeric calpains, which are non-lysosomal calcium-dependent proteases.
In a number of previous biochemical studies, BLD-2660 demonstrated potent and selective inhibition of calpains 1, 2, and 9.
Developed using insights from the US' Johns Hopkins University School of Medicine to discover new therapies that can broadly modulate fibrosis, and thereby contribute to the treatment of diverse diseases, BLD-2660 has also showed its effectiveness in various animal models of pulmonary, skin, and liver fibrosis.
Free Case Study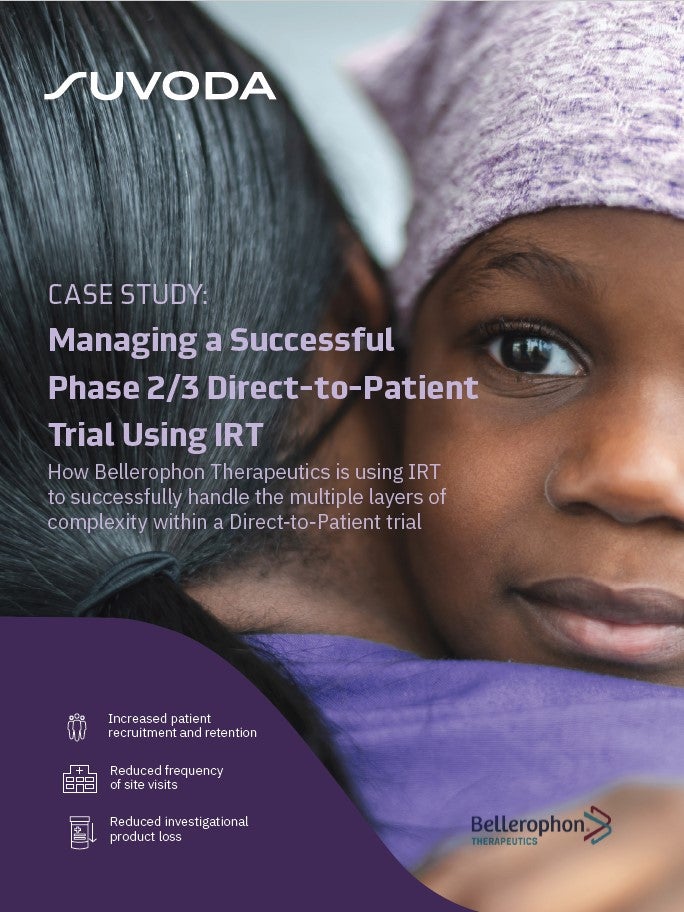 Direct-to-Patient Trials: How IRT Plays an Important Role in Bellerophon's Direct-to-Patient Trials
As the industry strengthens its focus on patient centricity, Direct-to-Patient clinical trials have emerged as a popular trial design that have the potential to increase patient recruitment and retention. IRT plays a crucial role in the success of a Direct-to-Patient trial. Because drug supplies are being managed and shipped from distribution facilities directly to patients' homes, a sponsor must have a high-quality system in place to accurately track the chain of custody, ensure patient-blinding and handle other logistical challenges. What You Will Learn Benefits and challenges associated with the Direct-to-Patient model Bellerophon's top considerations when implementing this trial design How IRT can equip study teams to successfully track chain of custody, ensure patient blinding, and handle logistical challenges
by Suvoda