Bristol Myers Squibb (BMS) has announced that the Phase III IDHENTIFY clinical trial of Idhifa (enasidenib) plus best supportive care (BSC) failed to meet the primary endpoint of overall survival (OS) in acute myeloid leukemia (AML) patients.
Free Case Study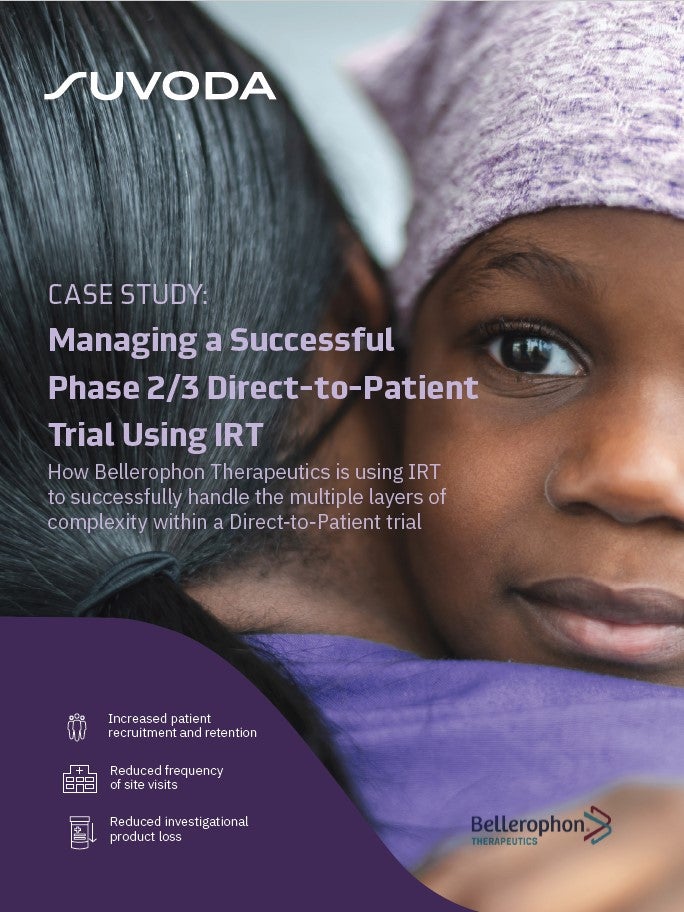 Direct-to-Patient Trials: How IRT Plays an Important Role in Bellerophon's Direct-to-Patient Trials
As the industry strengthens its focus on patient centricity, Direct-to-Patient clinical trials have emerged as a popular trial design that have the potential to increase patient recruitment and retention. IRT plays a crucial role in the success of a Direct-to-Patient trial. Because drug supplies are being managed and shipped from distribution facilities directly to patients' homes, a sponsor must have a high-quality system in place to accurately track the chain of custody, ensure patient-blinding and handle other logistical challenges. What You Will Learn Benefits and challenges associated with the Direct-to-Patient model Bellerophon's top considerations when implementing this trial design How IRT can equip study teams to successfully track chain of custody, ensure patient blinding, and handle logistical challenges
by Suvoda
The trial compared the drug to standard care regimens in relapsed or refractory AML (R/R AML) with an isocitrate dehydrogenase-2 (IDH2) mutation.
These standard care regimens involved BSC alone, azacitidine plus BSC, low-dose cytarabine plus BSC, or intermediate-dose cytarabine plus BSC.
The safety profile of Idhifa was found to be consistent with previous data.
Bristol Myers Squibb Hematology Global Clinical Development senior vice-president Noah Berkowitz said: "While we are disappointed by the outcome of the IDHENTIFY study, we remain confident in Idhifa's established role as a treatment option for patients with relapsed or refractory AML with an IDH2 mutation and are grateful to all those who participated in the study.
"AML is one of the most difficult-to-treat blood cancers, and we're committed to furthering our research and improving on the standards of care for patients living with this aggressive disease."
The drug has approval in the US, Australia and Canada to treat adults with relapsed or refractory AML with an isocitrate dehydrogenase-2 mutation.
IDHENTIFY is an international, multi-centre, open-label, randomised trial conducted to assess the safety and efficacy of the drug in patients aged 60 and above.
The primary endpoint was overall survival, while key secondary endpoints included overall response rate, event-free survival, duration of response, and time to response.
In March this year, BMS said that the ELOQUENT-1 Phase III trial of Empliciti combination in newly diagnosed, previously untreated multiple myeloma did not meet the primary goal of progression-free survival (PFS) in patients ineligible for transplant.
Free Case Study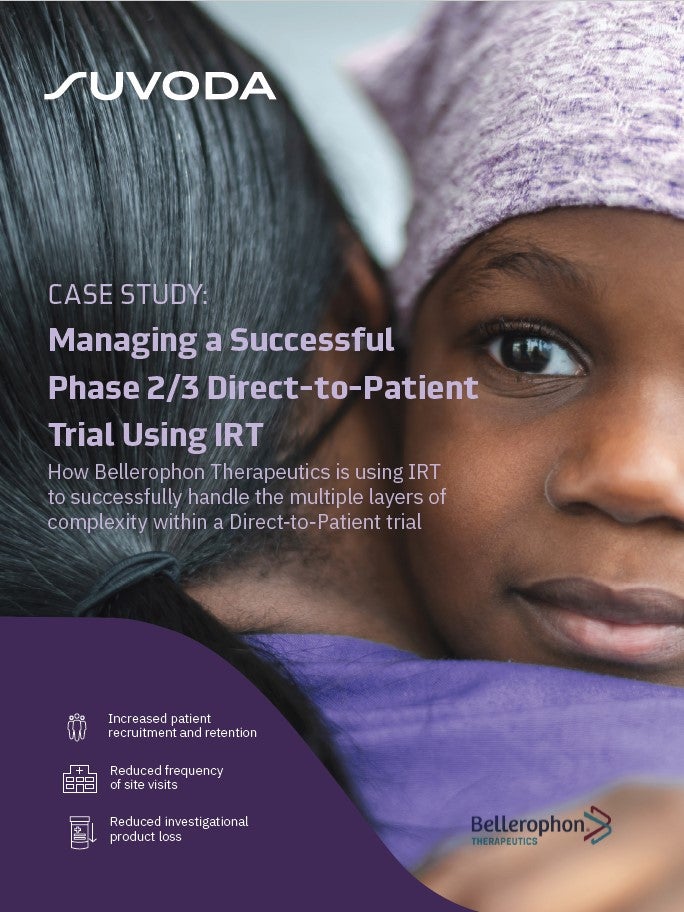 Direct-to-Patient Trials: How IRT Plays an Important Role in Bellerophon's Direct-to-Patient Trials
As the industry strengthens its focus on patient centricity, Direct-to-Patient clinical trials have emerged as a popular trial design that have the potential to increase patient recruitment and retention. IRT plays a crucial role in the success of a Direct-to-Patient trial. Because drug supplies are being managed and shipped from distribution facilities directly to patients' homes, a sponsor must have a high-quality system in place to accurately track the chain of custody, ensure patient-blinding and handle other logistical challenges. What You Will Learn Benefits and challenges associated with the Direct-to-Patient model Bellerophon's top considerations when implementing this trial design How IRT can equip study teams to successfully track chain of custody, ensure patient blinding, and handle logistical challenges
by Suvoda