Boehringer Ingelheim has enrolled the first patient in the Phase II BALANCE-CF study investigating an inhaled epithelial sodium channel (ENaC) inhibitor, BI 1265162, to treat cystic fibrosis.
Free Case Study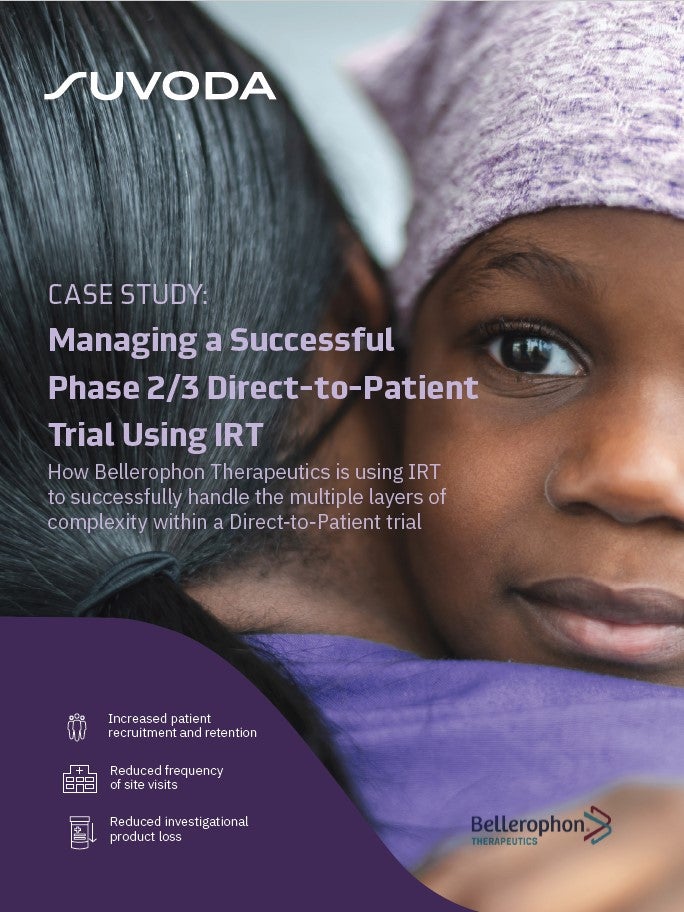 Direct-to-Patient Trials: How IRT Plays an Important Role in Bellerophon's Direct-to-Patient Trials
As the industry strengthens its focus on patient centricity, Direct-to-Patient clinical trials have emerged as a popular trial design that have the potential to increase patient recruitment and retention. IRT plays a crucial role in the success of a Direct-to-Patient trial. Because drug supplies are being managed and shipped from distribution facilities directly to patients' homes, a sponsor must have a high-quality system in place to accurately track the chain of custody, ensure patient-blinding and handle other logistical challenges. What You Will Learn Benefits and challenges associated with the Direct-to-Patient model Bellerophon's top considerations when implementing this trial design How IRT can equip study teams to successfully track chain of custody, ensure patient blinding, and handle logistical challenges
by Suvoda
Cystic fibrosis is a progressive, genetic disorder characterised by lung infections and difficulty in breathing over time due to the clogging of airways with thick and sticky mucus.
BI 1265162 prevents the absorption of sodium, keeping the surface of the airways hydrated and decreasing the thickness of the mucus. The mechanism is intended to keep airways clear in cystic fibrosis patients.
The compound is designed to help treat any type of cystic fibrosis mutation. It is formulated for inhalation using the company's Respimat inhaler.
Respimat delivers medicine in a slow-moving soft mist that can be easily inhaled even by people having difficulty in breathing, noted Boehringer.
The randomised, double-blind, placebo-controlled and parallel-group Phase II trial will investigate the safety, efficacy and pharmacokinetics of different doses of the ENaC inhibitor given twice daily over four weeks.
It will track the drug candidate's impact on lung function compared to placebo when given in combination with the standard of care in adults and adolescent patients.
The trial is expected to be completed in September next year.
Boehringer Ingelheim Therapeutic Area Inflammation medicine head Dr Kay Tetzlaff said: "We are pleased to enrol our first patient into this Phase II trial, and we hope our ENaC inhibitor will be proven to help people affected by cystic fibrosis.
"We are hopeful that this treatment, along with its delivery method, will make an important difference for patients affected by this debilitating condition."
Earlier this month, the company reported positive data from the Phase III INBUILD trial of nintedanib conducted in patients with fibrosing interstitial lung diseases.
Free Case Study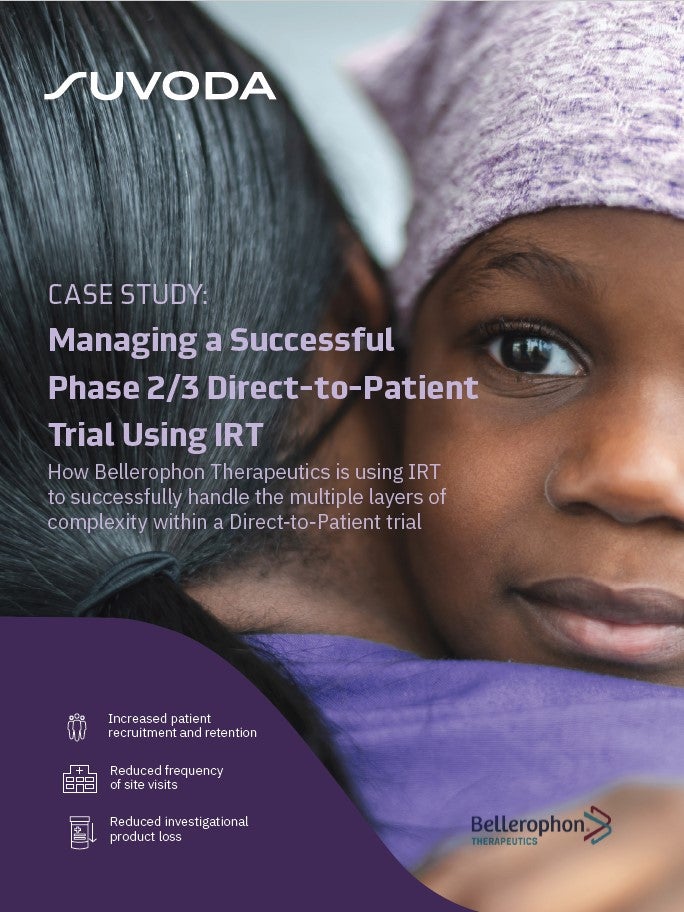 Direct-to-Patient Trials: How IRT Plays an Important Role in Bellerophon's Direct-to-Patient Trials
As the industry strengthens its focus on patient centricity, Direct-to-Patient clinical trials have emerged as a popular trial design that have the potential to increase patient recruitment and retention. IRT plays a crucial role in the success of a Direct-to-Patient trial. Because drug supplies are being managed and shipped from distribution facilities directly to patients' homes, a sponsor must have a high-quality system in place to accurately track the chain of custody, ensure patient-blinding and handle other logistical challenges. What You Will Learn Benefits and challenges associated with the Direct-to-Patient model Bellerophon's top considerations when implementing this trial design How IRT can equip study teams to successfully track chain of custody, ensure patient blinding, and handle logistical challenges
by Suvoda