Boston Biomedical has dosed the first patient in a Phase l clinical trial to test the safety and pharmacokinetic of intravenously administered DSP-0509 to treat adults with advanced solid tumours.
Free Case Study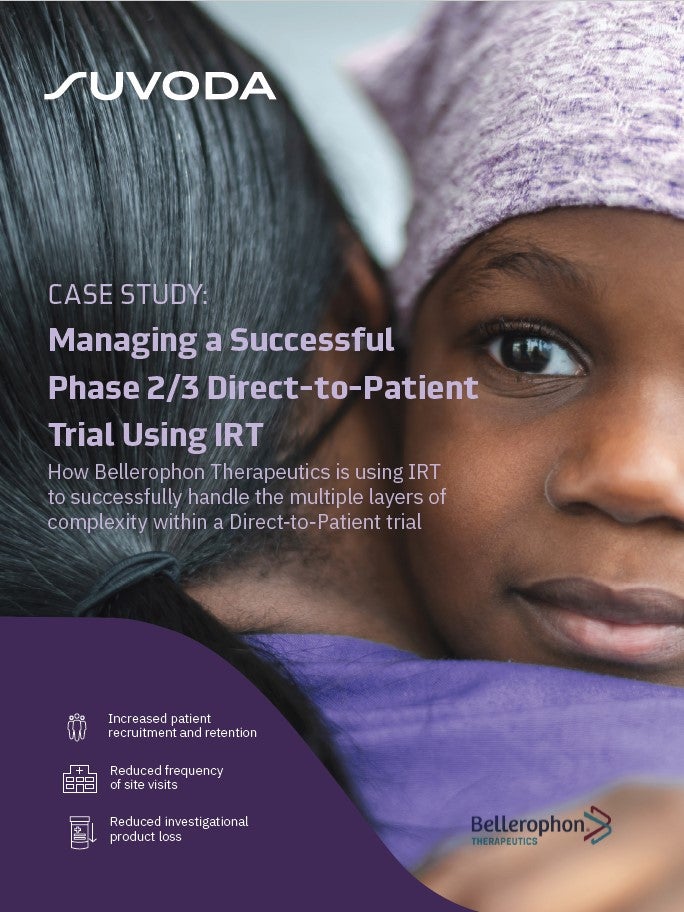 Direct-to-Patient Trials: How IRT Plays an Important Role in Bellerophon's Direct-to-Patient Trials
As the industry strengthens its focus on patient centricity, Direct-to-Patient clinical trials have emerged as a popular trial design that have the potential to increase patient recruitment and retention. IRT plays a crucial role in the success of a Direct-to-Patient trial. Because drug supplies are being managed and shipped from distribution facilities directly to patients' homes, a sponsor must have a high-quality system in place to accurately track the chain of custody, ensure patient-blinding and handle other logistical challenges. What You Will Learn Benefits and challenges associated with the Direct-to-Patient model Bellerophon's top considerations when implementing this trial design How IRT can equip study teams to successfully track chain of custody, ensure patient blinding, and handle logistical challenges
by Suvoda
The open-label, multicentre trial intends to enrol 44 patients with advanced solid tumours that are refractory to standard treatment.
It will comprise two stages; an initial dose-escalation phase that will use a 3+3 design to establish the maximum tolerated dose, and a dose-expansion phase in up to 14 additional subjects.
As part of the trial, patients will initially receive an intravenous dose of DSP-0509 once a week in induction phase, and once every two weeks in a maintenance phase.
Based on the success of these doses, Boston Biomedical plans to continue treatment until disease progression.
"We are looking forward to exploring the safety and activity of DSP-0509 and understanding more about its potential in treating cancer."
The trial's primary goals are maximum tolerated dose, identification of Recommended Phase 2 Dose (RP2D), as well as incidence of adverse events (AEs), serious AEs (SAEs), and immune-related AEs (irAEs).
Its secondary goals include pharmacokinetics, objective response rate (ORR), duration of response (DoR), progression-free survival (PFS) and others.
The trial is currently being carried out at various sites in the US.
Boston Biomedical CEO Patricia Andrews said: "We are looking forward to exploring the safety and activity of DSP-0509 and understanding more about its potential in treating cancer."
DSP-0509 is currently being studied as a synthetic Toll-like receptor (TLR) 7 agonist.
In preclinical settings, DSP-0509 showed its potential to promote the cytokine induction and cytotoxic T lymphocyte (CTL) activation through agonistic effect of TLR 7 expressed in plasmacytoid dendritic cells.
Free Case Study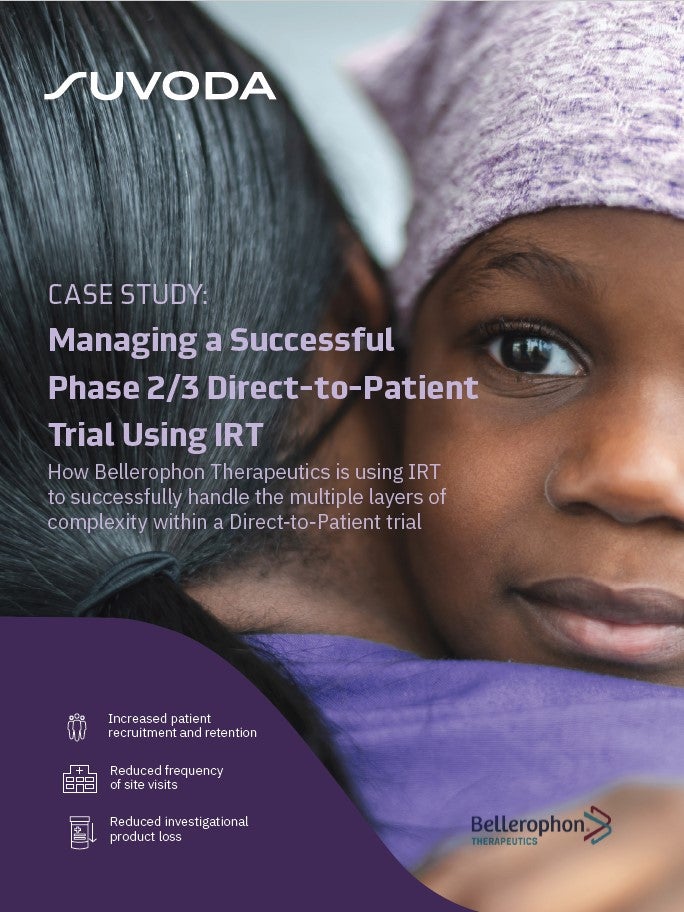 Direct-to-Patient Trials: How IRT Plays an Important Role in Bellerophon's Direct-to-Patient Trials
As the industry strengthens its focus on patient centricity, Direct-to-Patient clinical trials have emerged as a popular trial design that have the potential to increase patient recruitment and retention. IRT plays a crucial role in the success of a Direct-to-Patient trial. Because drug supplies are being managed and shipped from distribution facilities directly to patients' homes, a sponsor must have a high-quality system in place to accurately track the chain of custody, ensure patient-blinding and handle other logistical challenges. What You Will Learn Benefits and challenges associated with the Direct-to-Patient model Bellerophon's top considerations when implementing this trial design How IRT can equip study teams to successfully track chain of custody, ensure patient blinding, and handle logistical challenges
by Suvoda