The Brazilian National Regulatory Agency, Anvisa, has given approval to a Phase III clinical trial sponsored by Instituto Butantan to test the efficacy and safety of the inactivated Covid-19 vaccine developed by Sinovac Life Sciences .
Free Case Study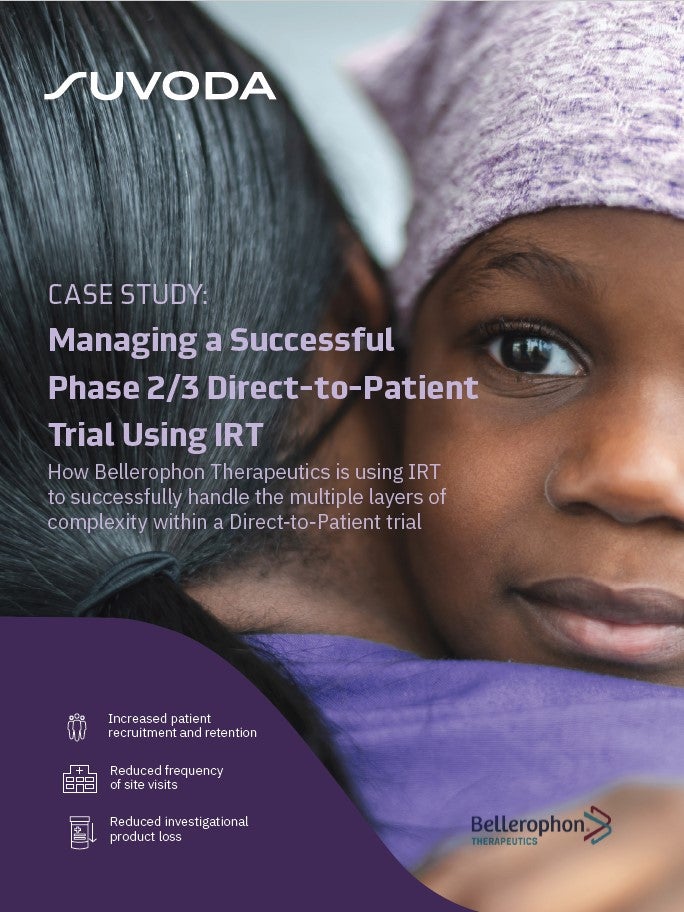 Direct-to-Patient Trials: How IRT Plays an Important Role in Bellerophon's Direct-to-Patient Trials
As the industry strengthens its focus on patient centricity, Direct-to-Patient clinical trials have emerged as a popular trial design that have the potential to increase patient recruitment and retention. IRT plays a crucial role in the success of a Direct-to-Patient trial. Because drug supplies are being managed and shipped from distribution facilities directly to patients' homes, a sponsor must have a high-quality system in place to accurately track the chain of custody, ensure patient-blinding and handle other logistical challenges. What You Will Learn Benefits and challenges associated with the Direct-to-Patient model Bellerophon's top considerations when implementing this trial design How IRT can equip study teams to successfully track chain of custody, ensure patient blinding, and handle logistical challenges
by Suvoda
This study aims to be a pivotal study to support the licensure of the vaccine.
Sinovac Life Sciences is a wholly owned subsidiary of the biopharmaceutical products provider in China.
The Brazilian regulatory agency's process review included manufacturing and clinical information that was produced by Sinovac, and a clinical development plan and trial protocol developed by Butantan.
Given the current public health emergency, the agency fast-tracked the application.
The study will see recruitment of almost 9,000 healthcare professionals working in Covid-19 facilities in twelve clinical sites across several states of the country.
The inclusion of participants in the trial will begin this month following the receipt of ethical approval from each clinical site.
Butantan Director of Instituto Dr Dimas Covas said: "The Phase III clinical trial approval is a demonstration that the Sinovac and Butantan partnership is an efficient collaboration to move forward offering hope to save lives worldwide."
Sinovac chairman, president and CEO Weidong Yin said: "We are pleased to advance to Phase III trials with Butantan, which will allow us one step further to our commitment to developing vaccines for global use and to our mission of supplying vaccines to eliminate human diseases."
Sinovac Life Sciences commenced the development of an inactivated vaccine candidate against Covid-19, called CoronaVac on 28 January this year.
On 13 April, the National Medical Products Administration gave approval for Phase I and II clinical trials in China, which commenced on 16 April in Jiangsu Province.
The healthy adults, aged between 18 and 59, were given the vaccines with a 14 day schedule.
The preliminary Phase I/II results found that there was no serious adverse event after 743 volunteers in the trials were given the vaccines.
More than 90% seroconversion was found in the second phase of clinical trial, 14 days after completion of a two-dose vaccination at day zero and day 14.
A Phase II study on elderly adults is being carried out, followed by a study on child and adolescent groups.
This phase is expected to be completed at the end of this year.
The firm has teamed up with many firms outside of China for Phase III efficacy studies.
Free Case Study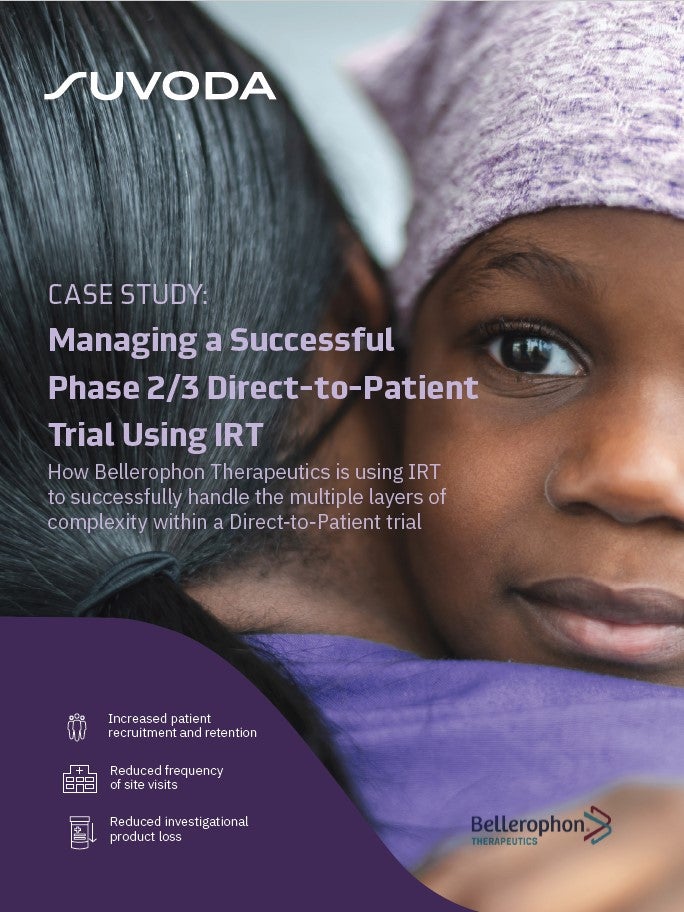 Direct-to-Patient Trials: How IRT Plays an Important Role in Bellerophon's Direct-to-Patient Trials
As the industry strengthens its focus on patient centricity, Direct-to-Patient clinical trials have emerged as a popular trial design that have the potential to increase patient recruitment and retention. IRT plays a crucial role in the success of a Direct-to-Patient trial. Because drug supplies are being managed and shipped from distribution facilities directly to patients' homes, a sponsor must have a high-quality system in place to accurately track the chain of custody, ensure patient-blinding and handle other logistical challenges. What You Will Learn Benefits and challenges associated with the Direct-to-Patient model Bellerophon's top considerations when implementing this trial design How IRT can equip study teams to successfully track chain of custody, ensure patient blinding, and handle logistical challenges
by Suvoda