Bridge Biotherapeutics has commenced the Phase I/II clinical trial of BBT-176 in non-small cell lung cancer (NSCLC) patients with osimertinib-resistant EGFR triple mutations.
Free Case Study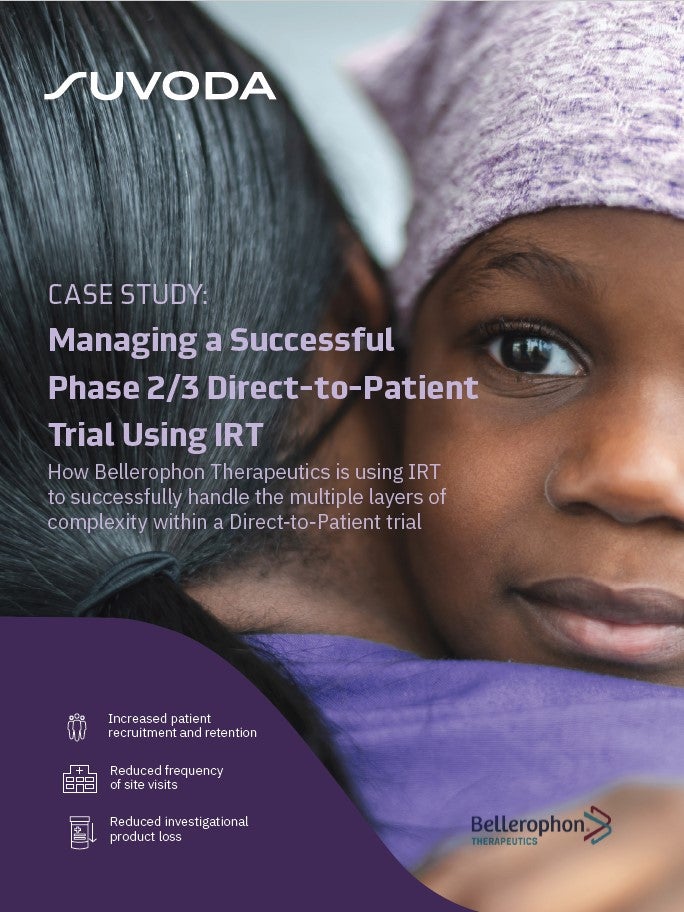 Direct-to-Patient Trials: How IRT Plays an Important Role in Bellerophon's Direct-to-Patient Trials
As the industry strengthens its focus on patient centricity, Direct-to-Patient clinical trials have emerged as a popular trial design that have the potential to increase patient recruitment and retention. IRT plays a crucial role in the success of a Direct-to-Patient trial. Because drug supplies are being managed and shipped from distribution facilities directly to patients' homes, a sponsor must have a high-quality system in place to accurately track the chain of custody, ensure patient-blinding and handle other logistical challenges. What You Will Learn Benefits and challenges associated with the Direct-to-Patient model Bellerophon's top considerations when implementing this trial design How IRT can equip study teams to successfully track chain of custody, ensure patient blinding, and handle logistical challenges
by Suvoda
A new epidermal growth factor receptor-tyrosine kinase inhibitor (EGFR-TKI), BBT-176 can potentially hinder the signalling pathway of EGFR with C797S mutations emerging because of osimertinib (Tagrisso)-resistant mutations in NSCLC.
The open-label study will evaluate the safety, tolerability, pharmacokinetics and anti-tumour activity of BBT-176 in NSCLC patients who progressed following prior therapy with an EGFR TKI agent.
It plans to enrol approximately 90 subjects categorised into a dose-escalation phase (Part 1) and a dose-expansion phase (Part 2).
Part 1 of the study, which has already begun in the Republic of Korea, will identify the recommended Phase II dose (RP2D) by assessing the safety and tolerability of the drug in the treatment group.
The subsequent Part 2 will be carried out in the US as well as Korea this year. Primary and secondary outcome measures will include assessments of complete anti-tumour activity with objective response rate (ORR), duration of response (DoR), and progression-free survival (PFS).
Furthermore, Bridge Biotherapeutics will analyse detailed mutation profiles collected by liquid and tumour biopsy procedures on completing the trial.
Bridge Biotherapeutics CEO James Lee said: "We are highly encouraged to be able to initiate the first-in-patient study of BBT-176, which is expected to address high unmet medical needs of advanced NSCLC patients with C797S mutations across the globe.
"Our business development team will be exploring strategic partnership opportunities as the clinical study progresses."
Lung cancer is categorised into NSCLC and small cell lung cancers (SCLC) groups. Estimates show that NSCLC accounts for approximately 85% of all lung cancer diagnoses.
The company is also developing a first-in-class Pellino-1 inhibitor, BBT-401, for treating ulcerative colitis and a new autotaxin inhibitor, BBT-877, for fibrotic diseases.
Free Case Study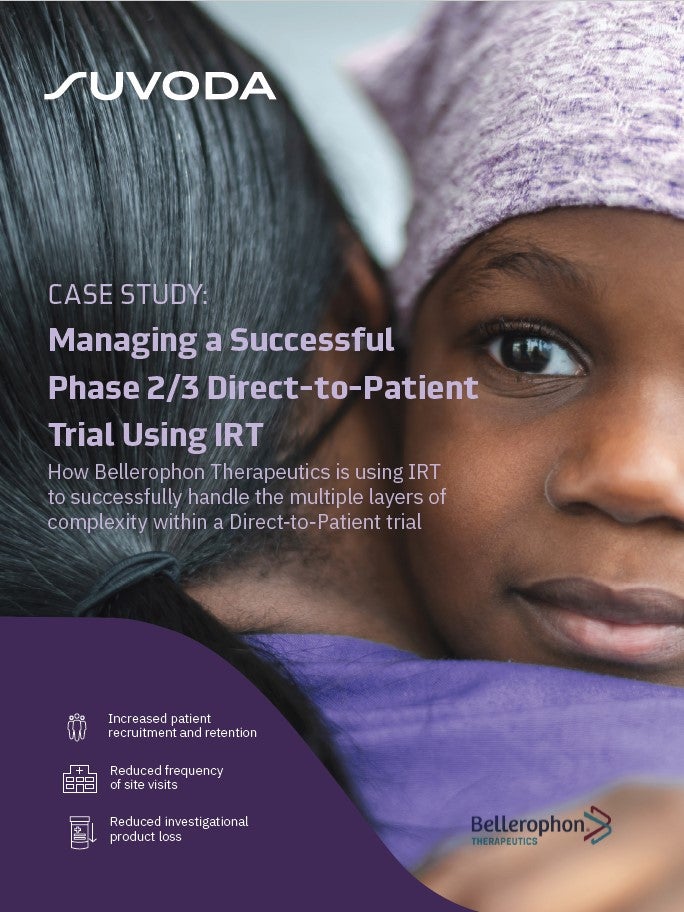 Direct-to-Patient Trials: How IRT Plays an Important Role in Bellerophon's Direct-to-Patient Trials
As the industry strengthens its focus on patient centricity, Direct-to-Patient clinical trials have emerged as a popular trial design that have the potential to increase patient recruitment and retention. IRT plays a crucial role in the success of a Direct-to-Patient trial. Because drug supplies are being managed and shipped from distribution facilities directly to patients' homes, a sponsor must have a high-quality system in place to accurately track the chain of custody, ensure patient-blinding and handle other logistical challenges. What You Will Learn Benefits and challenges associated with the Direct-to-Patient model Bellerophon's top considerations when implementing this trial design How IRT can equip study teams to successfully track chain of custody, ensure patient blinding, and handle logistical challenges
by Suvoda